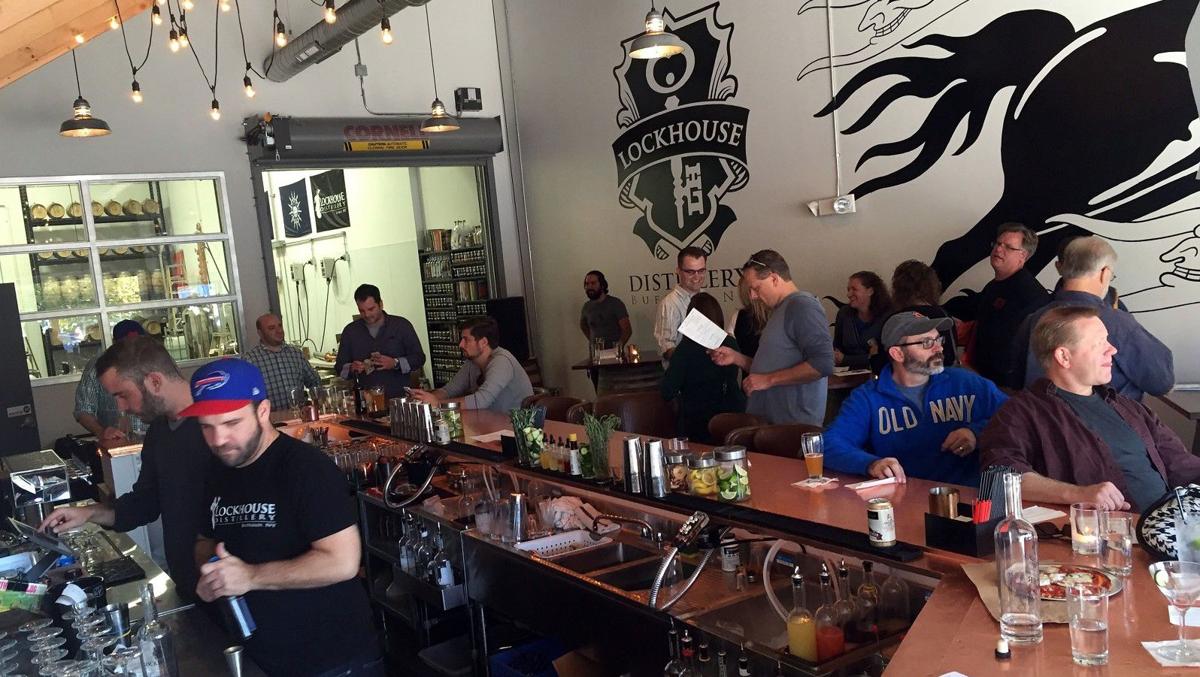 Lockhouse Distillery was the first distillery to open in Buffalo since Prohibition, and the welcome it received showed Buffalo was thirsty indeed. It opened with 1,000 bottles of vodka that were expected to last months. They were gone within the hour.
"That's when I knew we had already outgrown that space," business manager Thomas Jablonski said of the distillery's original Pierce Arrow location. Last month, approaching two years later, Lockhouse opened its own bar and production space in the Cobblestone District.
Even from the first day, Jablonski said, he and his partners were thinking bigger – much bigger – than 1,200 square feet on the third floor. The distillers had their sights on whiskey production, too, and it wouldn't fit.
"The system we were working on was not efficient," Jablonski said. "It wasn't going to be the best way to make whiskey." That took larger stills, which require higher ceilings, so the company was already limited to clear spirits. The space was also a walk-up with no signage. Once Lockhouse vodka and gin was available at local liquor stores, lines began to decrease. "It wasn't really a good retail shop," the owner explained.
While Lockhouse worked on a relocation, New York state passed the New York State Craft Act, which allowed distilleries to add a tavern license to a distilling license. If it sold mostly New York state products in its barroom, distillery could also open a bar. "Those were already the parameters [we wanted]," Jablonski explained, gesturing to the Buffalo-centric decor surrounding the hammered copper bar.
"While it's impossible to have every single ingredient in our menu come from New York, we use Nickel City Cheese, Al Cohen bread; as much New York as we can do, we do."
After months of quiet renovation on Columbia Street, the distillery opened for Kickstarter backer tours about a month ago and the bar held its public grand opening on Sept. 25 [see photos from that celebration]. Jablonski said the choice to move into the Cobblestone District was partly based on the Canalside development and seeing the writing on the wall for more growth in the area Lockhouse now occupies. Just down the street from the arena and a short drive from two other distilleries, Jablonski said his new neighbors are poised to create business not only for his bar, but each other.
Business has been steady, and since the Sabres home opener, has only improved, he said. Cocktails made with Lockhouse's signature vodka, gin and new barrel-rested gin are on offer, as well as other local spirits, beer and wine. There are also bar snacks, with plans to expand to a full restaurant in the future.
Lockhouse's food offerings include panini, including the fresh and light caprese ($8) with tomatoes, fresh mozzarella and fresh basil and spinach; a heavier take on a Cuban ($10) with ham, swiss and dijon mustard and the turkey pesto, which splits the difference at $9, a healthy helping of turkey, pesto, pepper jack cheese and a sprinkling of greens. Pizzas include Margherita ($8) or Margherita with ham, also $8. The kitchen's offerings will grow and change, with specials highlighting seasonal fare coming, according to Jablonski.
A new, caramel-hued gin is Lockhouse's short-term answer to a whiskey, which takes years to make. Jablonski said he and his crew decided to try aging their gin thanks to the impending whiskey shortage brought on by the spirit's explosive popularity over the last few years. Unlike whiskey, which must be aged for several years before it reaches maturity, the gin is aged for three months.
"It takes on some of the characteristics of whiskey," he said. "It has those caramel notes, some of the botanicals bloom out and mature. We've been using it as a replacement to whiskey in some of our drinks, with a lot of success." On the menu now is the "New Fashion," an Old Fashioned-like drink using the rested gin with sweet vermouth and orange juice.
In anticipation of the holiday season, the Lockhouse distillers are working on a local amaro using its vodka and Public Espresso + Coffee, which Jablonski expects to be similar to Van Gogh Espresso Vodka. Because the caffeine in the Public product is naturally occurring, Jablonski said, it will unlike Van Gogh's product, which added it artificially.
"It's no longer legal to add caffeine to alcoholic beverages," Jablonski explained, referring to a legal decision that came on the heels of problems with Four Loko and other similar high-octane spirits, but its natural presence is OK. "So yeah," he added, with a grin. "It'll have a little kick." That product is expected to be ready by early next year.
He expects the distillery's custom-made new stills to arrive in January or February, although Jablonski said his industry experience has taught him to remain conservative in time frame estimates. When that happens, they can start barrel-aging their whiskey, which will feature all New York rye and grain.
Jablonski explained that a local rye is still unusual, since corn is so plentiful in this area. "With the ready availability of corn, we're seeing a lot of bourbon coming out of New York State," Jablonski noted. "Rye is more scarce, but we're looking to bring it back here."
In the United States, rye whiskey must be made from a mash of at least 51 percent rye and aged in charred, new oak barrels for at least two years, but most rye whiskeys take at least five years to mature completely. In the meantime, making its gin, vodka, amari and playing with infusions is keeping the Lockhouse folks plenty busy.
Just past the glass garage doors that separate the barroom from the distillery area is a bookcase stacked to the ceiling with jars of what look like pickles. According to operations manager Cory Muscato, that bookshelf is the distillers' playground. He and his cohorts steep everything from carrot shavings to ginger to garlic in vodka and test the flavors that come out, for possible use in future spirits.
When asked what else is on the docket for the new bar, Jablonski said they have "lots of fun ideas coming up," thanks to a new bar manager who brings with her plenty of ideas to draw crowds and keep them entertained long past the final buzzer at the arena. On the distilling side too, flexibility is the new buzzword.
"We're planning to expand our production, up from 350 bottles a week to being able to do the equivalent of 3,000 bottles per week," Jablonski said. While he does not expect to see that degree of increase, he said he is optimistic about the distillery's capabilities, going forward. "We can pretty much work on-demand."
Hours: 4 p.m.-midnight, Monday-Saturday. Tours and tastings Monday-Saturday, noon-10 p.m.
Lizz Schumer writes about food, drink and whimsy for a variety of publications. She is the content manager at Resurgence Brewing Company, and author of "Buffalo Steel." Find her online at lizzschumer.com, @eschumer and facebook.com/authorlizzschumer.