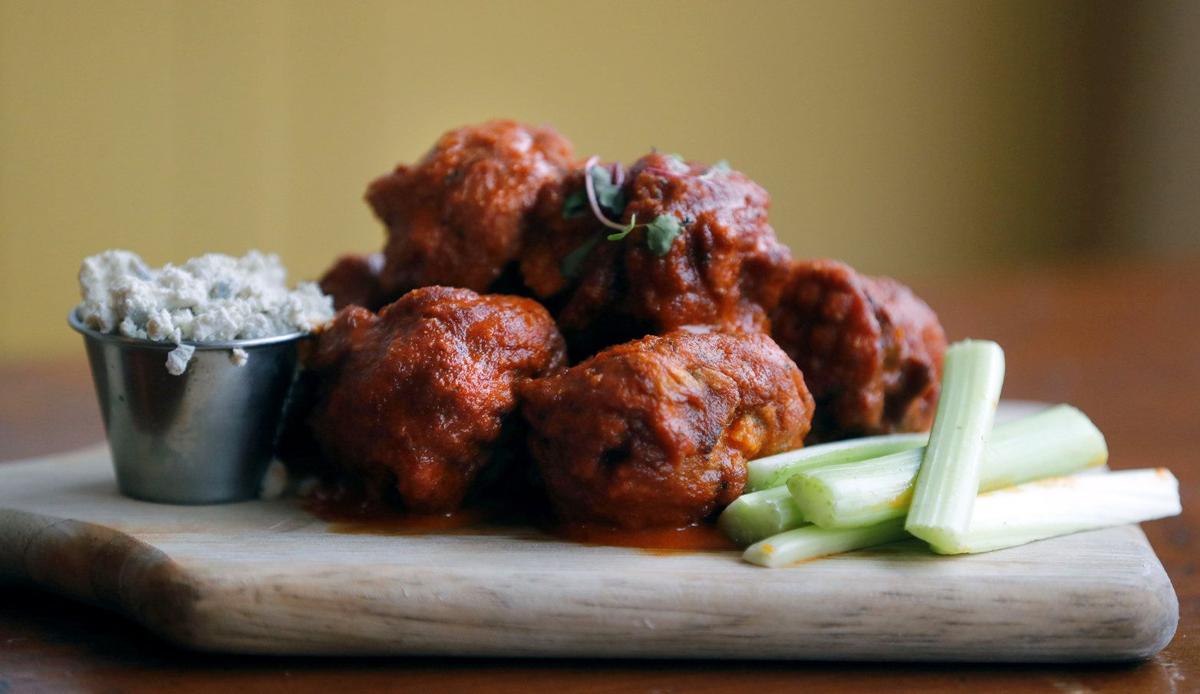 Plant-based restaurant Root & Bloom always had millennials in mind. From an elegant, hidden gazebo to a lounge-like, wood-adorned interior, James Ernst and Sarah Sendlbeck's restaurant seemed built for Instagram.
As Buffalo reopens from the Covid-19 pandemic, Root & Bloom's loyal customers – primarily in this millennial category – have different expectations for dining, and Ernst and Sendlbeck have been quick to meet the demands.
After final takeout service as Root & Bloom from noon to 8 p.m. June 19-21, the owners will shut down for three weeks and transition into a fast-casual concept under a new name: Big Mood.
"It's a term that, as a society, we are collectively feeling right now," Ernst said. "Everyone has that rush of experience – a great mood one day, or a down-and-out mood the next."
Ultimately, it's still plant-based, from-scratch, comforting fare. Root & Bloom favorites, such as the vegan mac and cheese, plant-based wings and vegan Buffalo chicken sandwich will remain on the menu, but old and new items will be named after moods, such as "I'm Trying to Be Healthy Today" or "I Need a Hug."
Expect a shift way from a brunch-leaning menu to one with a greater balance and an emphasis on portability, said Ernst, who will post Big Mood's full menu on Root & Bloom's social media on June 21.
Handheld meals will star, with four burgers and four versions of the "chicken" sandwich, plus pre-packaged salads and bowls, and a deeper line of milkshakes using Perry's dairy-free ice cream. Ernst even teased a mushroom-based root beer float and a "color changing, layered beverage."
Many of the non-food-related changes are intended to give customers assurance they can eat safely and enjoy the flexibility of dining wherever they feel comfortable.
"[Big Mood] is an idea that Sarah and I have had for a while, but we were never sure if we would act on it," Ernst said, "but the pandemic pushed us to make the switch."
At Root & Bloom, customers would order at the counter and then be served and taken care of by an employee; at Big Mood, customers can order at the counter or the self-service kiosk (a tablet mounted on the wall) to avoid human contact.
To meet New York State's reopening restrictions, seating will be cut in half with 15 people inside and 35 patrons on the 70-seat gazebo/patio.
Orders will be completed much faster, Ernst said, to meet grab-and-go demand and alleviate safety concerns customers might have lingering over meals. Curbside pickup for pre-ordered takeout will be offered permanently.
"The goal is to be able to encourage people to take their food out if they want, like to eat at a park, or quickly grab a seat and dine," Ernst said. "We'll turn over seats much faster than the past; [eating here] won't be an hourlong experience."
Disposable, eco-friendly trays and utensils will prevent Big Mood employees from exposure from doing dishes. Even the tables and seating –which included small wooden stools previously – will be replaced with those made from materials more easily cleaned and sanitized.
Their brand will change significantly, along with the name. The interior design and decor will be "more playful and easy going," Ernst described, with a "retro, hipster, millennial vibe."
INFO: Big Mood, 423 Elmwood Ave. (768-1878). Expected to open July 15.
Stay up-to-date on what's happening
Receive the latest in local entertainment news in your inbox weekly!