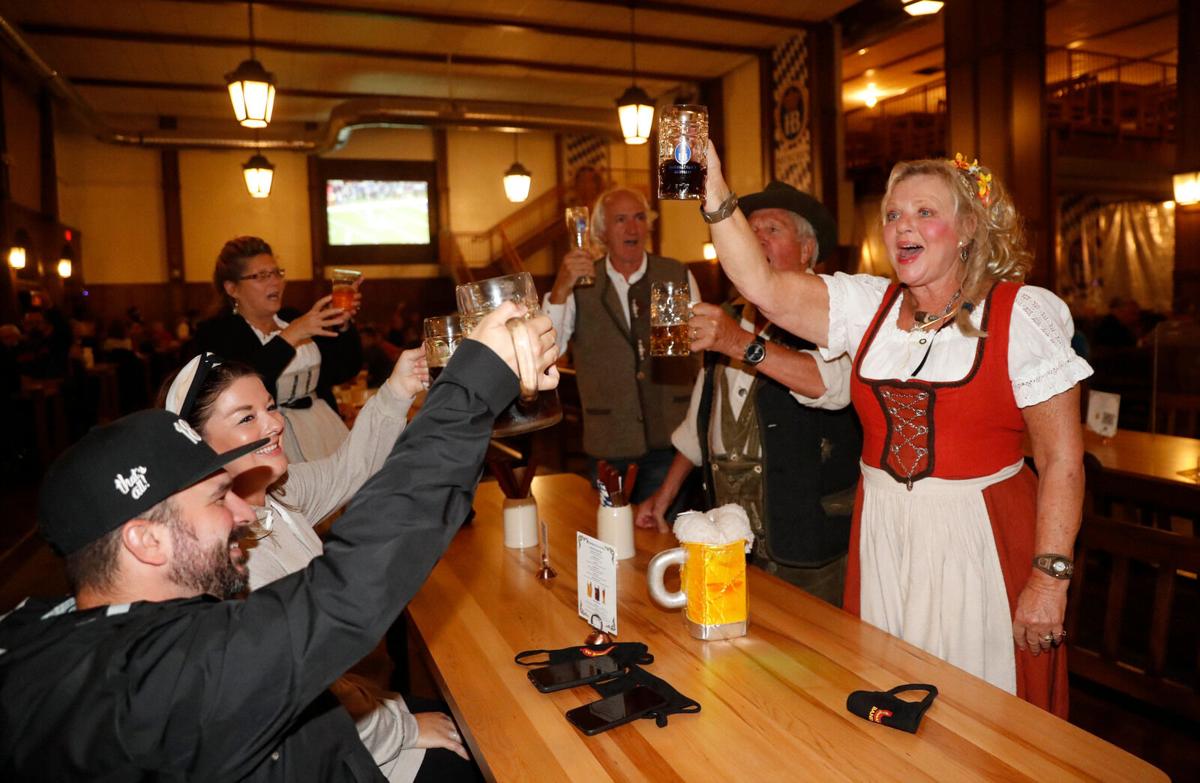 If you thought it would be easier to find a parking space outside Hofbrauhaus Buffalo now that Oktoberfest is over, think again.
The sprawling beer hall has big plans for the holidays that include heftier beers and an outdoor Christmas market.
"Hofbrauhaus was meant to be a community gathering spot and we opened up with that thought, with that feeling," said Brian Windschitl, chief operating officer. "We can handle a lot of people and a lot of energy."
Sixty investors waited six years for a suitable location and construction for the seventh American Hofbrauhaus to open in September 2020. As with other breweries in the region, the pandemic forced the beer hall to offer a limited menu, serve many of its customers outdoors and take other Covid-prevention steps.
That changed with summer and hit a crescendo during a grand opening gala in mid-September that kicked off Oktoberfest. Throngs have gathered regularly since in the 850-seat beer hall opened.
Schnitzel and sauerbraten established themselves as the most popular food entrees. Three flagship beers – lager, Dunkel and Hefe Weizen – and a lighter, crispier Oktoberfest version than most others in the U.S. had brewers hopping.
Roughly 1,500 patrons consumed the equivalent of 44 kegs of beer on the busiest Saturday during the fall festival run, braumeister Scott Shuler said. The former 12 Gates Brewing head brewer will cook up three heavier, darker specialties in weeks to come, starting in November with Dunkel Weizen, a dark wheat beer with hints of coffee, toffee and banana.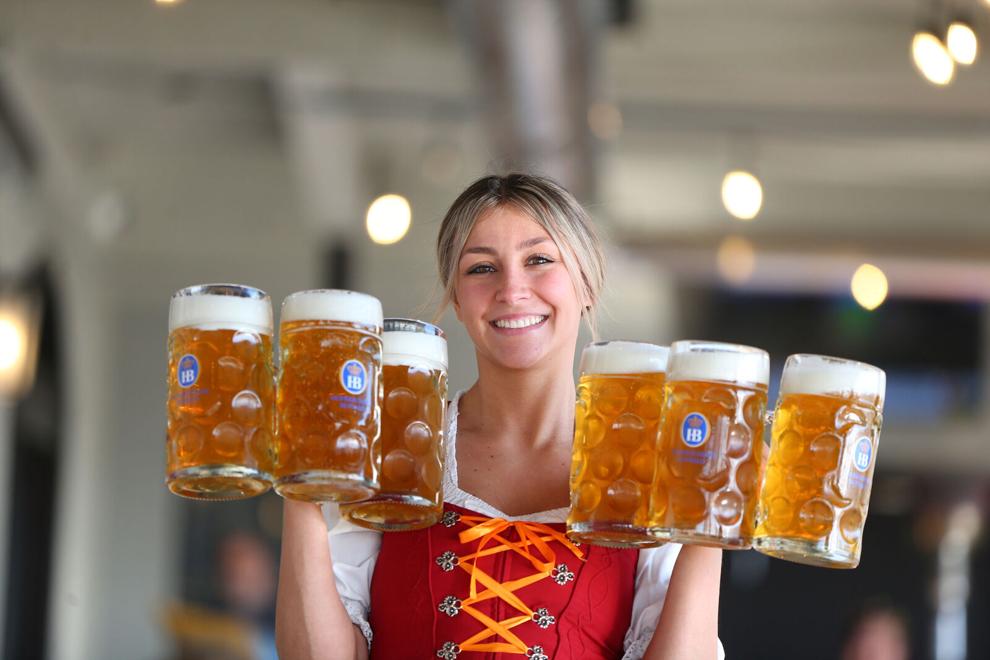 Winterzwickl, an unfiltered holiday beer that blends caramel and coffee notes with dark malt, is on tap for December. Schwartzbier black lager kicks off the new year.
"One of the bigger feel-good stories of the pandemic was the way local support really turned out for breweries," said Ethan Cox, part owner of Community Beer Works and a New York State Brewers Association board member for the last eight years.
Hofbrauhaus also adds gluhwein, a warm mulled spiced beverage that translated to English means "glow wine." A large compliment of other wines and spirits also is available.
The beverages will help wash down hearty German dishes that include sausages made for the Buffalo site by hometown favorite Wardinski & Sons to exacting specifications tendered by corporate headquarters in Munich.
Holiday specials include schweinshaxe (pork shank) for two, marzipan stollen (a Christmas fruit bread) and a 10-ounce hamburger slathered with beer cheese and served on a Costanzo's roll. Learn which will be served and when at facebook.com/HBHBuffalo.
Barrel keg tap parades roll out at 7 p.m. the first Wednesday of each month. A Thanksgiving Eve bash is planned for Nov. 24, and a takeout German family-style turkey dinner and beer to go the next day.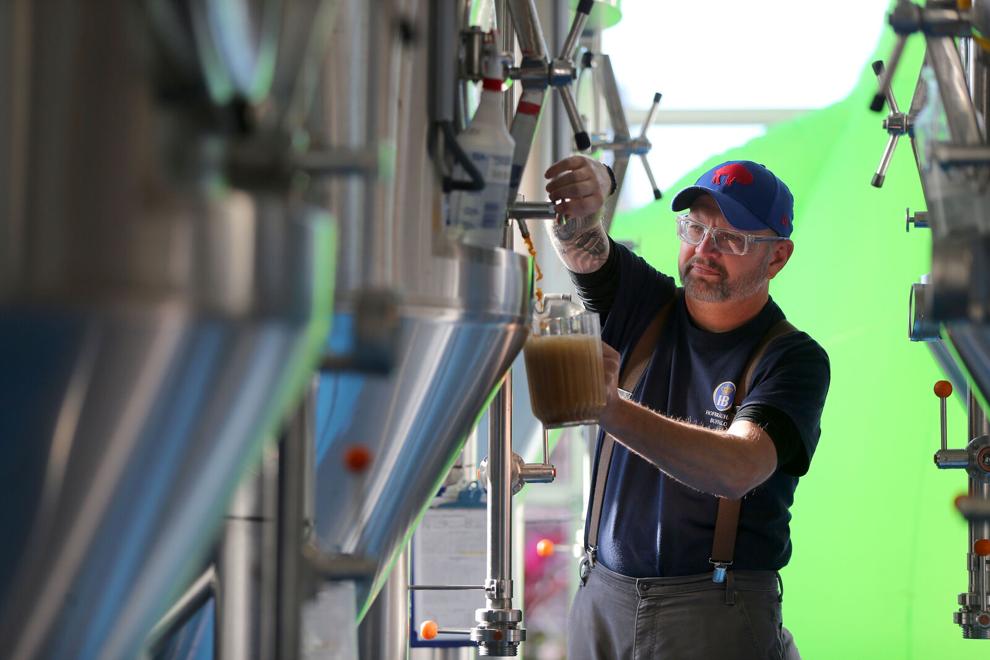 A Christkindlmarkt runs during business hours Friday to Sunday the first three weekends in December featuring 15 outdoor vendors with a variety of holiday gift ideas.
Visitors already should have their cameras ready for the 7-foot-tall Krampus outside the gift shop. Legend has it this anti-St. Nick uses birch sticks to beat naughty kids on the night of Dec. 5, then stuffs the children into his sack and whisks them away.
Hofbrauhaus Buffalo traditions have proven a big draw. Free parking along Scott Street promises to remain at a premium, especially during weekends and Buffalo Sabres home games, but there are plenty of paid spaces nearby for as little as $3. (The Buffalo Transportation Pierce Arrow Museum owns the fenced lot alongside Hofbrauhaus Buffalo and charges $5, which benefits the nearby tourist attraction.)
If your visit works out like it did for Shuler's neighbors from Lockport on their maiden voyage, it will be worth the small sum to stay put.
"They were going to go to a few breweries, but they ended up staying the whole night," the braumeister said. "They said it was like walking into Munich."
190 Scott St., 716-939-BEER (2337)
Hours: 4 to 10 p.m. Monday to Thursday, noon to midnight Friday and Saturday, noon to 9 p.m. Sunday.
Food: Appetizers, $10 to $16; entrees, $20 to $35.
Beer: $14 by the liter, $8 by the half-liter.
Stein Club: Pay $200 and get a stein made in Germany that is stored at the beer hall. Annual membership ($150 after the first year) includes a free liter of beer each month, 10% discounts in the gift shop and 10% discount Monday to Wednesday on food and beverages. Membership will expand by 600 slots next year.
Reservations: Encouraged, especially for large parties on weekends.