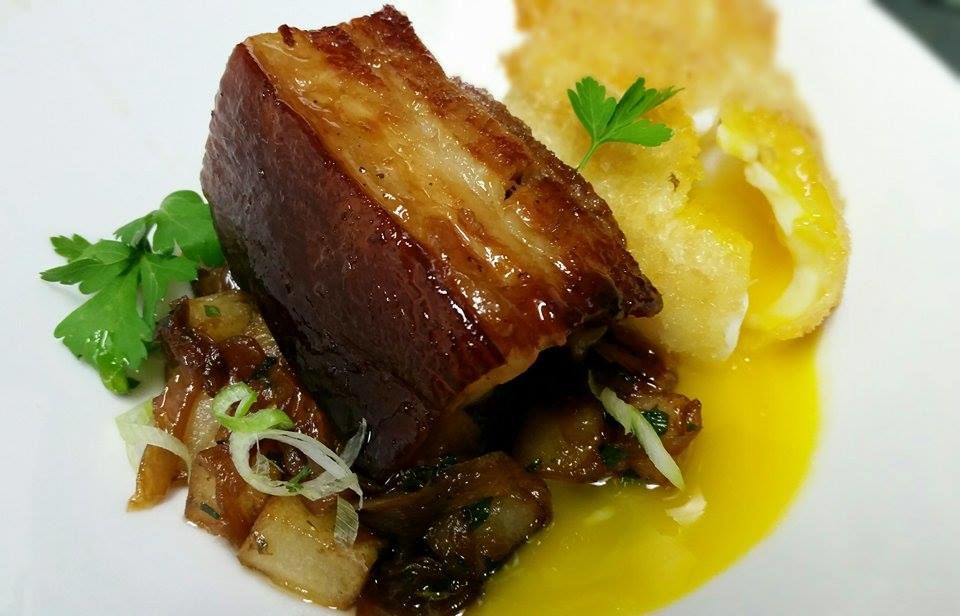 One of the talents that wins chefs fans is the ability to elevate familiar flavors, to put pedestrian dishes in fancy duds and make them dance.
Case in point, the pork belly appetizer that Chef Bruce Wieszala has started offering at Bourbon & Butter inside downtown's Hotel @ the Lafayette. It's on the specials menu now, but the $14 dish may join the regular card after the conclusion of Local Restaurant Week Oct. 26, Wieszala said.
Pictured above, the dish includes classic flavors from the iconic American breakfast of bacon, eggs and hash browns.
Except instead of scrambled or over easy, it's a poached egg coated in panko crumbs and carefully fried so it's oozy in the middle but crispy on the outside. Instead of bacon or sausage, there's a tender piece of pork belly, house-smoked over apple wood and crisped up. It rests on a hash of truffled potatoes, and the ensemble is sweetened up with maple vinaigrette.
If there was a pancake element, you could call it a Grand Slam gone glam. Whatever you call it, this nominee for Dish of the Moment just might bring breakfast for dinner back into fashion.
Stay up-to-date on what's happening
Receive the latest in local entertainment news in your inbox weekly!