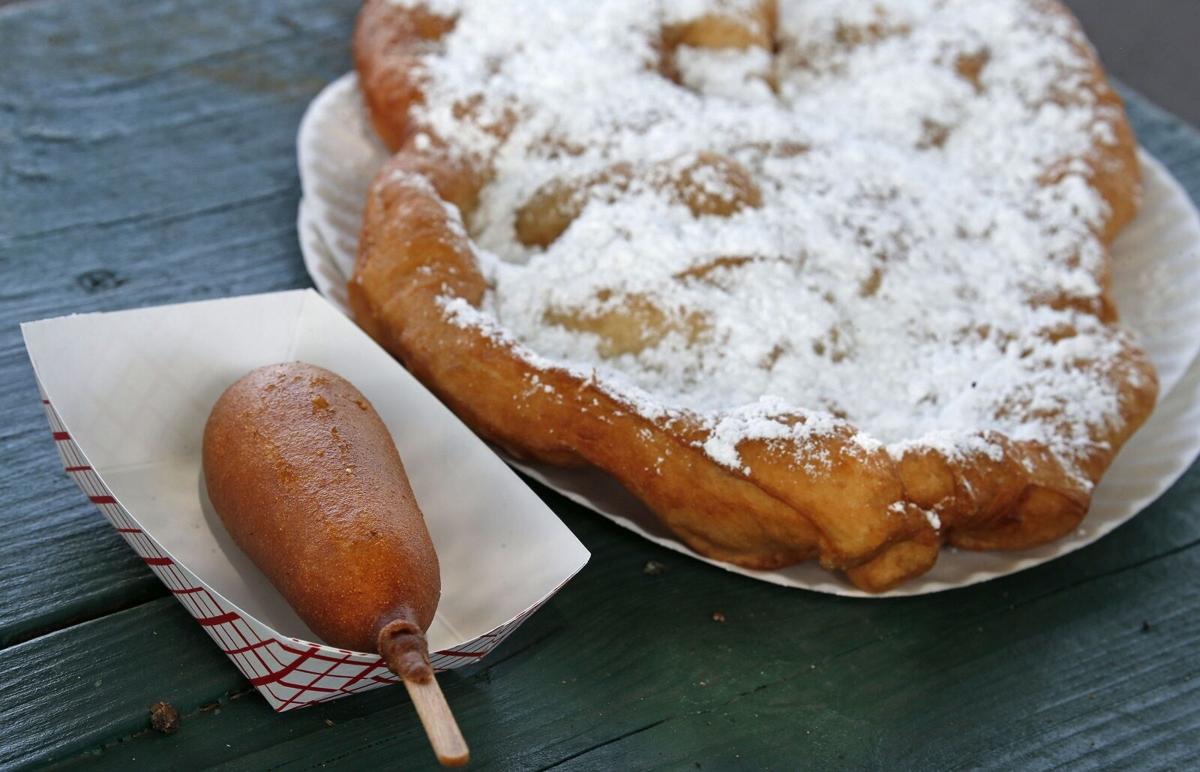 Summer 2020 won't be the same without the Erie County Fair, the 12-day festival flaunting rides, comfort foods, concerts and 4-H shows that invades the Hamburg Fairgrounds each August.
While renting an "I Got It" game sounds enticing, Buffalo-area businesses can best provide a taste of the fair in just that fashion: offering fair-friendly treats on restaurant menus or by holding special events to safely satisfy the fair urges of customers amid the Covid-19 pandemic.
"People are missing the fair," said Nadine Dischner, who along with her husband, David, owns 99 Brick Oven Bar & Grille in Lancaster where they'll be serving a special fair menu of about 10 items. "We put a note on Facebook asking people for their favorite fair foods and we got great, great responses and picked from the top choices. We're gonna run with it and have fun."
They aren't alone. From roaming food trucks such as the House of Munch, mini events at the Hamburg Fairgrounds and in the Village of Hamburg and special menus at 99 Brick Oven and Casey's Black Rock, here are great ways to chomp fair foods.
Mike Albarella is inspired by the extra gratitude from his customers this year. The owner of the House of Munch, a food truck dedicated to fair food, has run the operation since 2012 and has established relationships with those who order his fried dough, french fries, cotton candy and more treats. But their smiles seem more meaningful when Albarella said he's doing roughly 10% of his usual business. The fair's absence might be his time to shine.
"People have come up to me all the time, as soon as they announced the fair wasn't going to run, people were like, 'Oh my God' [when they noticed my truck]," said Albarella, who served at last year's fair. "I think especially with the fried dough, because that's something you can't really get everywhere."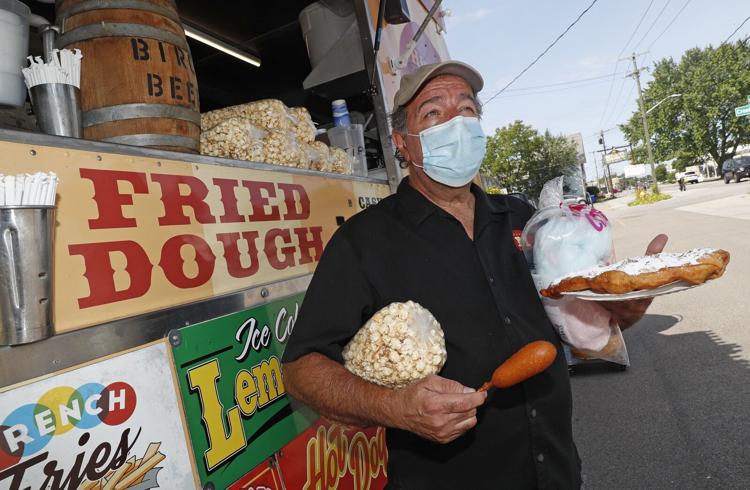 The fried dough ($7) is undoubtedly the star: covered in a generous dusting of powdered or cinnamon sugars – or both – it's so big it flops over the edges of a paper plate.
"Fried dough is written all over my truck – I'm a fried dough guy," Albarella said. "It's always fresh, we use fresh oil and make the product right on the truck. Plus, it's huge."
Albarella said the House of Munch is fighting to survive, which means booking as many services as he can – despite the majority of bigger events canceled for the summer. But thanks to customers who seem just as excited to see him as he is to see them, he remains optimistic.
"They'll come up to the window and say, 'Thanks for being here,' or 'I'm glad you're here – are you going to be here again?' " Albarella said. 
Where to find House of Munch:
• West Seneca Farmers Market at West Seneca Town Hall, 1250 Union Road, 4 to 7 p.m. Thursdays.
• Food Truck Wednesdays in the Garden at Samuel's Grande Manor, 8750 Main St., Williamsville. 5-7:30 p.m. every other Wednesday.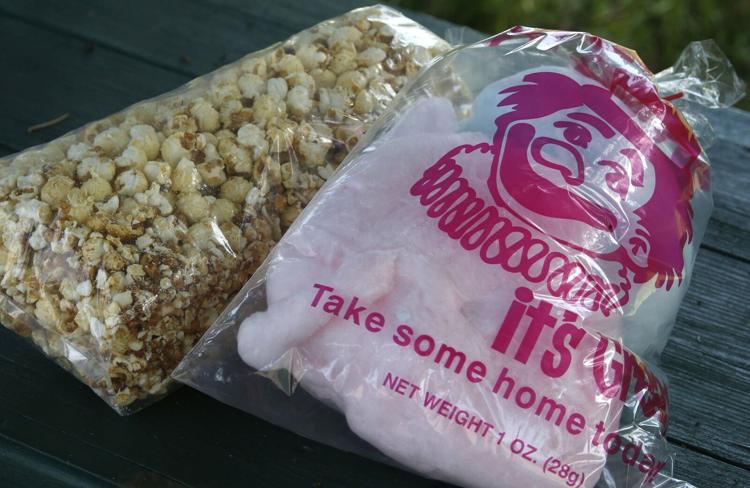 Fair food pops up at events
If eating fair food at the usual setting will help ease the pain of this year's cancellation, then Blast Out Hunger – a canned food drive-in and fireworks display benefiting FeedMore WNY at the Hamburg Fairgrounds on Aug. 15 – can help compensate for the loss and help others in need.
You can bring your donations to the contactless food drive from 10 a.m. to 4 p.m. Aug. 15. However, if you want to see fireworks and eat some fair food, stop by at 8 p.m. when the South Park Avenue and Quinby Drive entrances (gates 3 and 4) to the fairgrounds will open, allowing drivers to drop off nonperishable goods, park in every other spot to social distance, and buy food from vendors who will visit their cars selling pizza, kettle corn, fresh-squeezed lemonade and candy apples. Fireworks start at 9:30 p.m. A rain date is slated for Aug. 22.
In addition to Blast Out Hunger, the Hamburg Village Business Advisory Council – which boasts more than 50 businesses – will host Fair Food and Fun in the village from noon to 6 p.m. Aug. 15, with a possible follow-up a week later. More than 20 retailers will devise and promote their own Erie County Fair-inspired food item or activity, said VBAC board member Eric Adams, who runs Picture Your Walls.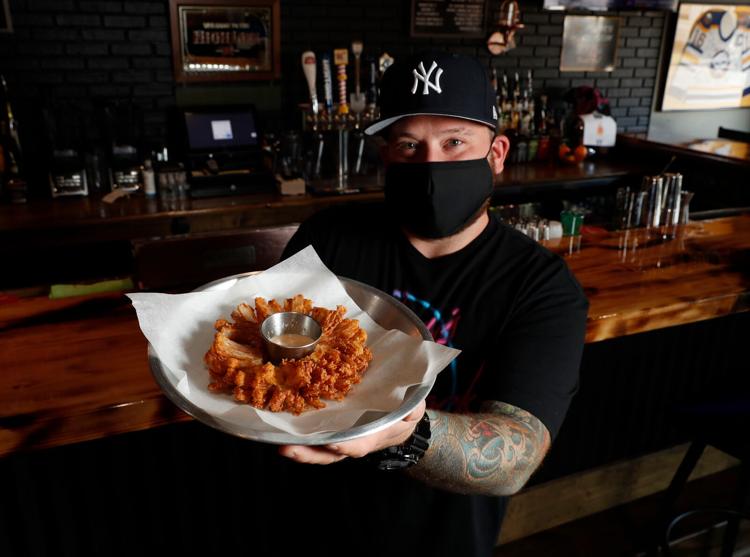 Restaurants embrace the fair
When Casey's Black Rock opened last December at 484 Amherst St., co-owner Vincent Garofalo aimed for a sense of fun at his new sports bar, which has an arcade in the back and a "penalty box" for those who cause mischief at the bar. As a playful extension of the theme, he committed a portion of his menu to "Carnival Eats," starring a Bloomin' Onion ($11) with house seasoning and a secret sauce.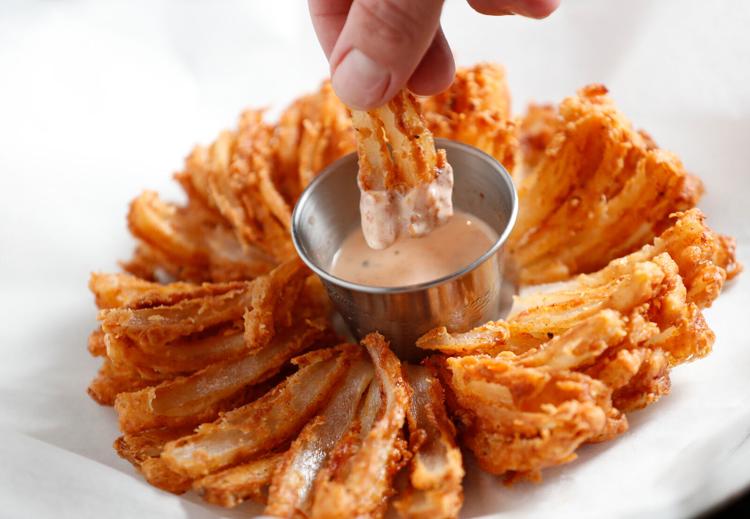 To provide customers a sense of normalcy on what would have been the first week of the fair, Casey's will roll out a special menu with Italian sausage with peppers, deep-fried Oreos, funnel cakes and carnival street corn, from Aug. 13-16.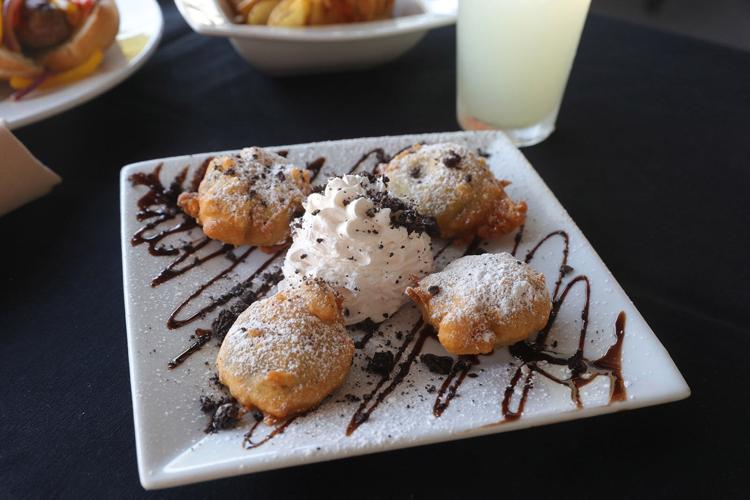 In Lancaster, 99 Brick Oven Bar & Grille owners Nadine and David Dischner sparked their relationship at the Erie County Fair 30 years ago, when Nadine was running a Break-N-Run pool game. David would stop by her booth each night of the fair to play. Nadine called David a "pool shark," but she thinks she may have made him nervous at the time. 
Because the fair holds such a special place in their hearts, they have a Fair Week special menu from Aug. 10 to 16 at the restaurant (99 Aurora St., Lancaster).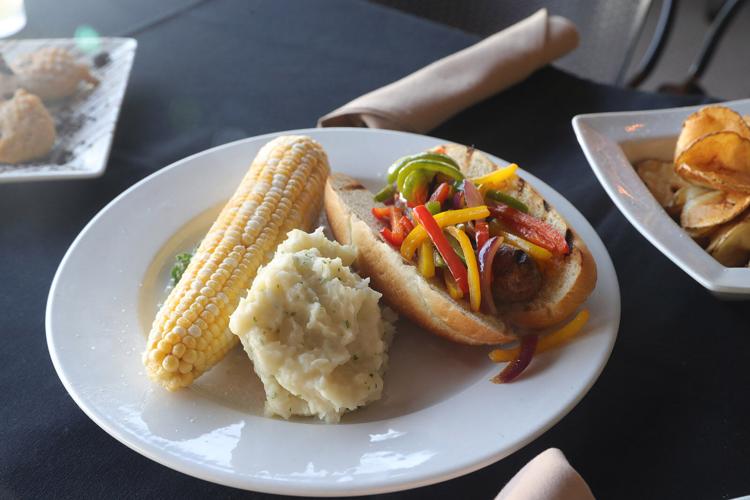 The dishes ($8-$22) include appetizers, full entrees, desserts and drinks dedicated to the carnival spirit: ribbon fries and a Bloomin' Onion will be starters; an Italian sausage with peppers and onions and a Philly cheesesteak represent dinners. A candied bacon sea-salt caramel cheesecake, fried dough using 99's pizza dough and deep-fried Oreos finish the meal. Freshly squeezed lemonade and a lime fizz will be available with or without alcohol. 
In teasing the menu on Facebook, manager Sara Simon didn't pass on a prospective pun. "It just isn't fair that we don't have a fair this year," she wrote.
• A whirlwind of retail snacks from WNY Fun Foods (456 Hinman Ave.) which has a strong DIY bent.