When doctors told Afril Boggan she couldn't continue her career as a bus driver, she was crushed. She had driven for First Student for two decades and tried multiple surgeries to get back behind the wheel.
"I missed my kids," Boggan said of the students she transported. "It was devastating news that I wouldn't be driving a school bus any longer."
Depressed by the turn of events, Boggan recalls the day her son Devin Johnson told her "Ma, we got you a restaurant."
Meme's Place – Boggan's first brick-and-mortar restaurant – opened at 173 High St., near the Buffalo Niagara Medical Campus, on Nov. 21. It's a true family effort, with more than 10 of Boggan's relatives working at the restaurant, spanning two generations and including in-laws, nieces, nephews, kids and fiancés.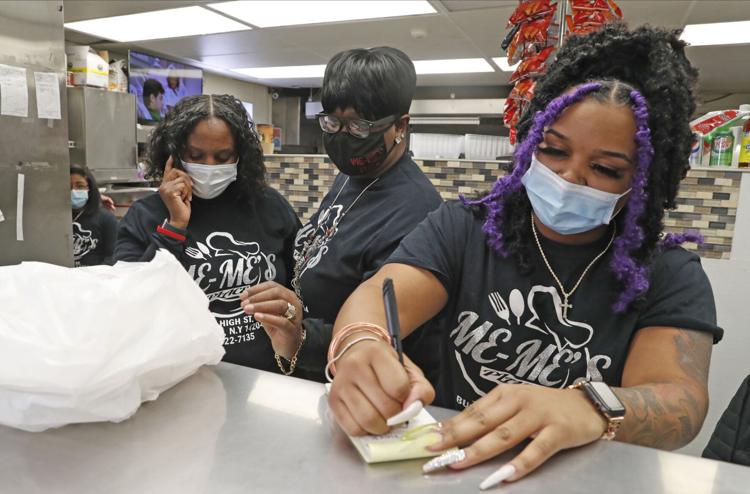 Boggan felt the fears of embarking on a new career, but her family's support propelled her onward. The challenges of the Boggan's previous food truck and catering business –which lasted six months in 2018 – could be overcome by the family's collective effort, as long as everyone bought in.
"If you all want to do this, we have to do it all the way," Kevin Johnson Sr., Boggan's fiancé said, in rallying the family. From the perspective of her close relative Je'Nae Kelley, Boggan's commitment to her family would be a powerful bond for the business.
"You have to know who she is – to dedicate herself, to believe in her dream, that her success is going to pour into other people in the family, how much she gives all of us on every occasion [together]," said Kelley, who takes on front-of-house duties and communication for Meme's Place.
Plan B for Boggan's career has long lurked in the background as a possibility. There was never any doubt who would cook for family birthday parties, barbecues, holidays and big Sunday dinners: It was Boggan, known as "Meme" to her grandkids.
"No one wants to eat nothing unless Meme made it," Kelley laughed.
Feeding a couple of dozen people wasn't a challenge for Boggan who could juggle a few crockpots at once. "I have big pots, not little saucepans," said Boggan, whose first name is pronounced AY-frill.
Her steak eggrolls have become something of local legend, Kelley said. Naturally, it was family members who helped spread the word of Meme's steak eggrolls beyond the family boundaries. Boggan credits the social media followings of her two daughters, Ashley and Ikeya, for generating a buzz that has extended to the new restaurant.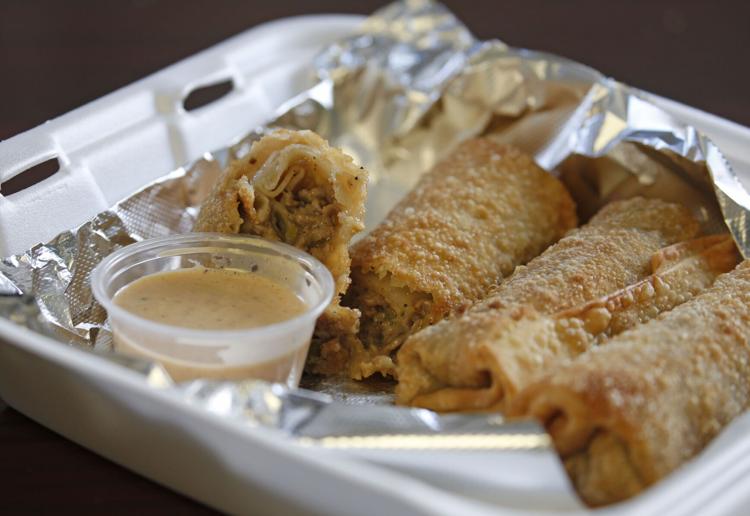 Meme's Place sells at least 600 steak eggrolls – three for $10.95 or five for $15 – each day. The dipping sauce – a blend of tangy and spicy – hooks customers, who routinely order extra sauces ($1 apiece) to use on other menu items, like the deep-fried taco.
"Some people will order so many [eggrolls] that we have to ask them to come in to make sure they're real [people]," said Kelley, a common tactic restaurants will use to avoid wasting product.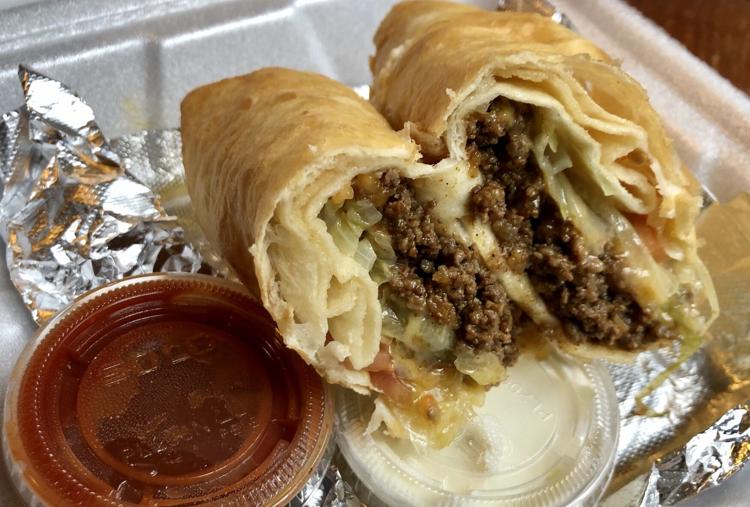 The deep-fried tacos ($6, chicken or beef) –more akin to deep-fried burritos – were inspired by the family's trips to the Erie County Fair. "We'd drive to those places every day if we could," Kelley said, referring to carnival vendors.
Other popular menu items: the Buffalo chicken finger sub ($6.99/$9.99) and the honey Cajun fish fry, Fridays only ($13.75). For healthier options, Boggan is happy to convert anything from beef to turkey, such as turkey tacos, eggrolls, burgers and subs.
While Meme's is takeout-only for now, a small section of the lobby could seat a handful once Covid-19 restrictions are lifted. Benches for outdoor seating will be added. Beer and wine will not be available, but Meme's counters with milkshakes ($5.75 small, $8.75 large), which began as strawberry, vanilla and chocolate and has expanded to turn the standalone desserts - strawberry cheesecake, banana pudding or peach cobbler, Kevin Johnson Sr.'s special recipe - into milkshake flavors.
The family has already learned a few lessons in the first month of business. One is that maintaining nonwork family time is important as Meme's has opted to not serve on Saturdays or Sundays. "We need that kind of balance and boundary," Kelley said.
The next generation could get involved soon, too, with a hot dog or ice cream cart tentatively planned for this summer; Boggan has nine grandchildren, after all.
"One day this restaurant is going to pay for your college education," Kelley said, passing along the message from older members of the family. "You can continue the legacy."
Open 11 a.m. to 7 p.m. Monday through Friday. Takeout and delivery are available; delivery is free for medical employees, $7 in and around Buffalo, and $10 beyond Cheektowaga.