PORTVILLE – These are the days Randy Sprague looks forward to all year: when the sun emerges, the temperatures rise and the sap in his thousands of maple trees begins to flow.
Sprague maintains 25,000 tree taps spread across eight maple forests dotting the rolling hills of the Southern Tier. One of those "sugar bushes" is right behind Sprague's Maple Farms, a 13,000-square-foot syrup production facility and restaurant that Randy owns with his wife, Antoinette. Sprague's is the maple mecca of Western New York, producing some 7,000 gallons of syrup each year extracted from collecting 350,000 to 400,000 gallons of sap.
As the trees thaw from the mid-winter freeze, a network of tubes brings the sap from the forest downhill into a holding tank directly behind the restaurant. Sprague's staff transforms that sap into the bottles of maple syrup lining its restaurant tables and topping its popular buckwheat pancakes within three days this time of year.
"You can't get it any fresher," said Sprague, 67. "You don't get much more farm to table than that."
The aroma of freshly boiled maple syrup and recently popped maple kettle popcorn greets visitors as soon as they enter Sprague's. Customers walk down a long hallway toward the restaurant that provides a view into Sprague's production facilities, and see employees at work as they boil sap into syrup and bottle the product.
While Sprague's ships some of that syrup to customers as far away as Belgium, nearly a quarter of it stays at the restaurant for every type of maple-infused creation imaginable. There's housemade maple vinaigrette on salads, maple whipped cream topping Belgian waffles, maple-cinnamon applesauce, maple-flavored sausage patties, maple barbecue sauce, maple baked beans and ice cream sundaes drizzled with maple syrup.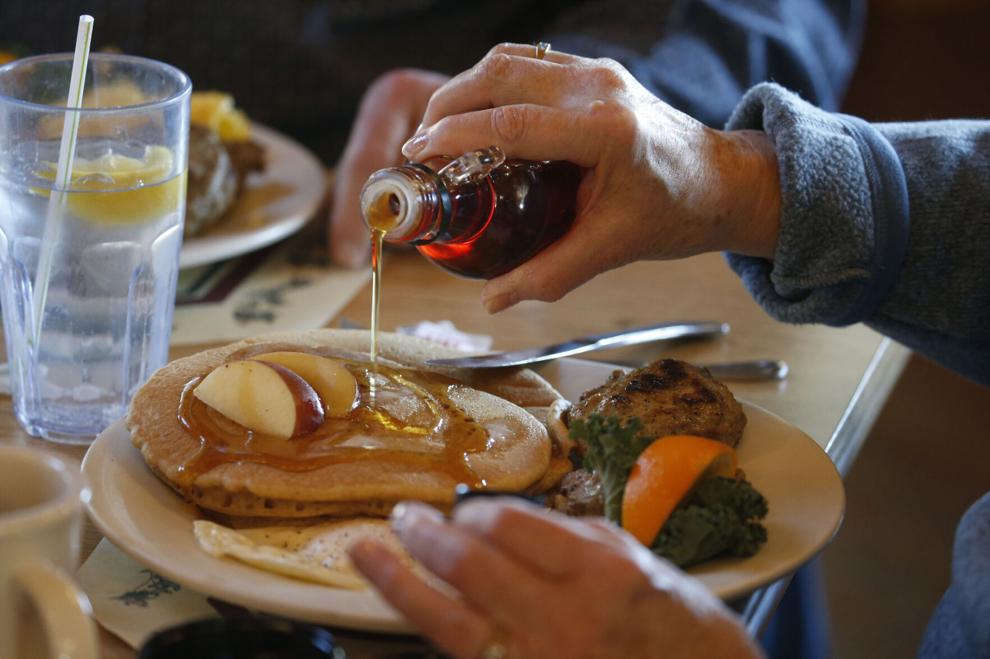 Visitors come from near and far to eat at the lodgelike restaurant that serves breakfast all day as well as lunch and dinner (the turkey – sourced from Sprague's poultry farm – is a bestseller). A small store sells a variety of maple products for the ride home – from maple syrup bottles of all sizes to bags of maple kettle popcorn, maple fudge, maple cream and even bottled water extracted from the syrup production process.
Perhaps it was meant to be that a boy who grew up on Maple Street in the heart of sugaring country would become one of the top syrup producers in New York State. Western New Yorkers have been tapping trees down here for generations. Sprague learned the tradition when he was 10 years old while visiting his childhood friends at their farm on the edge of Portville. His friend's father, "Uncle Van" Deschler, taught him how to tap his first tree. Sprague took his newfound knowledge, returned to his parents' house, grabbed some coffee cans and began tapping the trees at the end of his driveway.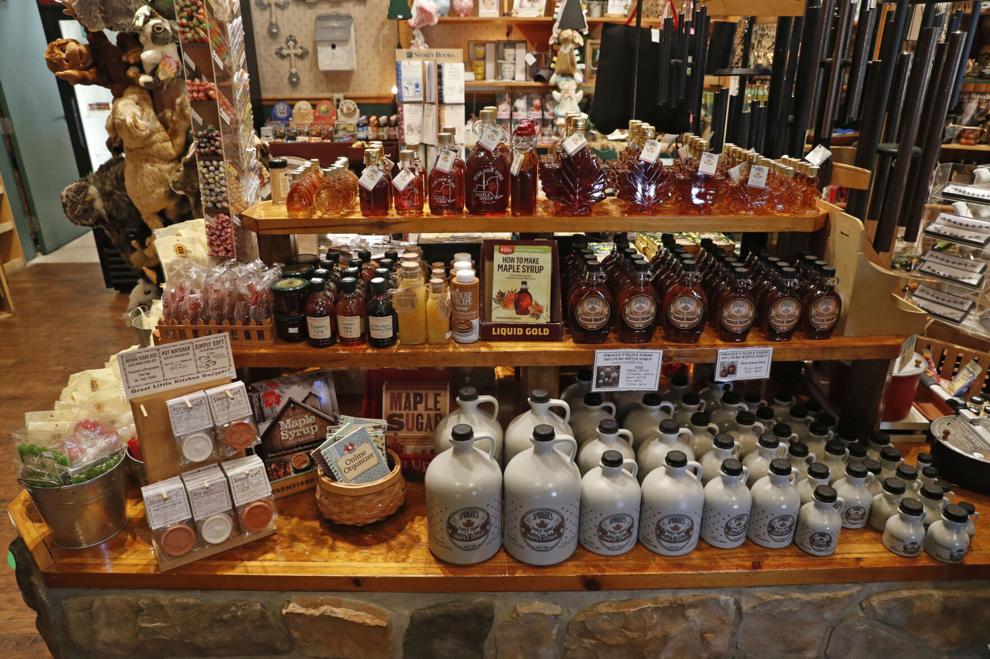 He nurtured his maple interest into adulthood, bottling syrup on the side while building a career in the family construction business. When the Deschler farm went up for sale, Sprague couldn't resist purchasing the property that first inspired his interest in syrup to create a maple destination. He first conceived of Sprague's Maple Farms nearly 30 years ago, then made his dream a reality in 2001.
Some in Portville – a village of 1,000 residents that is 6 miles southeast of Olean and one of the final outposts before the state line – expressed skepticism at a 270-seat restaurant arriving at the edge of town.
"People said 'aren't you afraid of failing'?" Sprague said. "To this day, I say 'No, failure would have been never trying.' "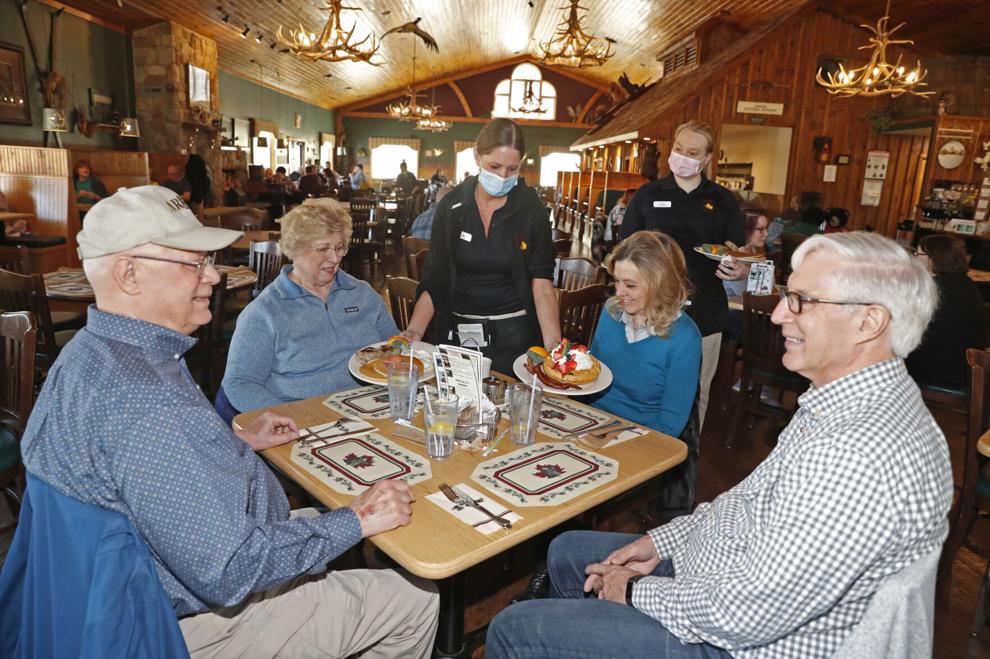 Sprague remained convinced that the old Deschler farm was Western New York's field of dreams; that if you build it, if you boil that syrup, they will come. And he was right.
"People didn't hear of Portville too much, but now they know where we are," said Sprague's daughter, Laura Sprague Lee, who also works for the company.
Randy and Antoinette Sprague remain on-site nearly every day of the year. Antoinette runs the restaurant and gift shop, while Randy takes care of the maple syrup production.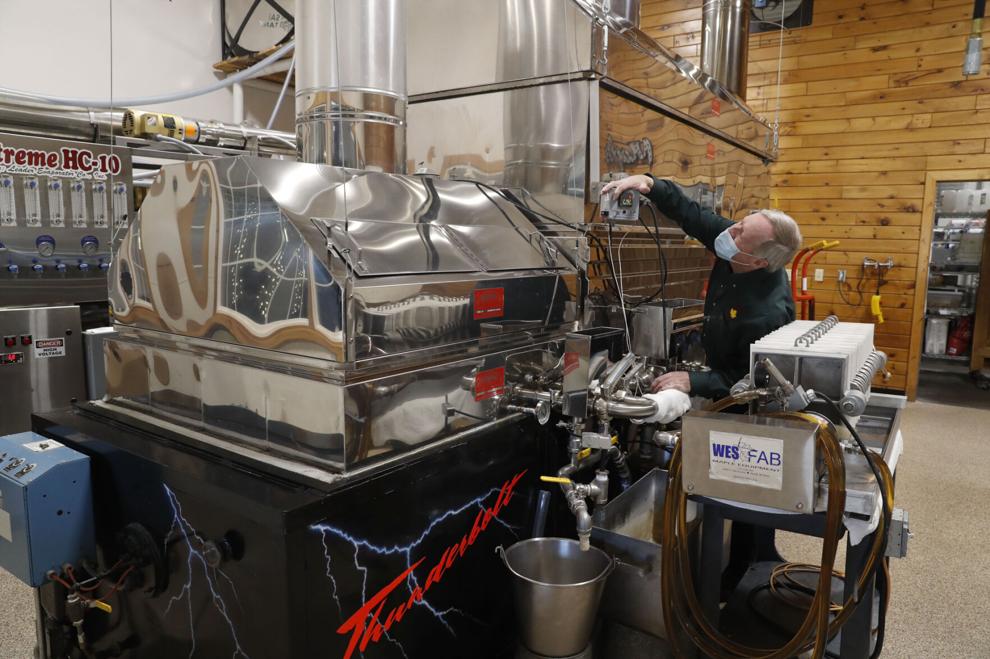 For Randy, the return of spring and that first successful tap of the year is just as thrilling as when he first learned the sugaring process more than a half-century ago, perhaps even more after a challenging winter and year like this one.
"Every spring is the emergence of a new beginning," Sprague said. "Every year you tap a tree, that first drop reminds you that nature still gives forth eternal hope for a new year."
Hours: 8 a.m. to 8 p.m. Monday through Thursday, 8 a.m. to 9 p.m. Friday and Saturday.
Sprague's is far from the only place to experience maple season in Western New York. While New York State's Maple Weekend has been canceled for this year, spots across the region will continue to sell fresh syrup, offer takeout and host socially distanced events. Here are a few more suggestions to get your maple fix:
Learn the Native American origins of maple sugaring at the Genesee Country Village & Museum's Maple Festival and Pancake Breakfast, from 10 a.m. to 3 p.m. March 19-21 and 26-28. Hear Haudenosaunee storytellers share the history behind maple syrup, step inside a working sugarhouse, tour the historic village, hike the Nature Center's Maple History Trail and shop for maple products made on-site. Tickets for both the maple festival and pancake breakfast, with seatings every 45 minutes from 9:30 a.m. to 12:30 p.m., are sold separately and are only available online. Visit gcv.org. The museum is at 1410 Flint Hill Road, Mumford.
Cartwright's Maple Tree Inn (4321 County Road 15A, Angelica), a pancake and maple syrup mainstay since 1963, is open with limited capacity indoor dining and takeout. For those who would rather cook their pancake feast at home, Cartwright's is selling Grampy's Breakfast Bundle to-go: a bottle of maple syrup, its signature buckwheat pancake mix, and fully cooked frozen ham and sausage for $29. Cash only.
A number of smaller, family owned sugar shacks will continue to sell their products during the final two weekends of March. Get your fill of maple suckers and maple cream at the open house of Smith's Maple Farm (5257 Mayer Road, Hamburg) from 9 a.m. to 5 p.m. March 20, 21, 27 and 28. After browsing there, head to Ploetz's Maple Syrup (12833 Dowd Road, Springville), which is serving an all-you-can eat buttermilk pancake breakfast from 9 a.m. to 1 p.m. on those same days, with the sale room open from 9 a.m. to 4 p.m. And grab your maple hot dog, maple doughnuts and maple ice cream to go at Wolf Maple Products (9355 Chestnut Ridge Road, Middleport) for its Maple Weekend Drive Thru from 10 a.m. to 4 p.m. March 20.