Fall means grapes, and with grapes comes wine – and fall foliage.
We love the wineries along the lesser-known Lake Erie Wine Trail, as they follow along our beautiful Lake Erie all the way into Pennsylvania. There are 23 wineries throughout a 50-mile stretch from Silver Creek to Harborcreek, Pa.
Kris Kane, owner and head winemaker of 21 Brix Winery in Portland, N.Y., calls it one of the largest growing grape regions in the country.
"I think many people from the Buffalo area don't realize that they are just 25 minutes from the gateway of the Lake Erie Wine Country region – 30,000 acres of grapes interspersed with wineries that have so much to offer as far as award-winning wines go. On top of that, if you factor in uniqueness: from oldest in the state to some of the largest in size – our wineries have got it all," he said.
Kane said the wacky weather this year did affect the crops.
"The milder winter set us up for better crop potential without winter injury. That said, the late frost in late April did affect more of the traditional native varieties," he said.
Normally, an early season translates into a longer growing season. It was good until July, when the season stalled with the cooler temperatures and rain.
"This is something to note, though. There are ups and downs of every grape growing season," Kane said, adding a lot still hinges on the weather through September, with hopes for "hot, dry weather to bring us into a prime harvest season."
Among the distinct flavors and items you'll find at wineries on the Lake Erie Wine Trail:
Willow Lake Winery in Burt features chocolate dessert wines, including Chautauqua Chocolate, Chocolate Peppermint Patty and Chocolate Temptations, which is described as "Sweet, deep, rich dark chocolate flavor with rich grape flavors and aromas with a velvety finish." The winery hosts a Wine, Witches and Magical Musicians event on Oct. 2.
Woodbury Winery in Fredonia sells Peanut Butter Cup wine, described as "The irresistible taste of peanut butter and chocolate mixed with the rich taste of Concord grapes,"
Arundel Cellars & Brewing Co. in North East, Pa., serves wine, its own craft beers and hard cider. A menu has everything from snack items to sandwiches and wraps.
At Mazza Chautauqua Cellars and Five & 20 Spirits and Brewing, you get your pick of items to taste. It is New York State's first combo winery, brewery and distillery.
And what should you buy at 21 Brix? Kane recommends his 2012 black label cabernet franc, a small batch reserve, and the 2015 cabernet sauvignon that he notes did well across the board in competition.
"As far as the wine I'd most recommend right now: dry riesling or semi-dry riesling," he said.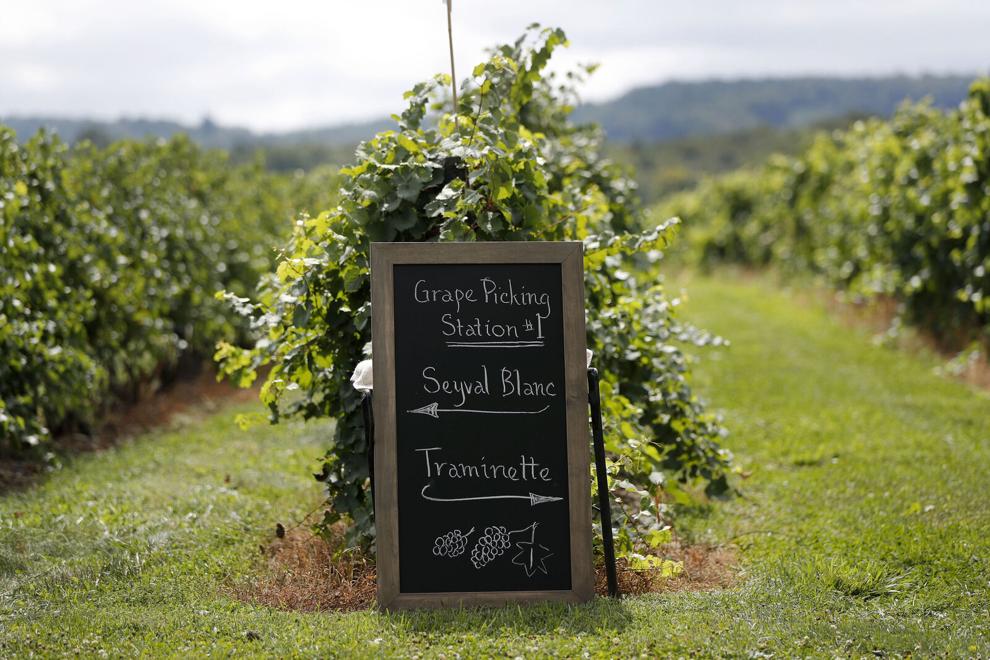 The Lake Erie Wine Trail's website (lakeeriewinecountry.org) is perfect for planning. In addition to a great PDF map (yes, we like maps), there is winery information, places to grab a meal, places to stay and side attractions to visit – such as breweries along the Lake Erie Ale Trail – under the "Things To Do" tab.
Learn about the Lake Erie Concord Grape Belt by visiting the Grape Discovery Center (8305 West Main Road, Westfield) online or in person. There is information about the history of the largest and oldest Concord grape growing region in the world. The center's tasting bar has wines, snacks, cheese, cured meats and more. A gift shop sells "grapey" apparel, items by local artists and gourmet food items. Admission is free.
The North East Wine Fest is Sept. 24-26 at Gibson Park in North East, Pa., where there will be wine tastings, entertainment and grape stomping.
21 Brix Winery has multiple events. A fall festival from 10 a.m. to 6 p.m. Oct. 3 will have small-batch, handcrafted local products with live music. 21 Brix vineyard walks continue Sept. 25, Oct. 2, 9 and 10, with two walks per day. Stroll through the grapes during peak harvest, taste grapes, then finish with a small plate and wine. Tickets are online.
Johnson Estate Winery (8419 W Main St., Westfield) hosts self-guided Great Grape Walks on Saturdays and Sundays through Oct. 10. Taste different grape varieties and get a grape basket and clippers. After your walk, taste wines made from those estate grapes and pair them with a small cheese and charcuterie board at FLIGHT, the winery's outdoor dining area. Cost is $35, reservations are required. Also through Oct. 10, from Thursday through Sunday, enjoy outdoor food and wine pairings. Seasonal cheese and charcuterie boards are paired with different flights of wine. Boards are $20, wine flights vary in price. No reservation required. Go online for details of all the events.
For something unique, the Sensory Winery & Art Gallery (10593 West Main Road, Ripley) has regional art and unique handmade gifts, along with its funky tasting room décor.
At Yori Wine Cellars in North East, Pa., small plates include flatbreads, pizza, dips and more.
Courtyard Vineyards in North East, Pa., offers offers a picnic for two ($100) that includes a private excursion out to one of the vineyards and to a picnic table by the creek. A basket with table linens and wine glasses is yours to keep. Picnic includes sandwiches, potato chips, pickles, chocolate chip cookies and a bottle of wine. Or go with "Just Pop The Cork," ($15 per person) a wine and popcorn pairing that features a variety of flavored popcorn, including dill pickle, spicy buffalo and more. Purchase tickets for both online before you go to set up times.
The 6 Mile Cellars in Erie, Pa., has a tasting room in the cellar of a 100-plus-year-old barn that once housed horses. The winery permits picnicking on the grounds.
Heritage Wine Cellars in North East, Pa., is located in a barn that is more than 200 years old. At Quincy Cellars in Ripley, the tasting room is in the cellar of a 130-year-old barn that opens up onto a patio.
Don't miss the South Shore Wine Company in North East, Pa., one of the oldest wine brands. The tasting room is stone cellar/cavern built in the 1860s, and home to the first commercial winery in Erie County, Pa.