A new seasonal ice cream stand with South Buffalo ties is opening at the Outer Harbor.
Hook & Ladder owners Pete Scarcello, John Otto and Gino Gatti will help run the roughly 1,000-square-foot, family-friendly ice cream
"With all the work the city has done with the waterfront, it'll be a little sweeter with some ice cream," said John Otto, a partner in the South Buffalo-based development company with Pete Scarcello and Gino Gatti.
Charlie's Boat Yard, which was Dug's Dive until Mary and Chuck Goodspeed and John Skipper took over operations and overhauled the space in 2016, is a seasonal two-story bar-restaurant with patio seating overlooking Lake Erie. In previous years, the Goodspeeds offered Charlap's Ice Cream from the side window, but a South Buffalo connection between Chuck, a longtime restaurateur who worked at Brick Oven Bistro and Charlie O'Brien's, inspired the Boat Yard's decision to lease space to Cookies & Cream.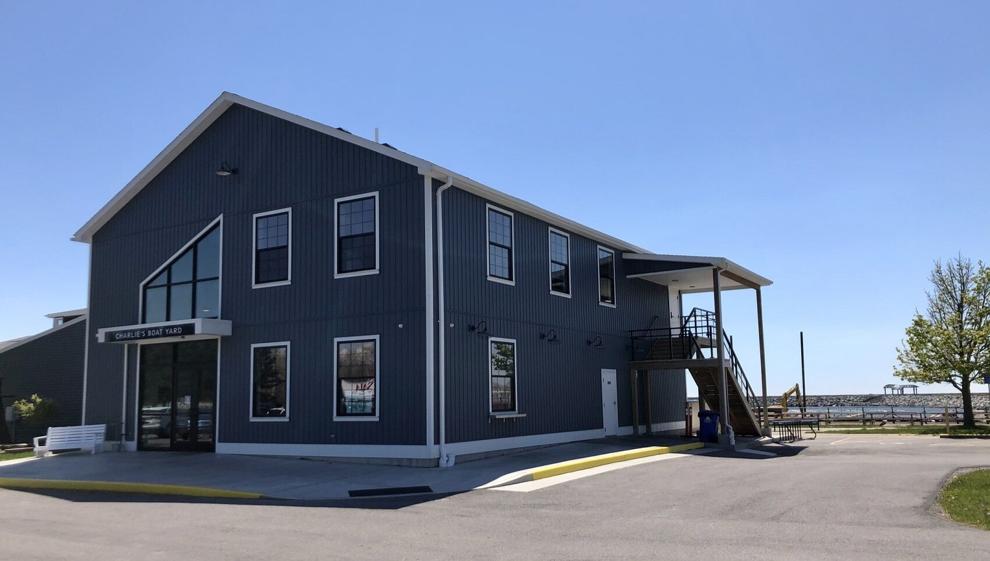 Suarez said Cookies & Cream on the Water will offer select items from the Seneca Street shop, which will supply the waterfront location. Fresh cookies in several varieties will be delivered each day as the foundation for Cookies & Cream's popular mammoth ice cream sandwiches, which are stuffed with soft-serve custard.
Cookies & Cream is the lone Buffalo-area ice cream shop to exclusively use Gifford's Ice Cream, a Maine creamery with a lengthy list of flavors. A rotating cast of pints will be sold from the waterfront location, as well as traditional sundaes; '77s, a local play on Dairy Queen Blizzards; and classic cones and bowls. Hours are expected to be 11 a.m. to 10 p.m. daily, in line with Charlie's Boat Yard's schedule.
A few two-top tables and a bench will be set up along the sidewalk outside the service window. Customers can also use the colorful picnic tables that are arranged as public seating for the Small Boat Harbor and overlook the water. Cookies & Cream customers will not be able to use Charlie's Boat Yard's back patio seating, however, and Charlie's dine-in customers can't order Cookies & Cream in the restaurant.  
The three partners in Hook & Ladder mentioned their growing affinity for the ice cream business, which they described as a fun complement to their primary work in rehabbing residential and commercial properties, mostly in South Buffalo. The original Cookies & Cream was the first retail business in which they took a hands-on role in operating after redeveloping the building.
"We've really fallen in love with it, too," Gatti said of the ice cream business.
South End Eatery, a Hook & Ladder restaurant in the works before the pandemic, has been put on hold, but another Cookies & Cream location, in addition to the waterfront window, is underway in a different neighborhood, the developers said.