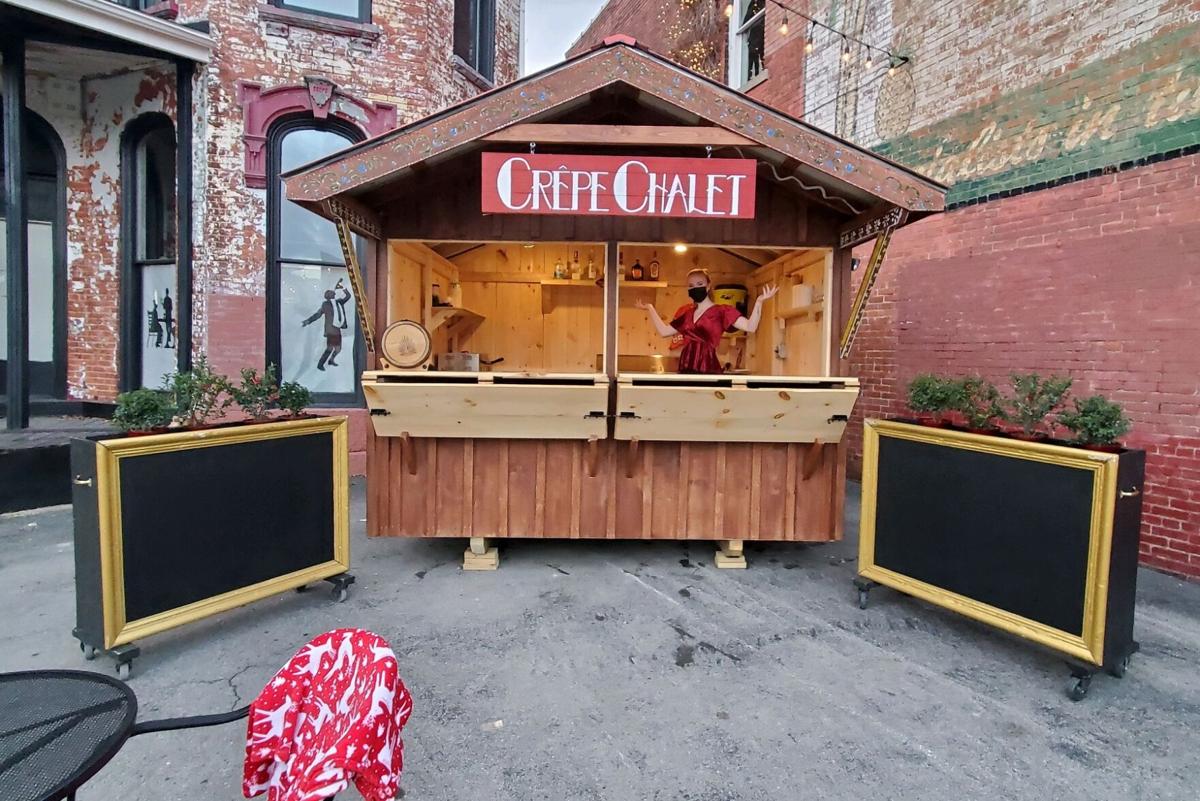 In several European countries, year-round outdoor markets aren't unusual. In Buffalo, at a time when rules governing indoor eating are expected to tighten due to the Covid-19 pandemic, one restaurateur is mimicking something she relished during her travels.
Beginning Friday, Coco Bistro's Maura Crawford will debut Coco's Crepe Chalet – an Amish-built shed acting as a food stand – and an affiliated Christmas artisan market, the Coco's Crepe Chalet Marché, which has space for up to 10 vendors, from Fridays through Sundays until Dec. 20.
"We're trying to keep the spirit of the season," Crawford said, "and we're looking at a pretty sad holiday season."
The first time I ate dinner at Coco, Maura Crawford's ode to French standards like coq au vin, steak frites, and buckets of mussels with more fries and aioli, it was 2013. Seven plates, I decreed, griping about dim lighting and languid service that might have suited namesake Coco Chanel, but didn't leave me time for dessert. Two days
The food stand, assembled on the double-patio of Coco Bistro at 888 Main St., will serve customers Tuesdays through Sundays until the outdoor dining season can begin again, likely in April or May. Brick-and-mortar Coco Bistro will remain open for business for takeout only, after opting to temporarily cease sitdown dining Sunday.
For the new project, Crawford was inspired by her time in Europe during the 1980s, when she explored England, Austria and Scotland, venturing to outdoor markets – including a memorable Christmas market in Edinburgh.
Crawford is prepared to tackle crepes, a quintessential French treat, with an authentic crepe-maker that looks "like a DJ's double turntable," she said. The crepe creator is legitimate enough that her electrician ran into difficulties because its reliance on the European electric system.
Overly simplified, crepes are flat, thin pancakes with fillings; at Coco, Crawford prepared them for catered showers and baptisms, but never for the regular restaurant menu. It's a modest departure from Coco's dinner fare, but the presentation – and environment – will also seem different.
"It's not really Coco food, just kind of street snacking with a Coco flair," Crawford said.
The Crepe Chalet will boast seven savory and seven sweet crepes, all 16 inches in diameter and easy to eat on the move. Two potential savory standouts are the French onion crepe with gruyère, and the Turkish lahmacun, which weaves together spiced lamb, feta, parsley and lemon.
On the sweet side, the Planet of the Crepes is filled with bananas, chocolate, dulce de leche and walnuts, while the raspberry beret houses lemon curd, raspberry whipped cream cheese, cream and fresh raspberries. While Nutella is a popular crepe flavor in Paris, it won't be included in Coco's lineup because of the company's unethical practices, Crawford said. Crepes will range from $6 to $13, with most around $10.
Soups, black bean chili and a couple sandwich options will complement the chalet's namesake item.
During market hours, there will be no outdoor seating for dining, as the vendor booths – made from wooden palettes by Crawford's husband – will take up much of the patio space, with four booths in the front patio area and six in the rear.
Several two-top tables will be available for outdoor dining on the patio near the chalet when the market isn't in action, however, and Crawford has purchased 50 fleece blankets – emblazoned with red reindeer – she plans to wash after each use.
The veteran restaurateur knows a crepe stand in late fall and winter might seem a little strange for the area, but she deems it a safer alternative to creating an enclosed structure outside and calling it "outdoor dining." Instead, Crawford has adopted a European tradition that conjures fond personal memories.
"It's what they do all over the world," she said.
Coco's Crepe Chalet Marché (artisan market): 5 to 8 p.m. Friday, 2 to 6 p.m. Saturday, 2 to 6 p.m. Sunday, with incidental live Christmas jazz Sundays. Runs Friday through Dec. 20 at 888 Main St.
Coco's Crepe Chalet (food stand): noon to 9 p.m. Tuesday through Friday, 2 to 9 p.m. Saturday, 2 to 6 p.m. Sunday at 888 Main St., until warm-weather outdoor dining is in effect.