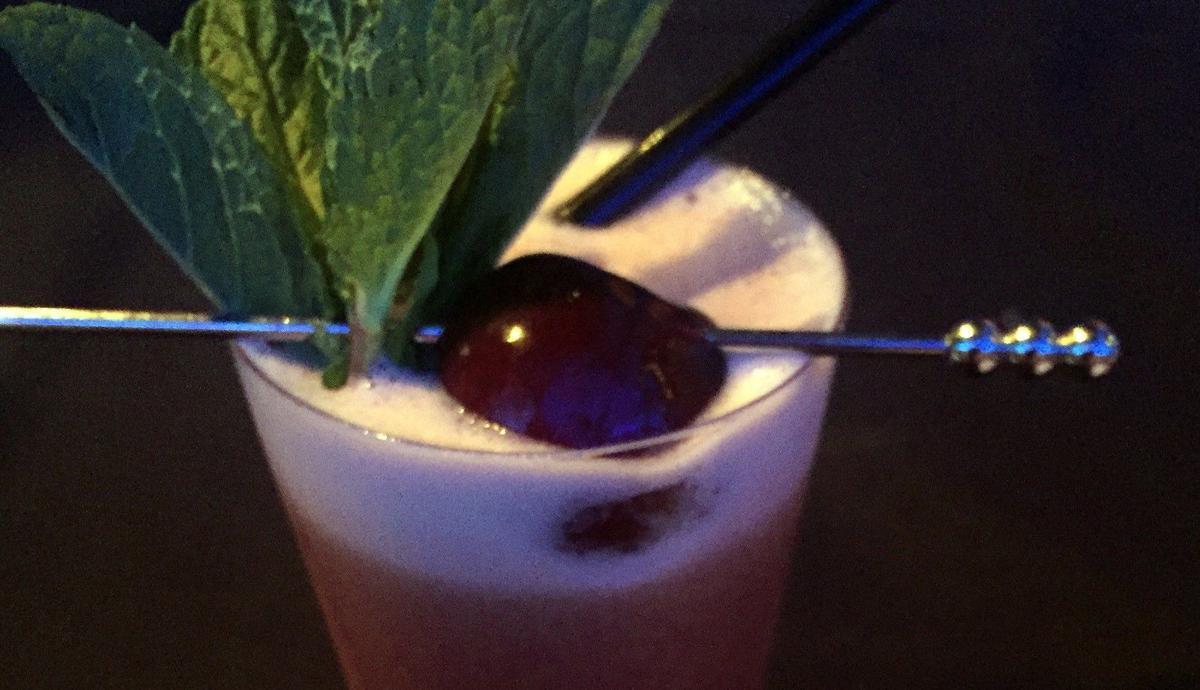 Four bartenders and four judges sized up the Buffalo cocktail scene's progress in the fourth annual Industry Night cocktail competition last week.
It started Monday night and ended in the wee hours of Tuesday, and in the end the outcome was familiar. Tony Rials, of Bourbon & Butter, won for the fourth year in a row, with his "No Talking, Just Head" cocktail, a Hornitos Reposado-based drink with elements of corn, avocado and tomatillo salsa edging the runner-up by one point.
(At the event, Rials' win was announced as his third in a row. Seychew explained: "Three times now we have kept score, so officially three times. All participants the first year concede he won that one as well.")
Garnering "crowd favorite" honors was Jason Wood, of Vera Pizzeria, with his "A Stone's Throw Away," based on Monkey Shoulder Blended Scotch. Jon Karel, of Buffalo Proper, with the Lockhouse Gin-based "Beets Per Minute" and Nick O'Brien of Black Sheep, with the Reyka Vodka "Aster," rounded out the battle. These bartenders have shaken and stirred their way to the top echelon of Buffalo bar scene, and the evening was a fierce competition turning out some serious creations.
Industry Night is a monthly, public event hosted by Buffalo Spree Food Editor Christa Glennie Seychew and Mike Andrzejewski, chef-owner of SeaBar. The series celebrates food and drink and the people who create them, and the cocktail competition is its most popular annual installment.
Competitors drew a base spirit around which to build a cocktail, to serve to four judges and the crowd. Joining me at the judges table were Ristorante Lombardo head bartender and sommelier Tommy Lombardo, Premier Gourmet fine food and beverage distributor and longtime "cocktail nerd" Jerry Cieselski and Christopher Carlsson, founder of SpiritsReview.com and spirits expert and collector.
While attendees were responsible for casting two votes per person, the judges analyzed each drink based on a list of criteria: Appearance, drink name, creativity, cohesiveness, technical execution, balance and overall flavor.
Karel filled his shakers first, mixing a hyper-local highball that focused on beets grown right in Buffalo's backyard. The Buffalo Proper founder has long been searching for a "Buffalo" cocktail signature, and Seychew said she thinks that local focus may be it. After tasting "Beets Per Minute," she noted the focus not just on the ingredients, but their purveyors. "You're not going to get a Buffalo look," the food editor noted. "You can't top Japanese style, New York, Seattle. But local ingredients showcased well? That might be it."
The cocktail featured roasted, pickled and fresh beets, Lockhouse Gin, black pepper, honey and fresh cream, which played with the gin's floral, confectionary qualities and the earthy, umami nature beets impart. Black pepper gave it a little bite with the fresh cream balancing an almost chewy texture, but the delicate gin got a little lost. Overall, it had a complex character that was as interesting as it was delicious, but Beets Per Minute could have used a little more development.
O'Brien had his work cut out for him with Reyka Vodka. This particular vodka, a green spirit from Iceland, had a stronger personality than most, which are traditionally intended as an invisible base. O'Brien enhanced Reyka's flowery, herbal scents with pineapple and lemon juices, homemade grenadine and Cointreau, floating a real flower on top. The drink smelled and tasted like Froot Loops, with a little SweetTart thrown in, noted Lombardo. It was sweet, tart and tropical, but lacked depth.
Black Sheep is also known for its local ingredients and focus on strong, well-paired flavors, but we missed that house's signature attention to detail in the Aster. Named after a flower, not the Astor classic cocktail, as Carlsson noted, the name made little sense. The taste, most in the room agreed, could have used another take.
Next, Wood played on scotch's natural fruit pairing – cherries – with "A Stone's Throw Away," which featured grilled lemon, fresh mint, egg white, a vanilla liqueur, Monkey Shoulder Blended Scotch and cherry several ways. It came away tasting like a cherry chocolate cordial, but with scotch's characteristic peat note that grounded it nicely.
This was a scotch concoction for those who say they don't like scotch, which also tempted those of us who do. It was creamy, balanced and smooth, with enough contrast to keep the scotch burn low but still showcase the delicate complexity of the spirit.
Carlsson and Cieselski both called this one their favorite, not only for its stunning presentation and drinkability, but because they could come back for more. While the Aster and Beets Per Minute felt more novelty to Carlsson, this one harkened back to the classics on which Vera built its Prohibition-style foundation. It showcased the building blocks Vera's founder Cameron Rector first brought to the table, an important and exciting legacy in a glass.
Finally, Rials presented the "No Talking, Just Head," named after a song by The Heads, featuring avocado liqueur, corn, tomatillo and mescal. What resulted was a smoky, silky, vegetal blend with a little spice, which tasted faintly of salsa, with the fatty smoothness of guacamole.
Rials had played around with making a corn tincture, but had to add tomatillo for flavor, since the season's first local corn couldn't impart the sweetness he wanted. The corn character still came through with a summery crispness that played nicely against the tequila's smoke. It was complex without being overwrought, and drinkable not just as a novelty, but all night long.
"No Talking, Just Head" didn't always translate smoothly to the audience samples. The smaller sips tasted, as one attendee noted, "like store-bought salsa verde." Not an unpleasant flavor, but definitely lacking the delicacy the judges loved. That inconsistency is out of character for Rials, usually known for his laser-focused, almost molecular attention. The difference speaks to the character of the competition and what makes it such a challenge: Creating not just five drinks, but 160 samples, all at once, away from the home rail. A delicate drink like Just Head can suffer under those circumstances, and this one did.
As the competition came to a close, Seychew had to tally the close scores twice, all coming within single digits of one another. "The bartenders believe this is the most serious cocktail competition in Buffalo," Seychew had said in an email to judges. "And they all make a concerted effort to do their best."
That effort showed, in a solid slate of finely crafted, well-thought out cocktails served not just to customers, but peers. The stakes are higher for bartenders serving restaurant folks, and it showed in the concentrated faces, calculated measurements and thoughtful consideration of each creation. Even after Rials took it all home for the third year in a row, he stood by shaking his head with a shy smile. "I wasn't sure how it'd come out," he said. "I played around with a lot of different elements, different ideas."
To wrap it all up, Seychew drew together her love of poetry and the culinary arts, reading a selection from Arthur William Edgar O'Shaughnessy's "Ode," which well encapsulated the spirit of the evening, the Industry Night series and the Buffalo culinary culture as a whole.
"We are the music makers/And we are the dreamers of dreams," the poem reads. "Yet we are the movers and shakers/Of the world for ever, it seems."
If IN shows one thing, it's that Buffalo's dreamers, movers and shakers are all working together, side by side, to move the Queen City into the next level of craft beverage creation. In that sense, we all win.