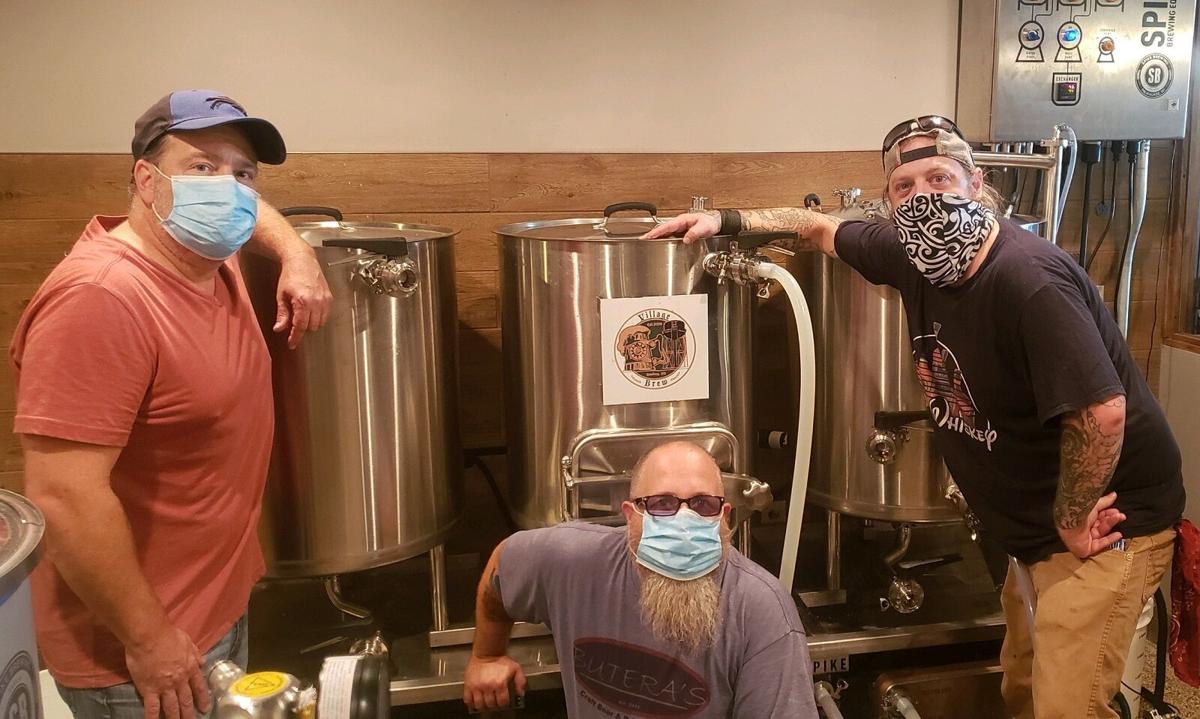 With such extravagant comfort food as the barbecue bacon cheeseburger meatloaf sandwich, Butera's exceptional craft beer menu has been less heralded. Visitors to the Hamburg bar-restaurant have found a curated mix of local brews – touching smaller local operations such as Pressure Drop and Buffalo Brewing – to trendy international breweries such as Ommegang, Three Heads and Troegs.
Butera's philosophy of tackling as much as possible in-house will now extend to beer, as Jim Butera, Craig Lucas and Jayson Schultz will debut Village Brew House on Sept. 12 inside Butera's (32 Main St., Hamburg). Butera has transformed a section of the restaurant's banquet room storage area to accommodate a small brewing area, featuring a one-barrel system with six fermenters.
Village Brew House can produce 40 gallons of beer at a time, which distinguishes it as a small-batch nanobrewery that fits under Butera's corporate umbrella. Butera has plans to grow the brewery – building a separate taproom and expanding production – in the future, but under Covid-19 restrictions, he's being cautious and will simply convert some of Butera's existing taps to serve the Village Brew House beers.
"We don't want to push the envelope," said Butera, who said he believes Village Brew House will be the first brewery in the Village of Hamburg in the last 50 years. "We want to show the rest of the businesses that we want to follow the guidelines to get through this (pandemic) as quickly as we can. Bars are where the biggest concern has been, and we don't want to be part of that concern."
For the first release, Village Brew House aims to have between six and eight beers available. An American light lager – "really crisp and easy drinking," Butera said – will serve as an approachable gateway craft beer. A peach hefeweizen and a raspberry porter incorporate fresh fruit from farmers markets.
The brewing team experiments to a greater degree with hops in the Kirsch IPA, which is double dry-hopped, and a Wet Hop Harvest Pale Ale, which sources its fresh cascade hops from Koester Hops Farm in North Collins.
The brewers are also working on creating their own hard seltzer – the biggest venture for several local breweries right now (Big Ditch, 42 North, to name a few) – that will be customizable with several flavors.
It's possible construction on an official taproom, as part of Butera's existing building, will begin around the turn of the year.
Village Brew House in Butera's, 32 Main St., Hamburg (648-5017). Hours: 11 a.m. to 10 p.m. Monday through Thursday, 11 a.m. to 11 p.m. Friday and Saturday, 10 a.m. to 8 p.m. Sunday.
The Buffalo News: Food & Drink
Get what you need to know about Western New York's dining and bar scene, including restaurant openings and closings, delivered to your inbox every Friday.