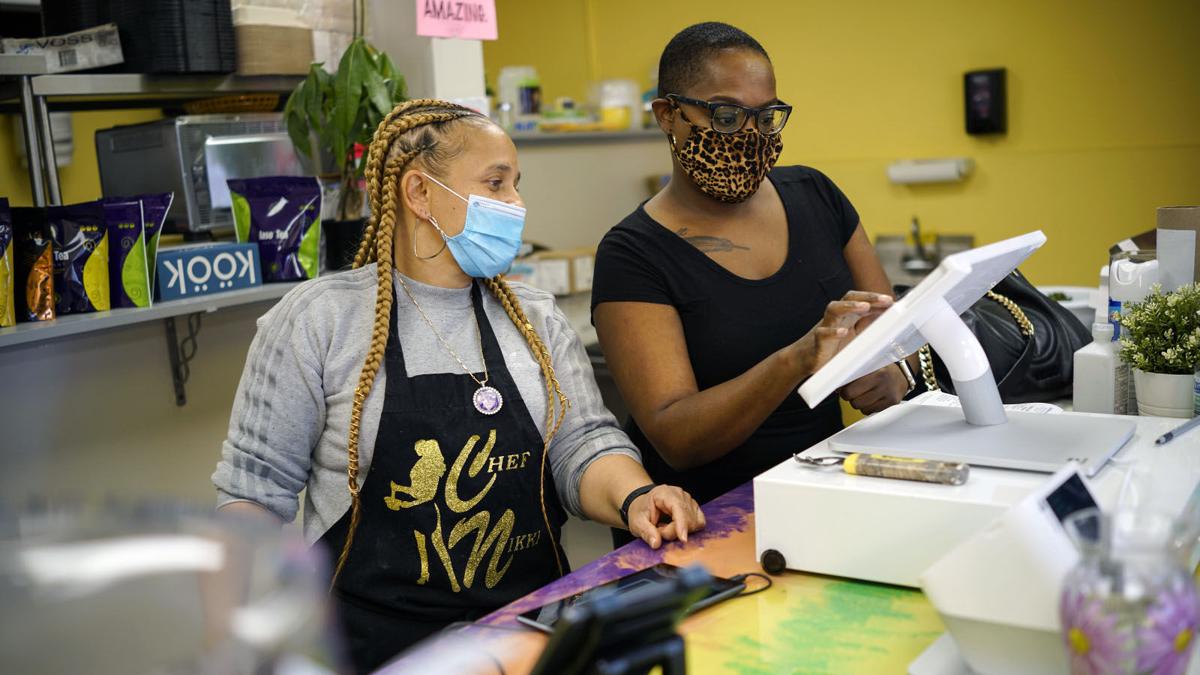 An exciting wave of new Black-owned restaurants in Buffalo has met a daunting challenge.
Ten of the 11 food businesses registered so far for Black Restaurant Week, an initiative from Feb. 13-21 organized by the Buffalo Urban League Young Professionals, have opened within the last four years, which means they inherently lack the name recognition, tradition and time-tested clientele of others that have served for decades.
Coupled with news that Black-owned businesses have closed at a greater frequency during the Covid-19 pandemic, these restaurants need considerable support to stay afloat – one chief purpose of Black Restaurant Week.
"The Black community has always been resilient and driven toward empowerment, connection and economic self-reliance," said Mark Glasgow, president of the Buffalo Urban League Young Professionals. "That energy has been consistent and drives the Black Lives Matter and Black Businesses Matter movements."
The annual spotlight of Black-owned restaurateurs has evolved from a handful of participating restaurants over a weekend in 2018, to a longer time frame – intended to include Valentine's Day weekend – for 2021, plus an eye-catching new logo that connects Buffalo with the Kwanzaa symbols for "ujima," which means collective work and responsibility (left side of logo), and "ujama," which stands for cooperative economics (right).
Involvement is significant for Black restaurant owners who are fueled by the movements Glasgow mentioned, as well as Black History Month in February.  
"In my community, I am Black history," said Sunshine Vegan Eats owner Nikki Searles, who connects with customers through motivational Facebook videos. "I'm the first Black female to open up a vegan restaurant [in Buffalo]."
For Harrita West, co-owner of Park Vue in Schiller Park, the week is a perfectly timed showcase for the "Restaurant: Impossible" makeover by celebrity chef Robert Irvine who, in late 2020, uncovered the areas in which West, her mother Schenita Williams and stepfather Gordon Williams were falling short, before instructing them how to improve virtually every facet of the restaurant. The show is airing now on Discovery+, but the fruits of their labor can be experienced in person.
To participate in Black Restaurant Week, independent Black-owned eateries – as well as some without a brick-and-mortar location – pay $50 for inclusion in the online guide and receive a marketing kit to help spread the word.
While the list of Black Restaurant Week participants is expected to grow with some last-minute entries, below is a current rundown of participants. Like the biannual Local Restaurant Week, most of those involved have devised special $20.21 meal deals for the week. All participants are required to offer a healthy food option on their menus, too.
3225 Main St. (899-2011). American fare with Cajun and soul influences. Hours: 1 to 8 p.m. Tuesday through Thursday, 1 to 9 p.m. Friday and Saturday.
1281 Hertel Ave. (322-0084). Soul-inspired Southern fare, with an elaborate Valentine's Day menu. Hours: 11 a.m. to 10 p.m. Monday through Thursday, 11 a.m. to midnight Friday and Saturday, noon to 6 p.m. Sunday.
454 Pearl St. (768-8549). Menu is split into soul food and Buffalo classics. Black Restaurant Week hours: 2 to 10 p.m. Monday, Wednesday through Sunday. Closed Tuesday.
2525 William St. (235-8002). Features cakes, cupcakes and chocolate-dipped berries. Hours: 10 a.m. to 3 p.m. Tuesday, Wednesday, Friday and Saturday, noon to 6 p.m. Thursday.
1633 Hertel Ave. (444-7914). Soul food, focused on chicken, ribs, pork chops and seafood. Hours: 11:30 a.m. until late Thursday and Friday, 1 p.m. until late Saturday, 11 a.m. until late Sunday.
128 Fargo Ave. (248-1373). Food menu has broadened recently, with Soul Bowls a new addition. Hours: 8 a.m. to 4 p.m. Monday through Friday, 10 a.m. to 4 p.m. Saturday and Sunday.
1194 E. Lovejoy St. (768-3150). Barbecue-focused menu includes brisket, pulled pork and burnt ends. Hours: 11:30 a.m. to 6 p.m. Wednesday, 11:30 a.m. to 7 p.m. Thursday and Friday, 11:30 a.m. to 6 p.m. Saturday. 
683 Northland Ave. (253-2100). Each day of BRW has a different featured cuisine, ranging from Mardi Gras-inspired to soul food. Hours: 9 a.m. to 6 p.m. Tuesday through Thursday, 11 a.m. to 8 p.m. Friday, 11 a.m. to 4 p.m. Saturday and Sunday.
34 S. Crossman Ave. (262-0384). Classic soul food, with fried chicken, shrimp and ribs. BRW hours: 3 to 9 p.m. Wednesday and Thursday, noon to 10 p.m. Friday and Saturday, 2 to 8 p.m. Sunday. Seats roughly 50 people at 50% capacity. Reservations by calling and then pressing 3; takeout and delivery available through parkvuesoulfood.com.
965 Kensington Ave. (235-8549). Soul-focused with fried chicken, seafood and ribs. Takeout only. Hours: 1 to 8 p.m. Thursday through Sunday.
37 Chandler St. (880-6545). Wide range of meal prep options, plus desserts. Hours: Noon to 7 p.m. daily. Preorders only, no walk-ins.
1400 Jefferson Ave. (812-1577). Health-focused organization with emphasis on diet.
212-9190. Mobile bartending service for events.
893 Jefferson Ave. (725-0284). Plant-based comfort food, plus juices and smoothies. Hours: 11 a.m. to 8 p.m. Wednesday through Saturday, 11 a.m. to 5 p.m. Sunday. Four or five tables spaced out for indoor dining; Sunshine is also on DoorDash.