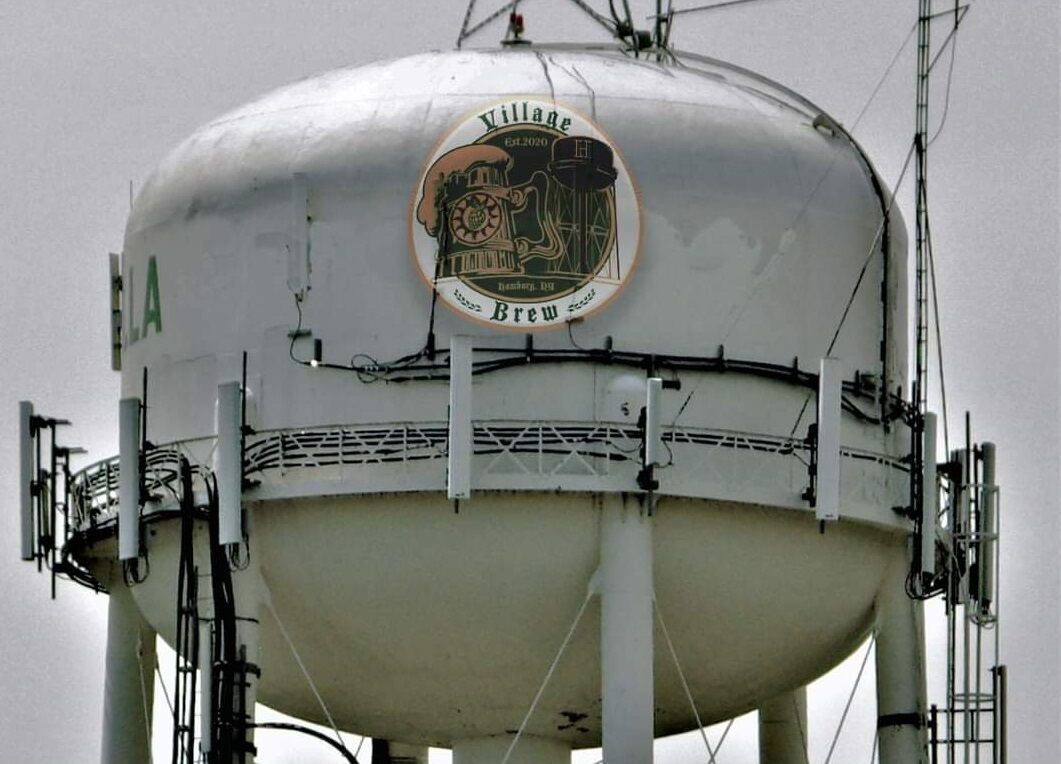 April 1 is the annual day when Buffalo-area businesses showcase their senses of humor and creativity – even if they fool relatively few people.
This year's April Fools' Day roundup is going strong.
What a statement it would be to transform a looming village water tower into a craft beer fermenter. That was the April Fools' quip of Anthony Falbo Jr., a marketing consultant for Butera's in Hamburg, which debuted its connected brewery, Village Brew House, last year.
The town's water tower has been a point of contention in Hamburg for years, with the decision to paint a mural of a hamburger announced in 2019, with fundraising expected to begin shortly thereafter. Falbo said the town water tower's recent history didn't factor into his April Fools' creation for the village water tower; it's more of a coincidence. 
In reality, Butera's fledgling brewing enterprise is a single-barrel system with six fermenters, designating the brew house as a small-batch nanobrewery. Owner Jimmy Butera said Village Brew House is currently searching for a new brewer, too.
Owners George and Nick Kotsis and Seth Stromberg had a new roof put on their bar-restaurant's building at 1504 Hertel Ave. a few months ago, and they decided April 1 would be a suitable day to play around with their photos from its completion. Teasing a new rooftop patio on Instagram and Facebook, Burning Buffalo duped dozens of followers – with some commenters encouraging expats to return simply to enjoy the brilliant North Buffalo sunsets and others scheduling girls nights.
Alas, there will be no rooftop patio on Burning Buffalo, but credit for fooling many viewers.
Erie County's Department of Parks, Recreation & Forestry
Erie County Executive Mark C. Poloncarz and his office are notorious for their past April Fools' Day plotting, and the county was back at it after taking 2020 off from the gimmicks. Thursday, a strange creature was spotted in a remote area of one of the county's parks, apparently eyeing vegetation and rodents for a meal before "skedaddling" away, noted Troy P. Schinzel, the Commissioner of Parks, Recreation and Forestry.
Dubbed a "curious cryptid," or a creature claimed to have existed that's never been proved, the unidentified beast also posed for a picture with a park employee.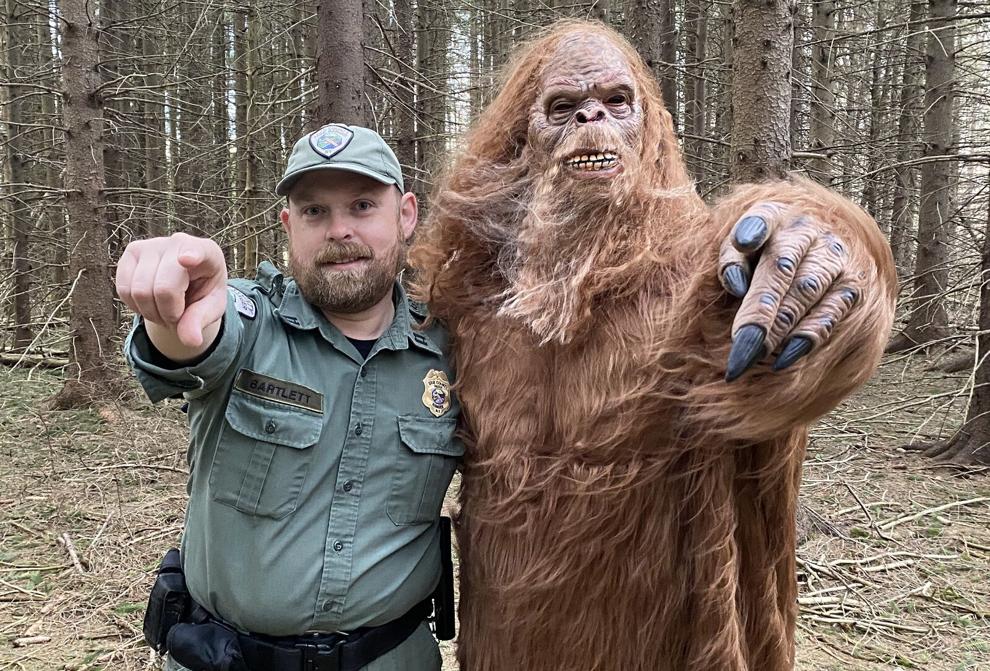 Some of the additional details in the county's release are amusing, too. Here's a snippet from Peter Anderson, Poloncarz's press secretary: 
"Older area residents remember the sensational Moth-Man encounters at Chestnut Ridge Park in the 1950's, a two-week phenomenon that was originally believed to be extraterrestrial in nature but was ultimately revealed to be just really bad swamp gas, as well as the tales of the Como Lake serpent, which (as legend has it) was spotted from time to time rising from the murky depths of Como Lake. Affectionately nicknamed "Como Lake Connie", the serpent has not been seen in recent years. Other oddities sporadically sighted at parks over the years include supernatural spectres at Sprague Brook, the Wailing Woman of Wendt Beach and the Franklin Gulf Horror." 
Picasso's has emphasized its role as a local pizzeria since it opened its first location in West Seneca in 1980. It now has four locations, serving Blasdell, East Amherst and Lancaster as well. The business is no stranger to having fun on social media, catching the eye of Barstool Sports president Dave Portnoy in 2019.
For a little fun on April Fools' Day, chief marketing officer Mark DiGiore laid out four images of a revised Picasso's logo – intertwined with those of Little Caesars, Chuck E. Cheese, Domino's and Pizza Hut, respectively. For more banter, Pesci's Pizza responded in the comments section of the post, writing: "Your pizza fits right in with all four of those."
The Niagara Street sports bar and pizzeria was fed up with the Sabres' record-setting 18-game winless streak, which ended Wednesday night with a whipping of the Philadelphia Flyers.
Still, the damage was done, with Sports City calling the hockey season "as painful as a root canal" and joking its name would change to Book City Pizza Pub, with a transition away from live sports to literature, such as "Moby Dick," "Banjos for Dummies" and "Holes" by Louis Sachar. Quite the remarkable 180-degree turn.
A strange specialty flavor from a food business – like Jim's Steak Out's peanut butter and jelly sub, or Lloyd's Rocket Sauce kombucha – is a frequent April Fools' Day direction. Mighty joined the action in 2021, with a salty-sweet combo that would be semi-believable if it weren't for the April 1 mention in the post. This chocolate sauce certainly went over better than the local taco chain's 2014 banning of Russian president Vladimir Putin from its restaurants, which was actually a genuine release and not a joke.
This story will be updated with more strong April Fools' jokes as the day progresses. If you spot a good one, especially one involving a Buffalo-area food-and-drink business, please send it to btsujimoto@buffnews.com.