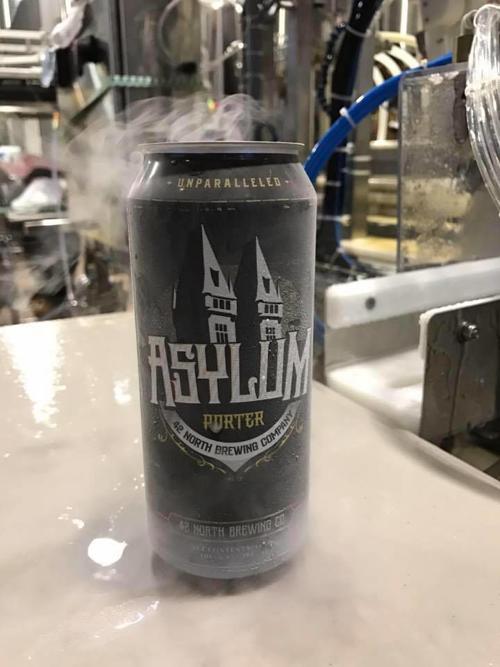 Winter beer for hops fans
There is a new beer for hop fans at 42 North Brewing Company (25 Pine St., East Aurora): the winter version of the brewery's Enforcer double IPA (India Pale Ale).
This rotating series changes seasonally. The first (fall) version featured Galaxy hops. For the winter version, this drinkable 10 percent ABV (alcohol by volume) hop bomb features the en vogue Mosaic hops. It was tapped on Jan. 31, and is available now.
The brewery also is releasing four packs of 16-ounce Nitro Asylum (6.8 percent ABV robust porter) cans for $12.99 on Feb. 8 in the taproom. The brewery recommends pouring this beer vigorously into a pub glass to ensure the proper amount of nitro cascading effect. Call 805-7500.
My City Brew, Buffalo's first beer company to look entirely to the public to decide what to brew, has tallied the votes and determined the style it will brew next: Munich dunkel.
This malty, but light, German dark lager is flavorful yet drinkable, and speaks to the desires of the voting beer-drinking public in the City of Good Neighbors.
My City Brew is now looking for a name for the beer. Suggestions can be made by anyone via its website (mycitybrew.com/vote), though final name selections will not be voted on publicly. Suggesting the winning name will net a lucky Buffalonian legendary beer status: their name and photo on My City Brew's website and social media, a personal shout-out on the can label, and a VIP role on the taste testing panel at the beer's final selection event.
Flying Bison releases Blackbird Stout
Flying Bison celebrates the 12th annual release of its Blackbird Stout on Feb. 10. The 6 percent ABV oatmeal stout is brewed with British pale malt, roasted barley, oats and flaked barley. To mark this occasion, the brewery will also be tapping a special cask (as it does every Friday), which will contain Aviator Red ale dosed with cascara (the dried skins of coffee cherries). Festivities take place at Flying Bison Brewing Company (840 Seneca St.). Call 873-1557.
Peanut Butter Porter returns
Peter B. Porter, a popular beer brewed by Resurgence Brewing Company (1250 Niagara St.) some time ago, is making a comeback. The brewery was not planning on brewing this porter infused with real peanut butter again, but decided to make a small batch due to popular demand. It will be released on Feb. 8 at the brewery, but only about ten kegs of it were produced. Call 381-9868.
Following the pattern of almost-weekly releases of test batches brewed by staff members, Community Beer Works (15 Lafayette Ave.) is releasing the latest test batch on Feb. 12. Brewed by part-time retail assistant Kyle Tymon, the recipe is a gose (pronounced GOES-uh) - a kind of sour German ale brewed with lactobacillus bacteria (which produced lactic acid for a characteristic lemony tart flavor), sea salt and coriander. The test batch was given an additional twist withlime zest, lime juice and fresh mint. Call 759-4677.
Rusty Nickel Valentine's dinner
Rusty Nickel Brewing Company (4350 Seneca St., West Seneca) is inviting couples to join it for its first Valentine's Day beer pairing dinner from 6 to 8:30 p.m. Feb. 14.
A cash bar starts at 6 p.m. (do not show up earlier, the brewery warns), followed by dinner at around 6:30 p.m. Diners will receive a pint glass filled with themed surprises. Head brewer Dave Johnson will discuss each of the five courses, elucidating the beer chosen and why it pairs with the given food course.
Tickets are $50 (excludes gratuity), and can only be purchased in advance on eventbrite.com. Rusty Nickel will debut its chocolate peanut butter cup imperial stout for the occasion as well. Call 608-6155.
Valentine's Day at Thin Man
Thin Man Brewery (492 Elmwood Ave.) has two options for those seeking dining options this Valentine's Day.
A prix-fixe surf and turf dinner is available from 5 to 10 p.m. For $25 per person, customers will feast on a sirloin filet, half of a Maine lobster and sides. Prosecco will be available for $17 a bottle. Reservations are  recommended.
The second dinner option is a ticketed event, a three-course beer pairing dinner. The courses are: foie gras toast, raspberry confit, toasted almonds served with Minky Boodle (7 percent ABV raspberry sour ale); roast halibut, shrimp, squid, chorizo, confit tomato, fingerling potatoes served with lemon-infused IPA; and chocolate caramel and pretzel torte topped with Baltic porter whipped cream served with Baltic porter. Tickets are $50 and available via eventbrite.com. Call 923-4100.