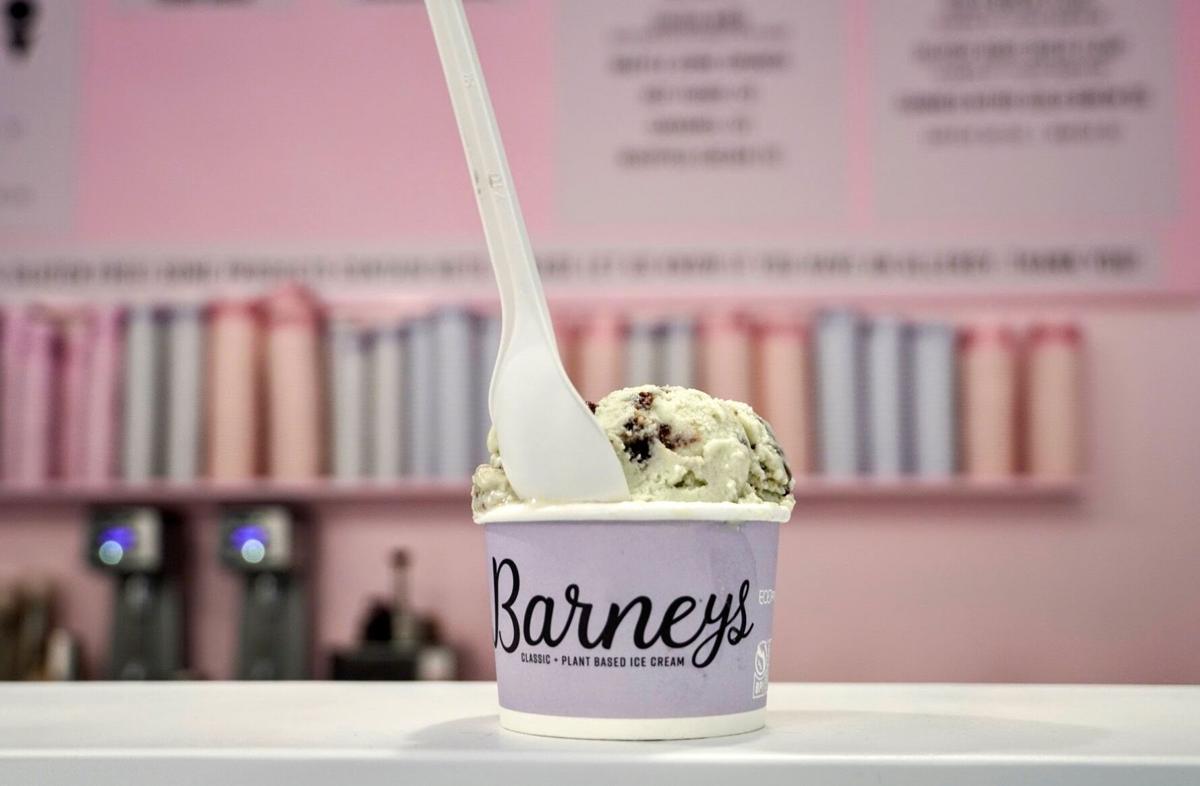 For Chris and Katie Cardo, the ingredients in ice cream matter. Take their mint, sourced from an organic mint farm in Oregon, in the mint fudge crunch plant-based ice cream as an example.
Appealing to general ice cream lovers – as well as the health conscious and those with dietary restrictions – Barney's Ice Cream began serving both classic and plant-based (vegan) flavors on Friday at 754 Elmwood Ave., next to Wasabi Restaurant and across from Spot Coffee.
Six flavors of small-batch artisanal ice cream – split evenly among classic and plant-based – were present on the debut menu, with dark vanilla bean, chocolate fudge brownie and peanut butter cookie dough as classic flavors, and mint fudge crunch, strawberry and salted dark chocolate brownie as plant-based options made with either oat or cashew milk, with coconut milk in the base. Eventually, the flavor list will reach 10 to 12 options.
Available in a gluten-free cone or cup, one classic scoop runs for $4, two for $5.50 and three for $7. Each plant-based flavor is 50 cents more per scoop.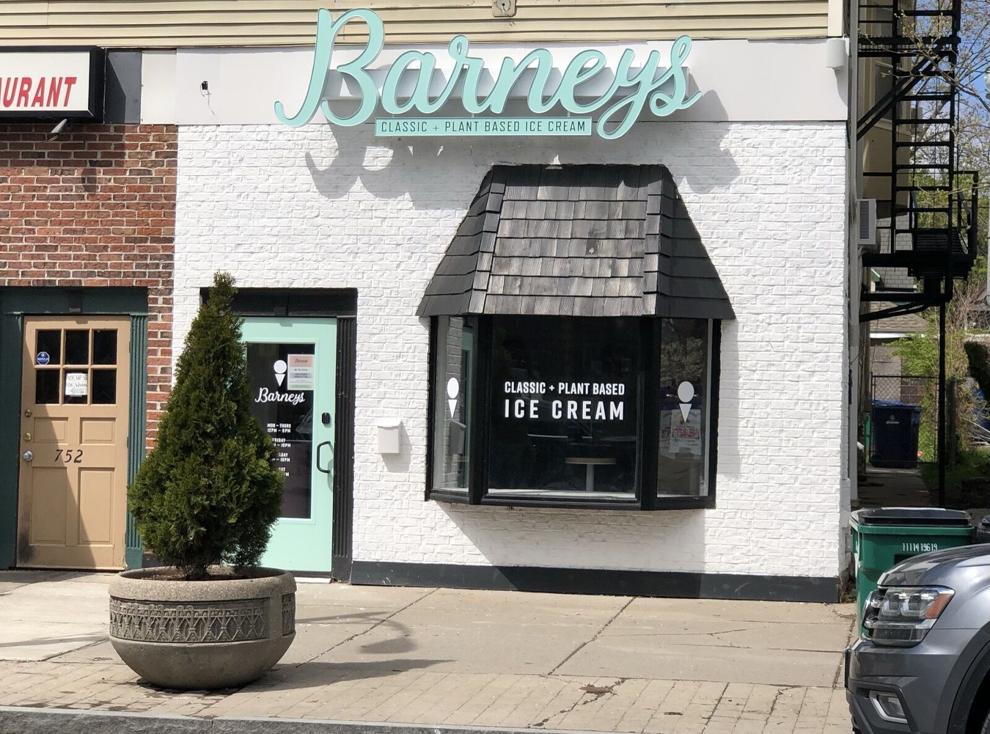 Toppings, which are all gluten-free, most made in-house and cost 75 cents each, can transform a dish into a sundae by adding peanuts, walnuts, waffle cone crunch, cacao nibs, vegan whipped cream and caramel and hot fudge. Specialties such as affogato – or espresso poured over ice cream – milkshakes, root beer floats made with Olipop, and nitro cold-brew floats add a little more glamour, too. Even the sprinkles, which the Cardos source from outside the shop, are colored with natural ingredients such as turmeric, beets and spirulina. 
"We want to make ice cream as good as possible with simple ingredients, no artificial flavors, colors or dyes," Chris explained on opening day. "We are super strict with what we put in there – we don't want to feed other people something we don't feel comfortable eating ourselves."
It may sound counterintuitive, but choosing simple ingredients raises the difficulty of the ice cream-making process. Additives such as gums, stabilizers and preservatives ensure proper texture and greater longevity in mass-produced ice cream bases, but without those aids, ensuring a smooth texture and managing a shorter shelf life present significant obstacles. Making plant-based ice cream with nut milks, depending on their fat content, can lead to a product that's too hard or too difficult to scoop.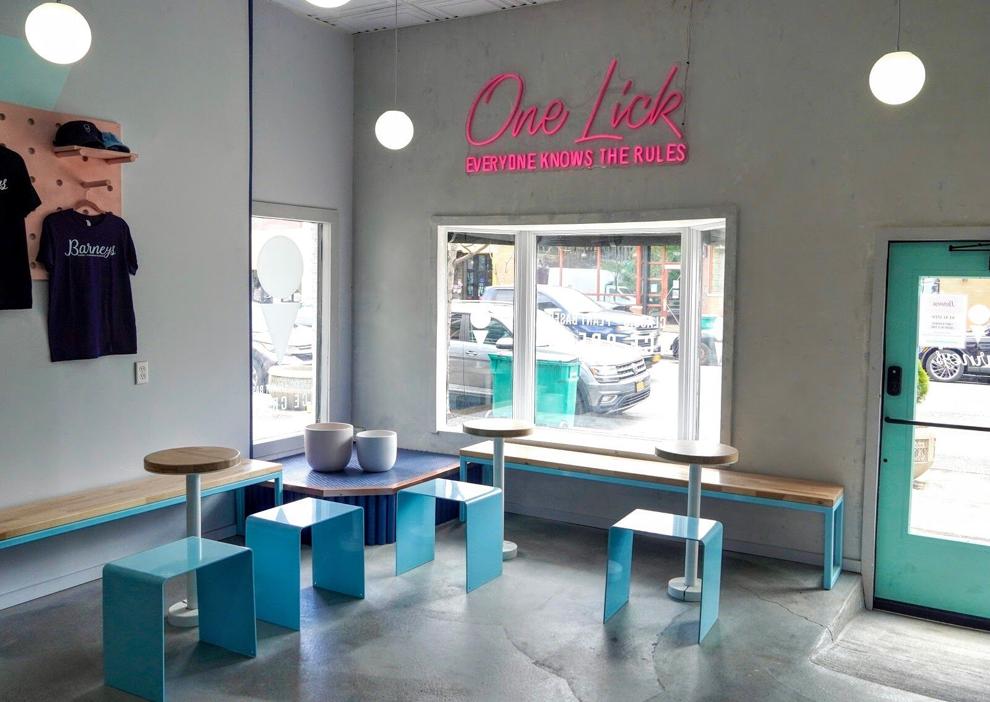 One key to Barney's approach is limiting added sugars as well as incorporating alternate sweeteners such as coconut palm sugar. "We try to find a healthy balance of not making it overly sweet so that our flavors really shine through," Chris said. That's especially true with the plant-based strawberry, he continued, thanks to the subtle blend of strawberries and coconut milk that isn't buried by a mountain of sweeteners. In the works is a refined-sugar-free ice cream base, an endeavor Chris is excited about. 
Relying on the quality of small batches while meeting demand is an ongoing challenge. When the Cardos scaled their ice cream production up from quarts to 24-gallon batches, they were unhappy with the results, even with the same ingredient ratios that worked for a smaller output. The couple settled on 24-quart batches, a quarter of the size of their original plan, which means more frequent production and more deliveries from their production site in Mayville to the Elmwood Village.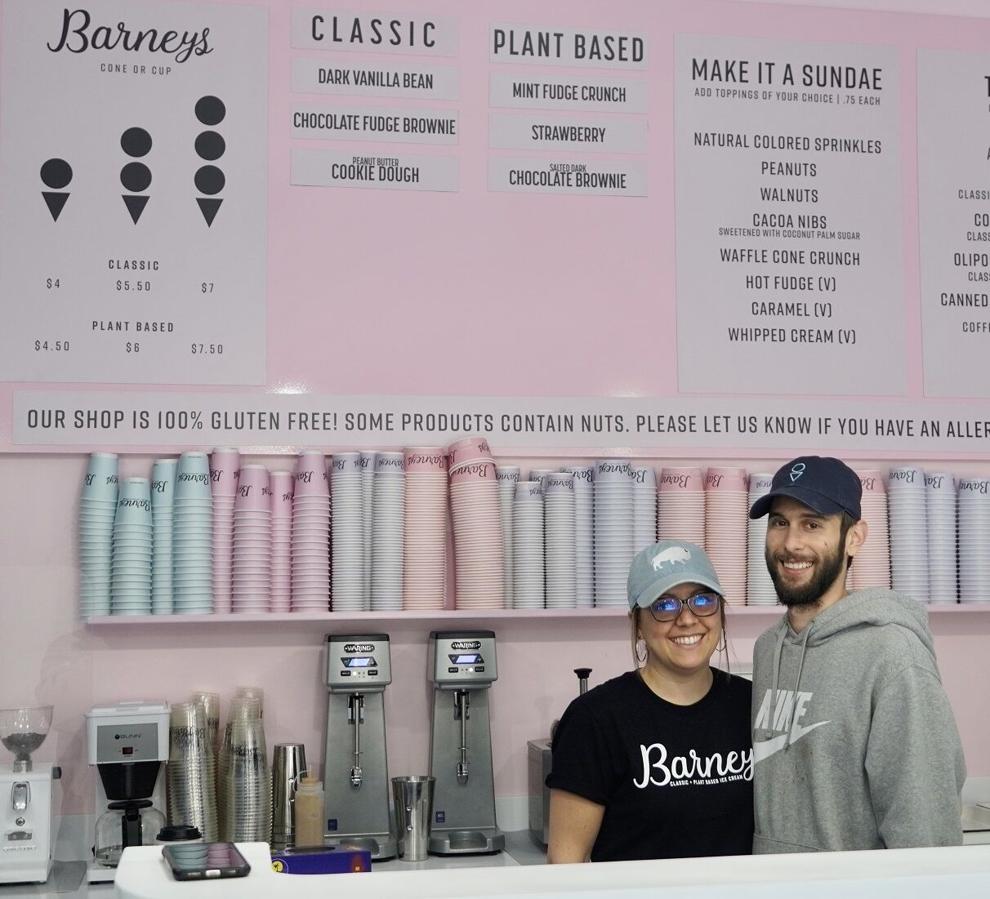 The Cardos bought seasonal ice cream shop Boxcar Barney's in Mayville (renaming it simply Barney's) and the Upper Crust Bakehouse in Fredonia in 2017, with the eventual goal of opening their own year-round ice cream shop in Buffalo. Boxcar Barney's has carried Hershey's Ice Cream until this season, when the Cardos plan to slowly introduce their own classic and plant-based products in Chautauqua County when it opens in mid-May.
"I think the world is trending toward healthier options in general," Chris explained. "My wife and I own an ice cream shop and a bakery, but we're both health-conscious."
Barney's on Elmwood can fit about 12 people at 100% capacity; the owners are working with the City of Buffalo to allow a permanent bench outside the front door. The plan is to eventually grow more locations in the area. "I hope we can get to 10," Chris said.