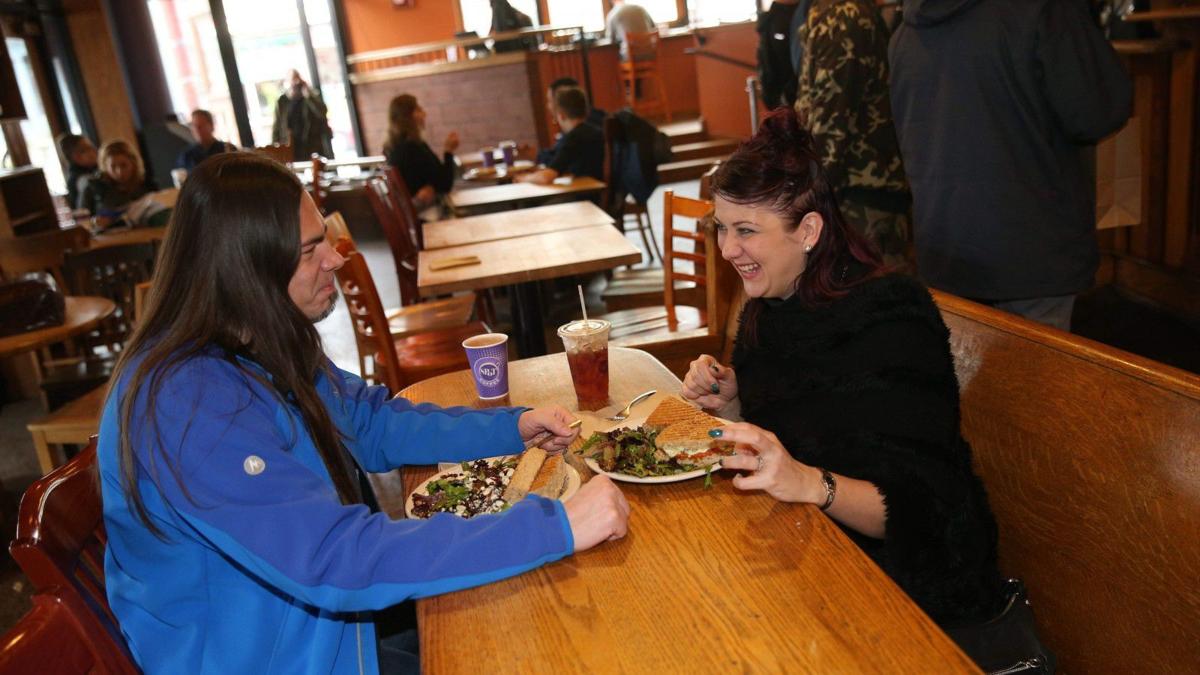 Whether you're socializing with friends or throwing on your headphones to get some work done, Spot Coffee makes you feel right at home with a wide variety of food and high-quality coffee.
Spot's several area locations have bright, colorful mural representing that location's neighborhood. You'll notice unique furniture, art, fireplaces and the smells of delicious pastries, cheesy pizzas and freshly brewed coffee that fill the room. The enthusiastic baristas radiate positivity like they're genuinely happy to help you, which is a welcome feeling.
I'm always tempted by the scrumptious treats in the glass display case including massive Paula's Donuts, bright-colored French macaroons, luscious cakes and tarts and buttery croissants that are difficult to resist.
I've caved quite a few times, especially for the tiramisu. The light and flavorful dessert is made from ladyfingers dipped in coffee, layered with a creamy mixture of sugar, eggs and mascarpone cheese, and finished with a dusting of cocoa.
I'm also an avid Spot pizza eater. There are quite a few options and they are great to share. Their Margherita Pizza ($9.95) with tomato sauce, mozzarella and fresh basil is my go-to choice because the fresh basil creates a sweet flavor mixed with the salty cheese.
But you won't be disappointed with any of the pizza options. The Mediterrano ($12.45) is topped with oven-roasted bright veggies, mozzarella, creamy goat cheese, extra virgin olive oil and a salty sun-dried tomato pesto. The bold flavors from the sun-dried tomato pesto and cool, creaminess from the cheese create a delicate balance in every bite.
Hot Calabrese ($12.95) packs a punch with its spicy tomato sauce, mozzarella, hot soppressata sausage and black olives. If you're a fan of heat with a hint of bitter saltiness for the olives, this is a great choice.
Spot offers several "create your own" options including pizza (staring at $8.95) and breakfast sandwich, wrap or omelet with add-on options ranging from 75 cents to $2.50.
Salads and sandwiches are a wise decision for those wanting something on the lighter side. Quinoa Mediterranean ($8.95), a Mediterranean-inspired salad with quinoa, lentils, sun-dried tomatoes, cucumbers, red onion, Kalamata olives and feta in a lemon and fresh basil vinaigrette, is filling and fresh. The dressing brings a citrusy fresh bite to hearty lentils and fresh vegetables.
Pesto chicken sandwich ($9.95) is served on freshly baked focaccia bread (white or wheat) with chicken marinated in basil pesto with sun-dried tomato pesto, mozzarella and pesto aioli and a side of kettle chips or field greens.
With the thick-cut pieces of fresh chicken, mild creaminess from the mozzarella, and the salty kick from the pesto, you really taste every ingredient.
The hummus wrap ($9.25) is loaded with a generous spread of homemade hummus, field greens, tomatoes, cucumbers and herb vinaigrette. Homemade hummus is what makes this one of my favorite wraps to order. I love the strong flavors from the garlic in the hummus and the crunch from the fresh tomatoes and cucumbers.
If you're not in the mood for coffee, Spot serves other delicious drinks. The Cinco Shake ($4.25, $4.95, $5.45) blends espresso, white chocolate, caramel and vanilla with whipped cream. If you're not huge fan of coffee flavors but need a kick, the sweet flavors of vanilla, caramel and cream really pop in this cold beverage.
The Spotsicles ($3.65, $4.05, $4.55), a take on a milkshake, are one of my favorite summer treats from Spot, banana in particular. If banana cream pie was in liquid form, voilà – the banana Spotsicle.
If you're looking for a coffee shop that makes you feel at home, has tasty food and a wide range of coffees and blended drinks, Spot is the place to take some time out of your busy week to kick back and relax.
Where: 765 Elmwood Ave. and various locations
Wheelchair-accessible: Yes