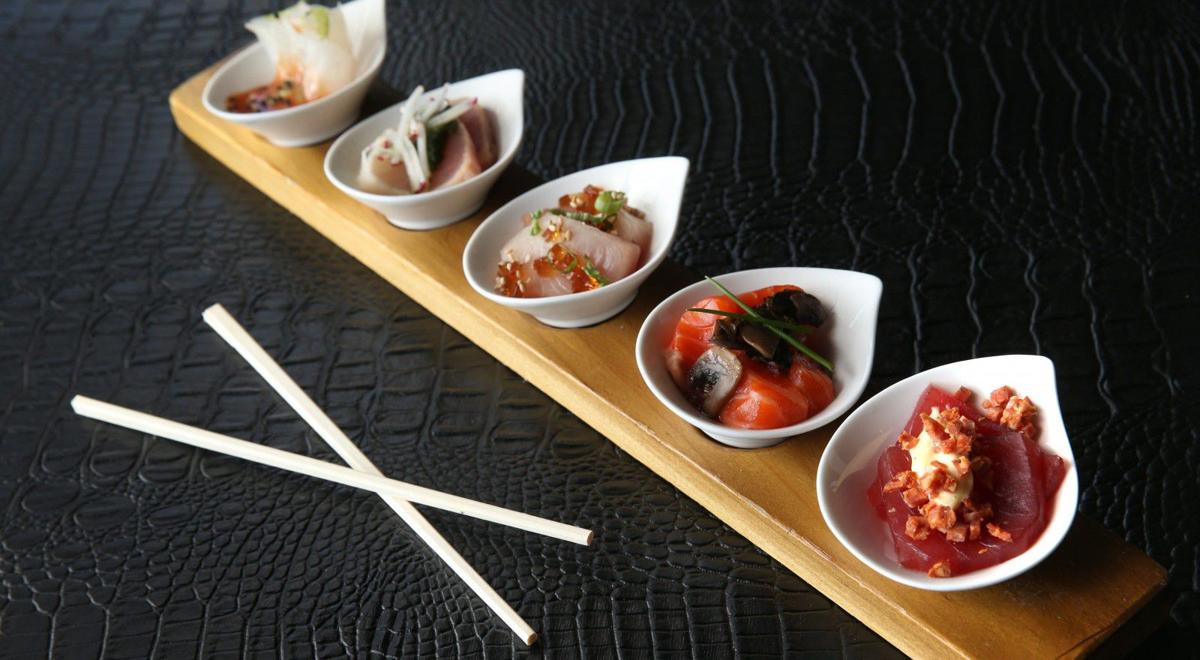 At first, SeaBar's menu reads like the chef has attention deficit disorder. There's sushi, both Japanese style and Westernized rolls with bacon and barbecue sauce. Then dishes featuring Asian flavors. Then Mexican (pork enchiladas), Italian (meatballs) and French (duck with lentils). Yet this menu anchors one of Buffalo's best restaurants.
Mike Andrzejewski opened SeaBar as a sushi counter after surviving a crash that cost him a leg. When he got a stove again, he cooked like he had no time to waste. Many chefs dream of serving only what they want to eat, but having both the skills and dedicated following to make that work is almost unicorn-rare. At SeaBar, Andrzejewski serves unicorn every day.
It's a restaurant with finesse dishes like foie gras with ginger-pineapple jam, sesame nut tuile and pineapple crisps ($19) that does not blink at offering snack shack Hawaiian surfer grub like loco moco ($9.95) for lunch. Loco moco is white rice topped with a fat seared beef patty, beef gravy and two fried eggs with yolks that ooze when cut. Why? Because the chef loves it. Which means Buffalo has a chance to love it, too.
SeaBar's sheer consistency is also due to the work of Sherri Andrzejewski, Mike's wife of 23 years and restaurant partner. SeaBar is his home base, but when the chef attends to duties at his other restaurants (Cantina Loco, Bourbon & Butter), Sherri runs SeaBar, with an eye for detail.
Consistent, precise cooking gives repeat visitors a sense of safety when trying new sensations. Andrzejewski's beef on weck roll ($14), which subs beef for fish, has been a gateway sushi experience for many, forcing diners who insisted they'd never like sushi to eat their words.
While SeaBar's fish is as fresh as any in Buffalo, it can't beat Kuni's sushi for classic Japanese styles. What SeaBar does best is Buffalo sushi – it's aimed at making a flavor ruckus, with no respect to tradition. Japanese sashimi is fresh fish cunningly cut, period. SeaBar's chef's sashimi tasting ($15.95) offered two-bite taste adventures: albacore with roasted red pepper and a sliver of jalapeno; Spanish mackerel with cilantro pesto and radish; hamachi with tiny cubes of white soy gel and scallion; salmon with truffled mushroom mignonette; and ahi tuna with a dab of saffron aioli and Spanish chorizo bits.
A roll that starts with standard eel and avocado adds bacon and tomato to veer into BLT territory ($10). A bizarre partnership of crab, cream cheese and shiitake mushroom is tempura-fried and drizzled with miso caramel ($11) for a guilty pleasure that gleefully violates the usual sweet-savory boundaries.
Seafood tacos – chopped salmon and tuna on rice topped with mashed avocado and fresh tomato salsa in a crunchy corn taco shell (two for $12) – are compulsively munchable.
When I visited for dinner recently, Andrzejewski spotted me before I sat down, and told me he was debuting spring dishes. They included miso broiled king crab ($15), three luxurious thumb-sized bites of crab riding black rice and ginger beurre blanc, blanketed with buttery browned panko crumbs. It's a splurge, but worth it.
Triple-pork ramen ($23) is a bowl of smoky broth and noodles crammed with tender roast pork shoulder, slabs of thick-cut bacon, a pork-stuffed spring roll and a sunny side up egg. Sato Ramen's broth is more unctuous, but this was terrific bowl of soup. The crispy-skinned duck breast ($32) on hearty lentils fortified with smoked almond nibs and pumpkin seeds, with a tart roast plum sauce weighing against the richness.
Chicken breast ($24), often the weakest entrée, is now one of SeaBar's best. It was golden-skinned but preternaturally moist, thanks partly to an inset of chicken sausage. With lightly pickled shimeji mushrooms for tang, toasted pastina for heft and chicken demiglace for moisture, it put routine chicken to shame.
There was more to praise, but space grows short. Cat, whose mother is Mexican, was gladdened by the pork enchiladas in red chile sauce. I was glad that a teenager's request for a snazzy non-alcoholic beverage was met with pineapple basil ice tea ($6), and my request for cider was met with Leonard Oakes Steampunk ($18/750 ml).
SeaBar's freewheeling upscale casual aesthetic means it feels free to offer a round of sake Jell-O shots, a frathouse treat that got its Ph.D., to round off a meal. Then a handful of Jelly Belly candy on the way out.
The room's high ceilings let us talk without strain. The color-shifting light display on the dining room's walls underscored the otherworldly array of edible compositions.
Dessert left everyone else at the table satisfied. The tempura-fried banana split ($6.50), refreshing ginger granita ($6), chocolate peanut-butter crunch with berries and caramel ($6.50), and blondie-based ice cream sundae topped with toasted coconut, were all solid. But the critic sniffed at desserts content to color inside the lines, which is not what makes SeaBar shine.
My observation did not dim the luster of a remarkable meal at an extraordinary restaurant. SeaBar isn't perfect. It's just perfect for me. Like its creator, SeaBar is a true Buffalo original.
SeaBar - 10 plates (out of 10)
Top chef sharing dishes he wants to eat turns sushi counter into Buffalo original.
WHERE: 475 Ellicott St. (332-2928)
HOURS: 11:30 a.m. to 2:30 p.m. and 4:30 to 9:30 p.m. Monday through Thursday; 11:30 a.m. to 2:30 p.m. and 4:30 p.m.-10:30 p.m. Friday; 4:30 to 10:30 p.m. Saturday. Closed Sunday.
PRICE RANGE: Sushi and appetizers, $3-$29; entrees, $21-$32.