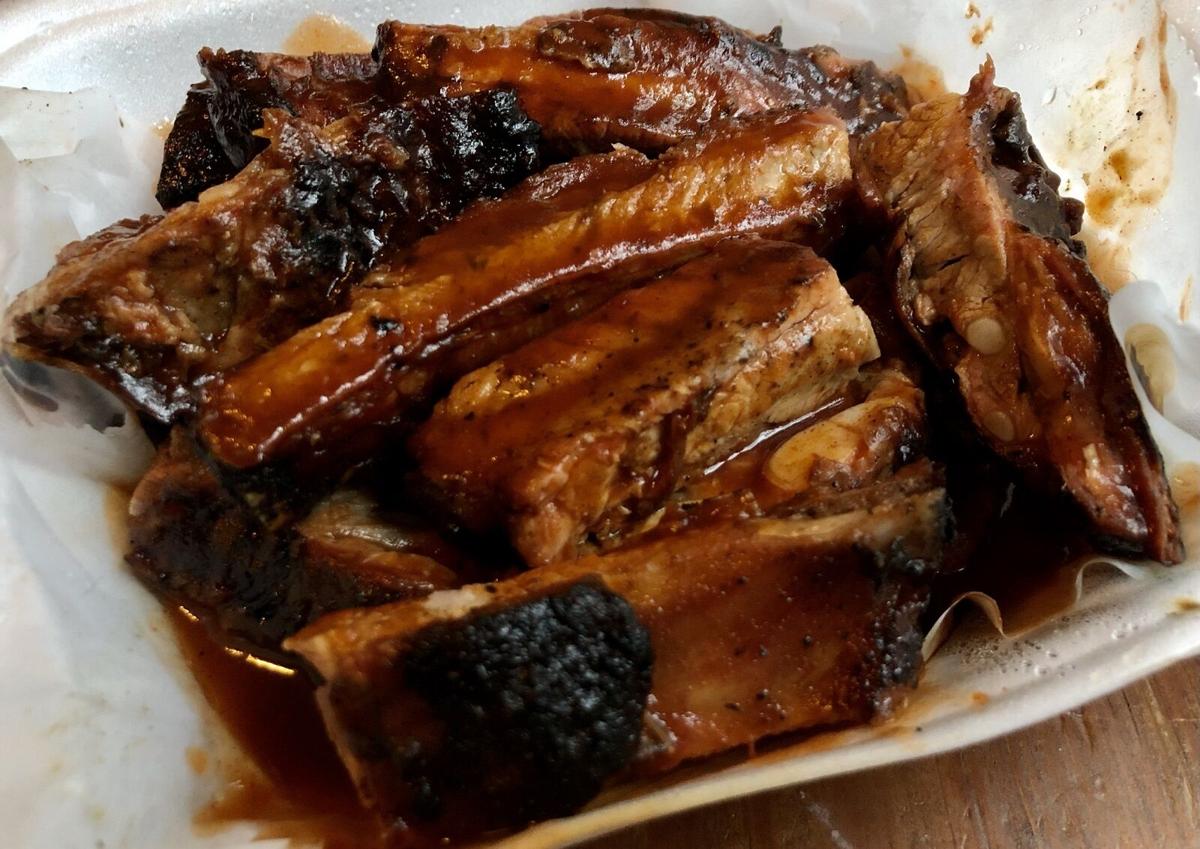 Since Ike Gray opened Ike & BG's in 1998, the restaurant has sold barbecue ribs and soul food for takeout from 1646 Genesee St., a handful of blocks from Schiller Park on the East Side.
Gray's son Steve Butler, who took over the business in 2017, has unveiled bigger plans for the restaurant and larger community. A mixed-use development, executed through a designated developer agreement between Butler and the City of Buffalo, will encompass Ike & BG's current lot and three vacant lots, at 1652 Genesee St., 10 Colorado Ave. and 17 Montana Ave., on both sides of the existing restaurant.
For Butler, the $3.9 million project – approved Tuesday by the Buffalo Common Council – includes a first-floor new-build of Ike & BG's restaurant, 12 two-bedroom apartments, a banquet room and three additional commercial retail spaces. The endeavor addresses Butler's passion for and frustration with the neighborhood, as well as the opportunity to finally serve sit-down meals. 
"I grew up in that neighborhood and watched it be in the same conditions and neglected for just as long as I've been in it and around it," said Butler, who has cooked at Ike & BG's since it opened. "Nothing's changed ... If I'm able to make that change, why not?"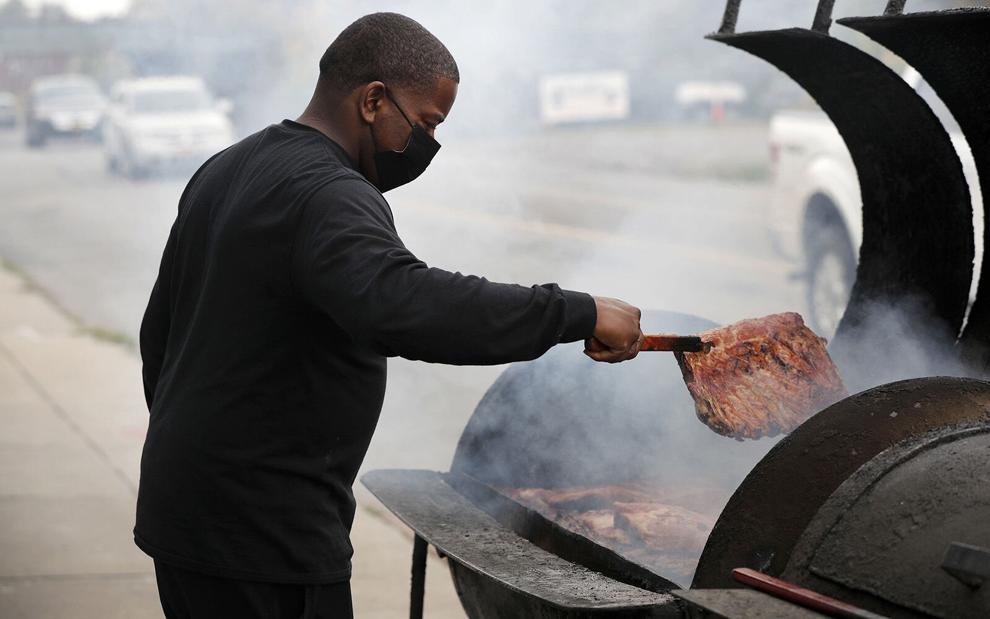 The current Ike & BG's, limited to a small lobby, counter area and kitchen, will be demolished as an early step in the project, which Butler hopes to be completed by next spring. At the current seatless Ike & BG's, customers idle in their cars on Genesee Street, watching smoke billow from the grill in front of the restaurant as they wait for their orders.
Because of the takeout-only approach, business surged during the Covid-19 pandemic to the point where Butler felt comfortable moving forward with his plans.
The star of Ike & BG's menu is consumed much easier seated at a restaurant than gnawed in a vehicle. The barbecue ribs are cooked from raw on a charcoal grill, low and slow so the meat falls off the bone, as part of a roughly two-hour preparation. A half-slab is 16.98, a full slab is $32.48, a barbecue rib dinner with two sides costs $20.98, and a barbecue rib sandwich is $13.50. The barbecue sauces can be adjusted in their spice levels, from mild to medium to hot. The sauce isn't overwhelming to the point where it buries the meat's smoky taste.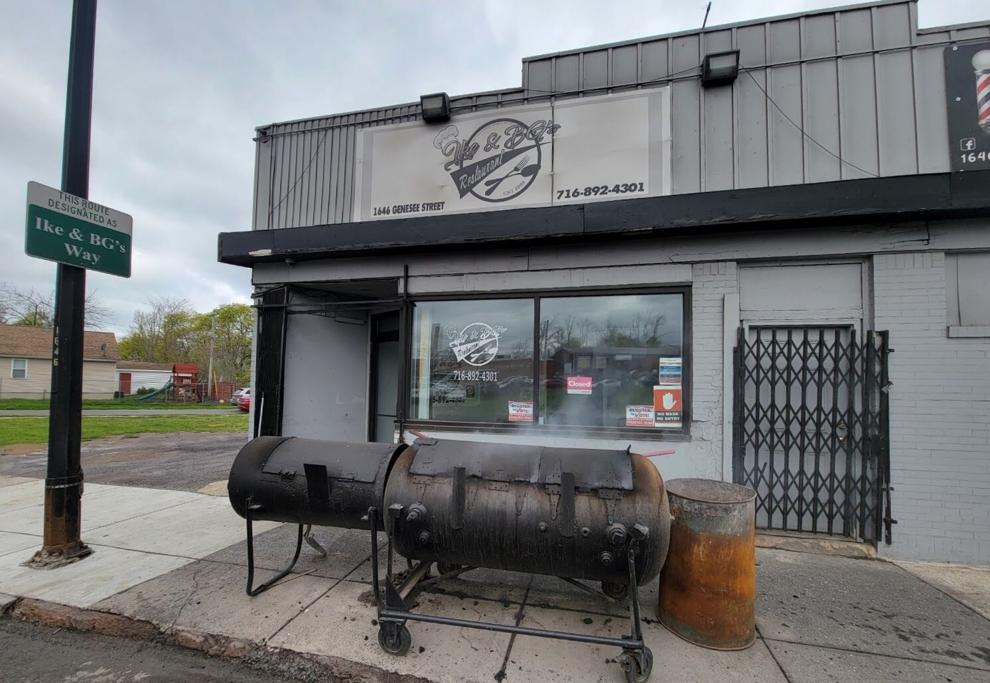 "This food deserves to have sit-down," said Butler, who's still determining the layout and seating of his future restaurant. "You can't find too many soul food places that have sit-down that's not a bar first."
Butler, who said Ike & BG's will go through more than 30 slabs of ribs each day, also offers classic soul food dishes such as chicken and waffles, pepper chicken, pepper steak and meatloaf. The full menu extends to fried fish, fried chicken, steak hoagies, wings, burgers and quesadillas. Butler's major influence has been increasing the soul sides, with cabbage, collard greens, baked mac and cheese, candied yams, red beans and rice and coleslaw among the host of choices. He credits Gray for the original approach to the barbecue ribs.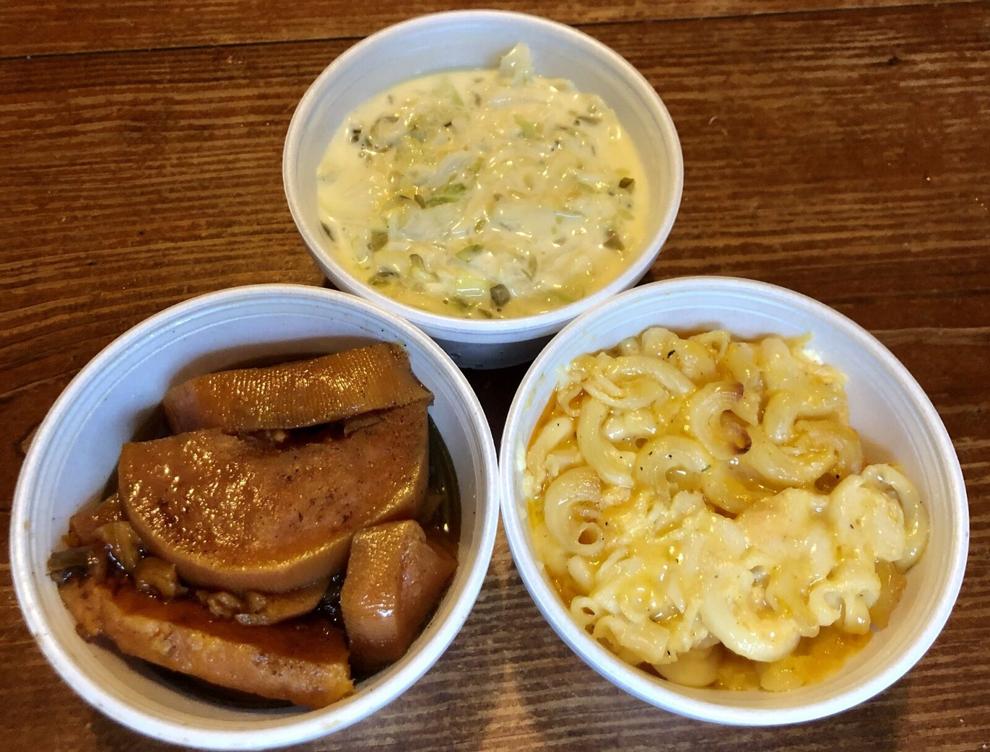 "I've been in and around it so long I know the game inside out," Butler said of the ribs.
The proposal for Butler's 30,000-square-foot project laid out the three-story building with the restaurant and three commercial spaces on the first floor, six apartments and a banquet room on the second, and six more apartments and a rooftop deck. Eight of the 12 apartments will be market rate, the proposal noted, with the others affordable housing. The designated development agreement has stipulations regarding the breakdown of the workforce of the retail businesses, with certain percentages of minorities and women represented.
Butler Group Enterprises, Butler's development company, will fund the project through owner-equity contributions and private lending. He's expected to apply for brownfield tax credits and public affording housing funds, according to the proposal submitted to the Common Council.
"The East Side of Buffalo, specifically this community deserves this," Butler said of a sit-down, food-first soul restaurant. "We should have that to brag on, to grow on."