Newly married Casey and Chris Casas are passionate about burgers. With a combined 30 years in the restaurant-bar industry, the young couple's favorite postwork, late-night meal became the smash burger – Chris' favorite food. When the pandemic struck and quieted bars, they sharpened their burger-making with their own restaurant in mind.
"The burger really is the coolest food," said Casey, who remembers eating burgers "to die for" at Old Man River and Mississippi Mudds with her siblings and grandparents growing up. "You can have burgers so many different ways – it's not just ketchup, mustard, onions and pickles."
Mister Sizzle's, an old-fashioned hamburger joint, is expected to open in May at 346 Connecticut St. in the Horsefeathers building. Casey and Chris will run the enterprise with financial support from two silent partners downstate.
The smash burger is a style of hamburger that's been buzzing nationally for a long time, thanks in part to chain restaurants – such as Five Guys, In-N-Out Burger and Smashburger – that are based around the preparation.
"It's a 4-ounce ball of meat and you slam it down on a flattop and press it thin," Casey said. "It really is the classic burger – it's a really nice crisp coating on it." The final product is a thinner beef patty, cooked all the way through, that stays juicy and flavorful thanks to the browning/coating from the beef's fat preserved in the burger's outer layer.
Mister Sizzle's classic burger ($8, $10 for vegan) is served on brioche buns, with gluten-free rolls also available. They can be purchased in larger quantities with five burgers for $30 and 10 for $60. Nine specialty burgers (most $10) – essentially classics from across the country – dot the debut menu, touching on peanut butter and jelly, poutine and a burger version of the royal sub. Five of the 10 burgers can be made vegan.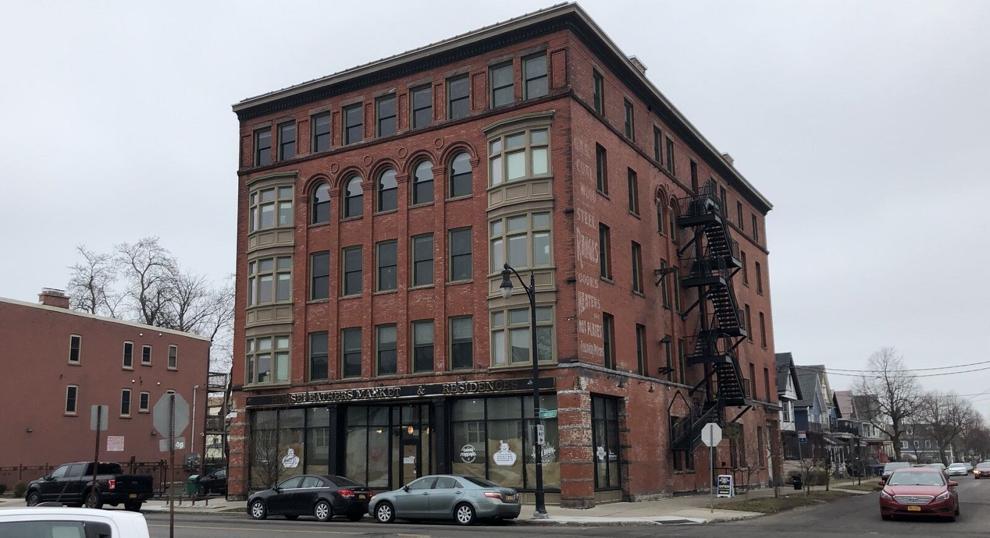 One of the more interesting varieties is the Butter Burger ($8), featuring just butter, American cheese and onions. Borrowed from a Wisconsin diner the owners stumbled upon in their burger research, the indulgent burger features a slab of butter cooked over the patty, with onions sautéed in butter and more butter lathered on the buns. 
"It's probably not one you'd eat with your hands, but to each their own," Casey said, with a chuckle.
Three fried chicken sandwiches ($10) are a poultry alternative to the beefy burger lineup.
Some of the sides touch on Casey's three years spent working in Charleston, S.C., with gumbo-seasoned pork rinds and sweet potato fries topped with a brown sugar dip (each $4). Pork rinds appear on the dessert menu, too, covered in chocolate, peanut butter and powdered sugar ($6). 
Drinks and desserts will be integral to the Mister Sizzle's experience. Casey, who won the 2017 Taste of Buffalo Craft Cocktail Competition and created the Ginnamon version of Lockhouse's gin, will lead the beverage program. Craft cocktails, which she learned under the tutelage of Hydraulic Hearth's Adam Rath, will be furthered by Mister Sizzle's investment in a crowler machine, which keeps drinks like vodka sodas and Cosmos fresh until the seal is broken. 
Milkshakes, in classic flavors such as vanilla, chocolate, strawberry and peanut butter, can be served with or without liquor. A lineup of mocktails are made using fresh juices and present with glamour. Ice cream floats will feature Johnny Ryan sodas topped with vanilla ice cream.
In light of worker abuse that the Casases say pervades the restaurant industry, Casey and Chris have developed a model to compensate employees well while creating opportunities for growth as Mister Sizzle's considers future locations. Casey's experience working for the Zemsky family at Hydraulic Hearth and Chris' experience working for Brian Mietus at Bacchus proved to the first-time owners that businesses can be run ethically, with employees "built up" rather than torn down.
"We want to build a restaurant family," said Casey, who is committed to treating front-of-house and back-of-house workers the same way. "We want the staff to realize how incredibly important they are in this whole process, making sure rules are followed, the staff feels safe, taken care of and like they have a voice."
After all, the Casases were very recently in these worker positions and desired this kind of treatment.
"Casey and myself don't come from money," Chris said. "We have someone that believes in us that's giving us a shot; there's four of us living in a three-bedroom apartment in North Buffalo. For all intents and purposes, we're still just bartenders trying to make a name for ourselves."