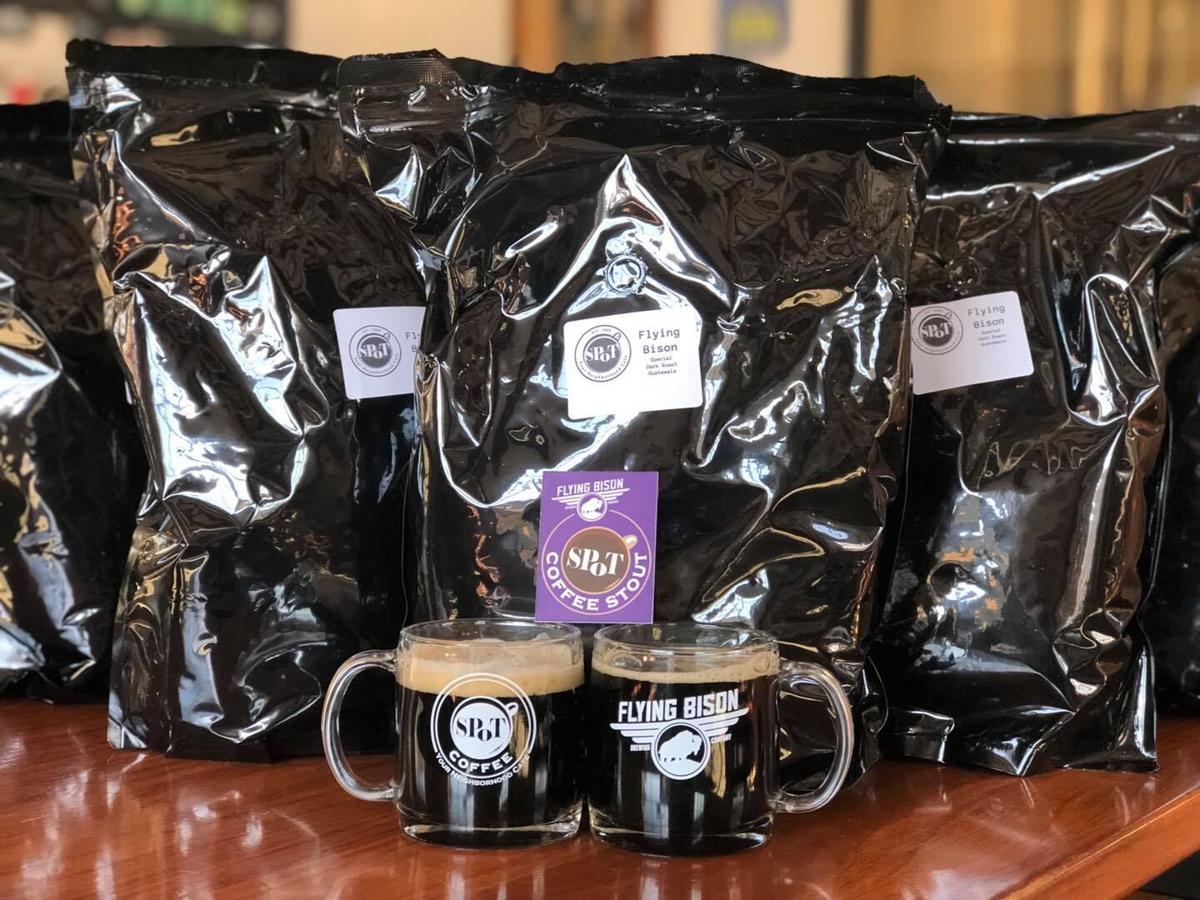 After you've hung the stockings by the chimney with care and nestled the children all snug in their beds, you deserve a treat while you finish the rest of the Christmas decorating. There's perhaps no better time to reach for a locally handcrafted beer than when you're stringing lights and garland, hanging ornaments and draping tinsel (or fake snow if you're into that sort of thing) on your Christmas tree. And there is no shortage of great local beer to help ring in the holidays.
But if you're not yet in the holiday spirit, any of these nine local brews will help put you in the right frame of mind.
Spot Coffee Stout, Flying Bison Brewing
840 Seneca St. (873-1557)
This imperial oatmeal milk stout, brewed with coffee from Spot Coffee Roasters, is tasting the best it ever has, with rich and smooth notes of roasted coffee and chocolate. Find it as part of Flying Bison's Liquid Christmas Card, alongside Hazy Holidays IPA, Paula's Red Velvet Ale and Spiced Christmas Ale. Availability: Draft, cans.
Mudlarked Imperial Stout with Marshmallow, Big Ditch Brewing
55 E. Huron St. (854-5050)
This thick 10% imperial stout is rich and velvety smooth, with sweet notes of marshmallow fluff, vanilla and chocolate. And, if marshmallow isn't your thing, you can opt for the Peanut Butter Mudlarked instead. Availability: Cans.
Raspberry Truffle Porter, Ellicottville Brewing
28 Monroe St., Ellicottville
EBC's Raspberry Truffle is a dessert ale brewed with locally made truffle chocolate from Platter's Chocolate, and sweet raspberry. It features notes of silky chocolate and vibrant raspberry. Better yet, grab EBC's Holiday Variety Craft Ale pack and enjoy three more beers – Lloyd's Christmas Ale, Salted Caramel Coldspresso Ale and Sugar Cookie Pastry Ale. Availability: Bottles.
Hot Cocoa Porter, Resurgence Brewing
55 Chicago St. (768-6018)
This rich, chocolate porter with a touch of marshmallow brings you back to that hot chocolate your Grandma used to serve. The beer opens with a creamy milk chocolate aroma, followed by sweetness from the vanilla and marshmallow. Availability: Crowlers.
Spruce Hornsby Double IPA, Community Beer Works
520 Seventh St. (759-4677)
The second in CBW's Spruce Series, Spruce Hornsby is a double IPA brewed with real black spruce tips. It's pleasantly hopped with Columbus and Chinook hops for a firm bitterness, intense floral/citrus aroma and an earthy finish. Availability: Cans.
Christmas Below Zero, Brickyard Brewing
436 Center St., Lewiston (754-7227)
Brace yourself, because Brickyard's Christmas Below Zero is a Hot Chocolate Milk Stout aged in a blend of Kentucky bourbon and Jamaican rum barrels with lactose, cocoa, marshmallows and vanilla beans that clocks in at a mammoth 13.9%. Imagine how good your tree will look after a few of these. Availability: Draft.
Old Man Winter Ale, Southern Tier Brewing
2072 Stoneman Circle, Lakewood (763-5479)
A classic offering from Southern Tier's canon, Old Man Winter is an annual staple that's worth seeking out time and time again. It's smooth and well balanced with earthy notes of malt and hops. Just a reminder – while it may not drink like it, Old Man Winter is 7.5%. Availability: Bottles.
Never Gose Bad, 42 North Brewing Company
25 Pine St., East Aurora (805-7500)
42 North's Never Gose Bad re-creates everyone's not-so-favorite holiday dessert gift, the fruit cake, with flavors of apricot, cherry, cranberry, black currant and pineapple. It's also lightly spiced with allspice, clove, cinnamon, ginger and vanilla, and features a special yeast that gives a hint of cognac and dark rum. Alcoholic fruit cake and Christmas tree decorating just makes sense, right? Availability: Cans.