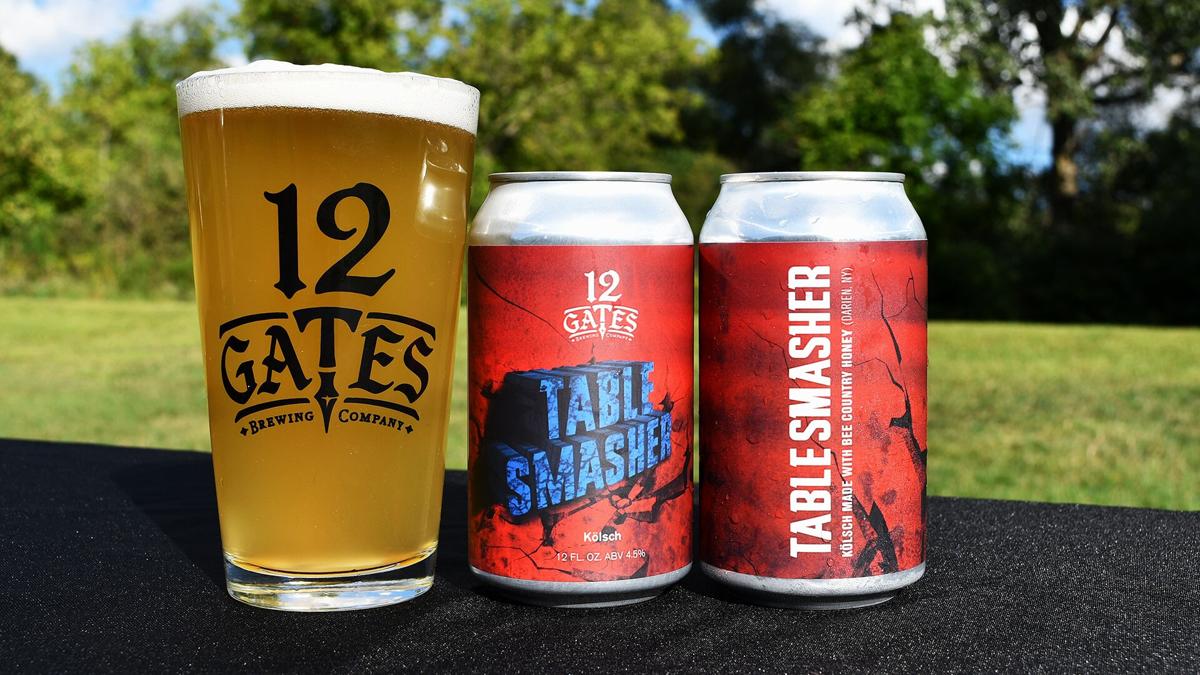 While there are plenty of things to include on the checklist for your next Buffalo Bills tailgate, beer is essential. Local beer, especially. With excitement and expectations at an all-time high this season, most any beer could be a suitable tailgating beer, but our local brewers have a few tricks up their collective sleeves to make sure this season is one for the ages.
There are a number of things that inspire a good Bills tailgating beer. Some are brewed specifically for tailgate parties, like 12 Gates Brewing Table Smasher.
"I wanted to make a beer, that I personally, would love to drink while tailgating," said 12 Gates head brewer Matt Gordon. "We all typically snag the obvious choices of our Canadian brethren, but I wanted something that compared to those and also would compete with them on flavor and price point."
Others are created to pay tribute to the players, such as quarterback Josh Allen in the case of Brickyard Brewing's Number 17 IPA.
"I was an early adopter of the Josh Allen hype," said Brickyard Head Brewer John Paul Meteer. "It's designed as an homage to his West Coast roots, but also how well he fits the Buffalo vibe. So it's bitter, but not too bitter, and has a little bit of the East Coast softness to it, while still being a dank, filtered classic."
Here are five essential local beer and tailgate food pairings as you cheer the Bills on their way to a second consecutive AFC East crown.
80 Earhart Drive, Williamsville (906-6600)
At 4.5%, 12 Gates' Table Smasher, brewed with local honey from Bee County in Darien, provides everything you need to get through your tailgate. It's light and easy drinking with just the right ABV for day drinking. My review of this beer my first time drinking it consisted of one word, "crushable."
Pair with: Table Smasher is light enough to pair with most any foods. Its flavor profile is more complementary and won't overpower your tailgate food of choice.
436 Center St., Lewiston (754-7227)
In honor of this year's Buffalo Bills season, Brickyard is running back its Josh Allen-inspired beer, Number 17 West Coast IPA. Brewed with El Dorado, Simcoe and Chinook hops, Number 17 IPA features a clean, dry finish with a touch of bitterness.
Pair with: A spicy bratwurst or chicken wings. Its clean and dry body will accent any and all spicy meats, allowing the spice and meat to shine. Same goes for wings. I like hot wings with this beer.
6553 Boston State Road, Hamburg (649-3249)
Everything about this new Bills season is amped up, including the ABV in Hamburg's new A Lotta Bit Lager Now. This one clocks in at 8% and is hopped with Cascade and Simcoe that still drinks smooth and clean. This one will be released at the brewery's eighth anniversary party on Sept. 18.
Pair with: Hot dogs. This is a hoppy lager, so pairing it with a hot dog (or two or three) will allow the hops to take center stage. And that's even with onions and chili sauce. Trust me.
Other Half Brewing, Tables on Tables IPA
Brewed with El Dorado, Citra and Strata hops, Other Half's ode to the Bills, in IPA form, features, what we can only assume is, a proud member of the Bills Mafia launching himself through a table. So, it's only fitting that you supply a few of these babies at your next tailgate and make sure you have one in hand as you dive through your next table.
Pair with: Burgers, naturally. The hops and tropical fruit note of the beer will wash down a finely pressed and grilled patty wonderfully. Dare I say, this pairing is refreshing.
4350 Seneca St., West Seneca (608-6155)
An easy-drinking, crispy pilsner with sweet bready notes is perfectly tailored for game day. True Pils Fan is a great option to reach for at any point during your tailgate – just make sure it is cold.
Pair with: This beer pairs excellently with wings. I've paired it with extra crispy hot wings, but it would work well with saucy wings, like barbecue or teriyaki.