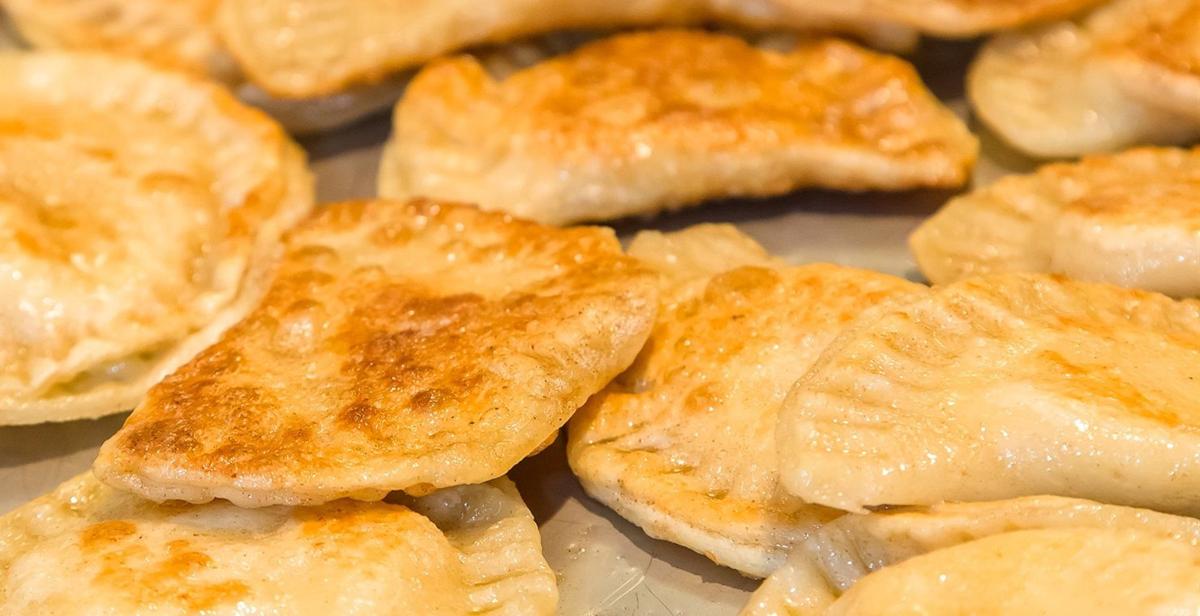 Polish culture is thrust into the spotlight on Dyngus Day in Buffalo. From hands-on learning about Zywiec and Tyskie, to foraging for the city's best pierogi, to arguing whose red shirt has the worst kielbasa joke, cultural experiences are intertwined with the revelry of the post-Lenten festivities.
To give you a broad idea of what's happening with Polish food and drink locally, we look back at some previous Buffalo.com content for old standbys and intriguing new developments.
For Dyngus Day 2016, Polish Villa 2 will be open at 10 a.m. and serve through the night -- it's usually closed Mondays -- and admission is $10, or $2 with a Pussy Willow Pass. Platters of Polish brunch fare, Bloody Mary bowls and lots of live music are among the highlights.
3) Visit R&L Lounge, where Lottie and Ronnie will be happy to see and serve you: The Pikuzinskis have owned R&L Lounge for 46 years, and they're prime examples of business owners who genuinely care about their customers, striking up conversation and building a real home-away-from-home feel. Handmade pierogi and golabki don't hurt the cause.
4) Krupnik panic: Hey, not all of the Polish food and drink news can be rosy. The News business reporter Samantha Christmann uncovered a shortage of krupnik, a Polish honey liqueur, often with a vodka base, that wins new admirers every Dyngus Day.
The reasons aren't clear for the lack of product -- either a new facility for the producer in Poland, a dearth of honey or a lack of those strangely shaped bottles, Christmann reported -- but Buffalo, the biggest consumer of krupnik in the United States, will feel the effects on Monday.
If your goal is to indulge in traditional alcohol on Monday, then remember the adage: "Liquor before beer, you're in the clear."
In the meantime, Ru's pierogi are on the menu at Blue Monk, Big Ditch Brewing Co. and Liberty Hound, so even if they're not Polish restaurants, know that you can munch on authentic handmade fare at those locations.
6) Throwback pierogi recipe: The story of Charity Vogel's grandmother's pierogi recipe is less about Dyngus Day and more about Polish Christmas Eve tradition, but it's flooded with memories that resonate with Polish families. Estelle Zoladz was characterized by her strong will, willingness to listen and tell stories, and her faith (and faith to her ancestral roots, too) -- is there a similar figure in your family?
8) Know your less common Polish foods: borscht (BORsht), czarnina (cha-NEE-na) and golabki (GWUM-key).
Borscht (sometimes referred to as barszcz) -- a tart beet soup, often served with sour cream, that's a striking red in color
Czarnina -- duck-blood soup, sweet-and-sour in flavor, but there are hundreds of different preparations
Golabki -- a Polish burrito of sorts; it's onions, minced pork or beef, and rice wrapped inside soft-boiled cabbage.
9) Polish alcohol primer: The two most common Polish beers you'll see on Monday are Zywiec and Tyskie. On the harder side, you've already learned about krupnik, but there are more. Here's a little about each:
Zywiec: At 5.6 percent alcohol by volume, Zywiec is a Euro pale lager that packs more of a punch than a Bud Light (4.2 percent ABV). There's a Beer Advocate page for it, of course.
Tyskie: Lightly flavored pale lager, identical ABV as Zywiec. See the Beer Advocate page, which shows the same rating for both Zywiec and Tyskie. You may enjoy one more than the other, but at the end of the day, they're very similar.
Sobieski vodka: Apparently Poland is the birthplace of vodka, and Sobieski is the best-selling brand.
Belvedere vodka: A sponsor you'll see on Monday, Belvedere is a more expensive, higher-quality vodka that's produced on Polish soil and made from the country's locally sourced raw ingredients, according to its website.
10) Official Dyngus Day after-parties: The festivities shift to Allentown, where Duke's has been announced as the official after-party.