At a 54-acre attraction in Blasdell, visitors arrive with sunscreen, sunglasses and hats. Some carry small coolers, chairs and buckets.
With a perennial breeze and the sun beating down, it's almost like a day at the beach – except the sand is soil and the warm water that covered the area nearly 400 million years ago is gone.
We're at Penn Dixie Fossil Park and Nature Reserve, where anyone can be an amateur paleontologist and dig for fossils to take home.
That's right – there's a large fossil park nearly hidden in our own backyard that is so impressive it has been ranked No. 1 in the country.
It's a step back in time and looks like it. First-time visitors may be surprised to see an expansive flat and barren landscape broken up only by a few mounds of shale and soil. But you're in the right place. That's where the treasure is found and it's often in plain sight. At Penn Dixie, you are walking on fossils.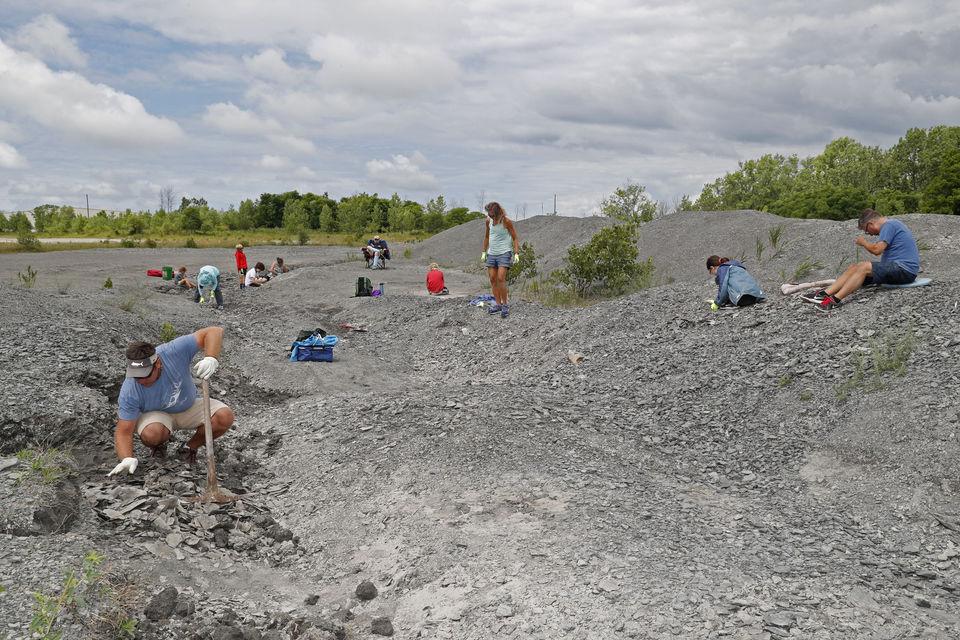 First, though, look to the top of the tree line in the distance. Everything below that (yes, even where you are standing) was under water about 380 million years ago when the area was a tropical sea rich in creatures such as brachiopods, horn corals and trilobites (called the potato bugs of the ocean and you'll see why when you look at one).
Today, you can find the fossils from this Devonian Period – the "age of fishes" — throughout the unique attraction that draws visitors from around the world. It's a place for all ages, interest levels and physical abilities. With so much open land, it is wheelchair-accessible. And it's always been a place where visitors are socially distant.
"It's huge, and once someone get there, there is the tendency to spread out and see what you can find. We encourage that. There are fossils everywhere," said Dr. Phil Stokes, executive director of Penn Dixie who is known to all as "Dr. Phil."
While the summer usually brings thousands of students from kindergarten to college on field trips, this year has been different. "It's been a very challenging year for us, like for many arts and cultural groups. We feel fortunate we can be open for the community," Stokes said adding they are developing home school programs "for families looking for something hands-on and outdoors for kids" in the fall.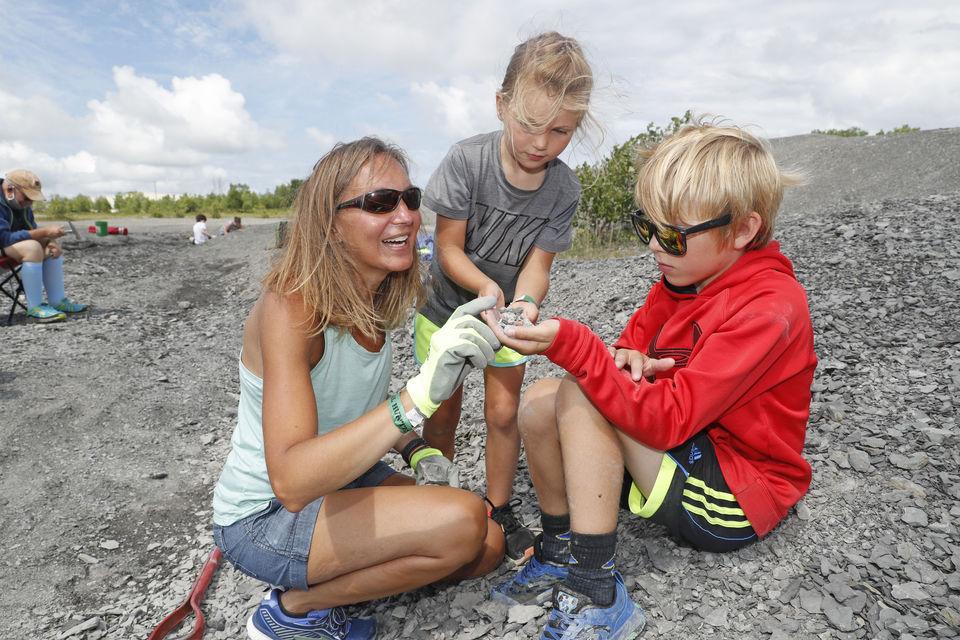 This season, Penn Dixie has been filled with many first-timers and families, who are "grateful for the opportunity to get out and do something together," Stokes said. "Some bring wagons with coolers, chairs and make a day of it. For some people it's like a beach day. Instead of a modern body of water, they are digging under an ancient body of water."
Cathy Sawyer of Attica is one of the first-timers. She brought her 13-year-old daughter and her great-niece and nephew, ages 3 and 5. "Boys just love to dig," Sawyer said about Luke. "He loves dinosaurs so we thought we'll go digging for fossils. It's been fun." Luke is a bundle of energy digging and yelling when he finds anything — even a rock. "We'll take these home and paint them," Sawyer said, with a laugh, about the rocks.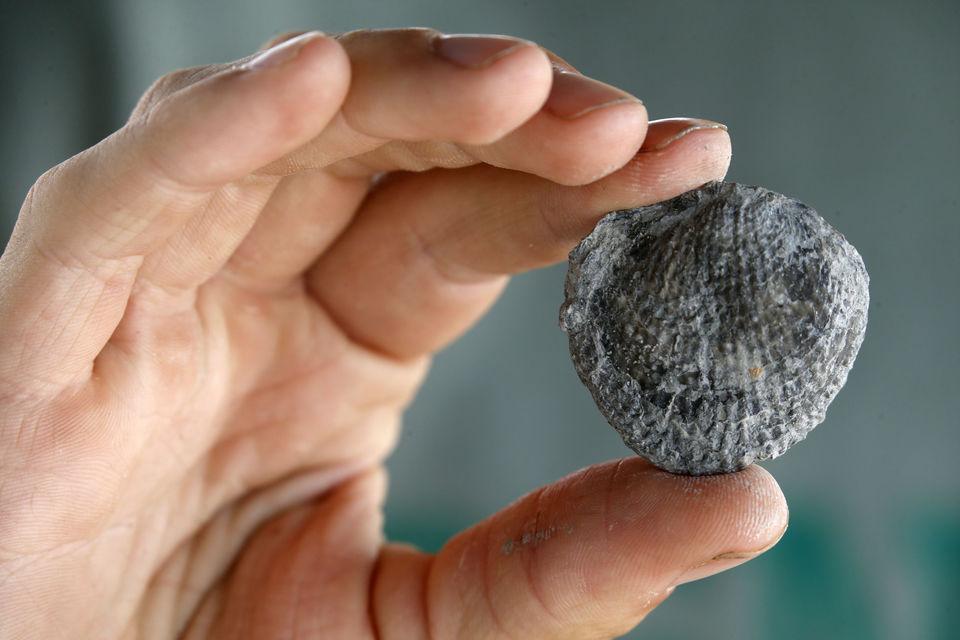 Since many first-timers don't know what to expect, Stokes said they ask similar questions before visiting.
Are the fossils real? (Yes.)
Do you put them there? (No, they've been there for nearly 400 million years.)
What happens if you run out? (Not possible; each spring a new part of the quarry is excavated to ensure visitors will find fossils.)
"Once people visit, they realize the fossils are a natural part of the environment and were left behind by animals that lived and died well before the dinosaurs," Stokes said.
And that's important: you won't find dinosaur fossils at Penn Dixie because they came nearly 200 million years later. So how do you break that to all the kids wearing dinosaur T-shirts?
Penn Dixie lead educator Gabby Green said she tells them: "If dinosaurs were to go fossil hunting, they would find these guys."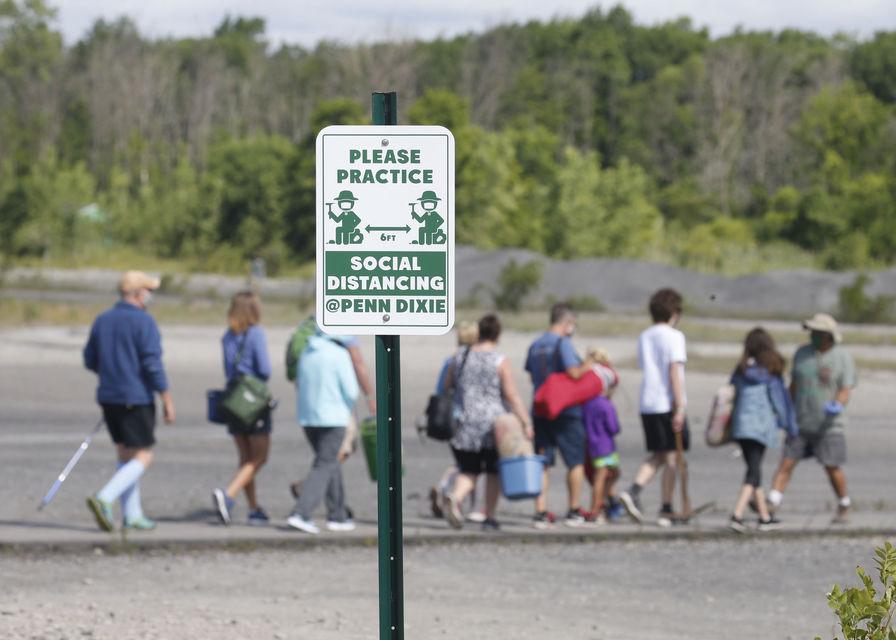 That and more is shared on short introductory tours – given every 30 minutes starting at 9:15 a.m. – about Penn Dixie's history, the fossils and lessons on how to dig.
"It's so easy to find a fossil," educator James Hanna tells a family. "They are all over the place."
As if on cue, he bends over and picks something up. "This is a trilobite," Hanna said, giving it to one of the excited boys.
Hanna was like those boys about 12 years ago when he first started "digging and collecting" at Penn Dixie. He became a volunteer and for the past three years has been an educator.
"I've been coming here for 12 years and I still get excited when I find a fossil," he said, sitting on the dirt and pounding away with a hammer and chisel to uncover rocks he'll leave for guests.
So how do you find fossils? Just look down.
That's not a joke – it's called surface collecting and even the pros do it.
"I find the best fossil hunting is right on the surface," Stokes said. "I like to look around on the ground. Your eyes need to adjust for small shapes and the textures." A trilobite, for example, has "a glossy dark shell which contrasts with the lighter rock around it," while Crinoidea (sea lily) looks like little cheerios.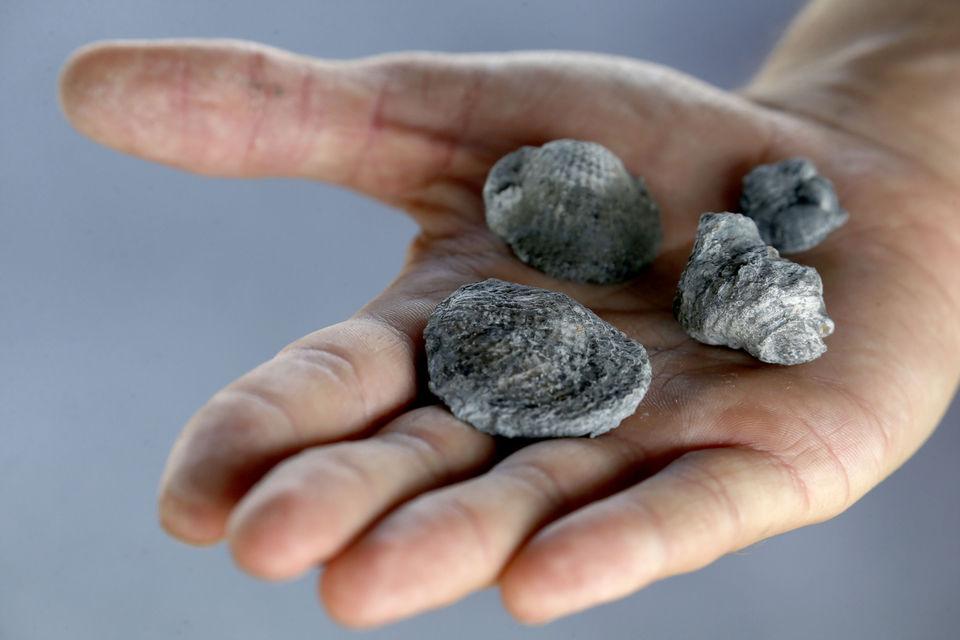 "Once your eyes adjust to those shapes you can sit and stare at the soil and the shapes pop out at you," Stokes said. "Most of our visitors are first-time fossil hunters and have great results scanning the ground."
The other way is to sit and start digging or hammering away at the "overburden" (the top layer of the shale that is bare of fossils). Bring your own tools or rent a bucket with the necessary equipment.
Stokes has other tips, too:
• The best time to find fossils is after the rain. "It washes sediment off the fossils," he said.
• The best day to go is when it's clear or totally overcast because "the natural lighting makes it easier to see fossils."
• Finally, move around, Stokes said. "If you're not finding fossils in one place, just try another spot."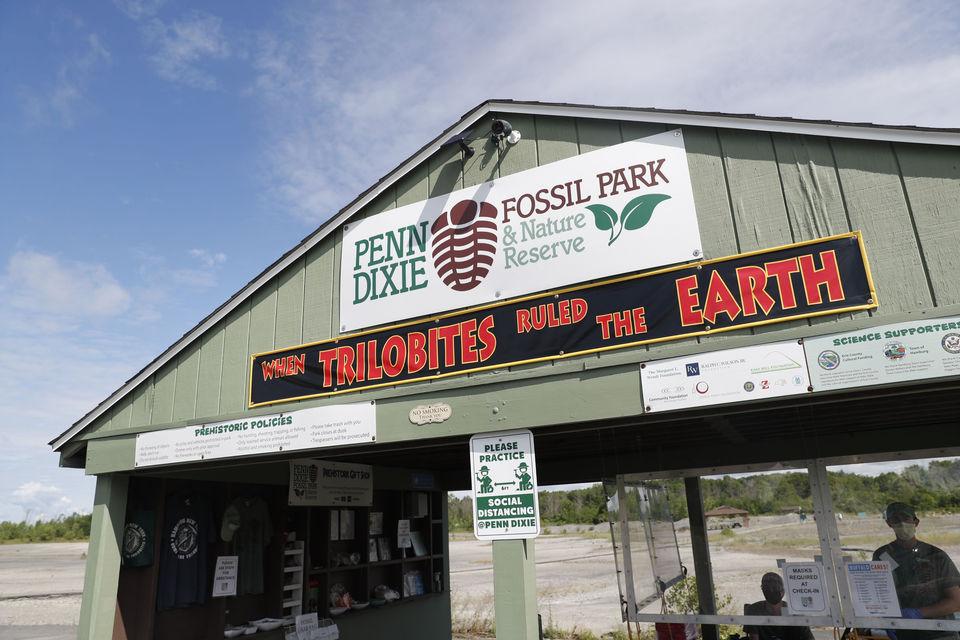 Hours: 9 a.m. to 4:30 p.m. daily to Sept. 7; 9 a.m. to 4:30 p.m. Saturdays and Sundays from Sept. 12 to Oct. 18.
How to go: Reservations are required and can be made online. General admission is $9 to $12; ages under 3 are admitted free. Check in when you arrive for instructions. Masks must be worn until you get to the dig site, then follow social distancing guidelines.
What to bring/wear: Sunscreen, hat, layers of clothes, comfortable shoes, a mask and water. Food is allowed.