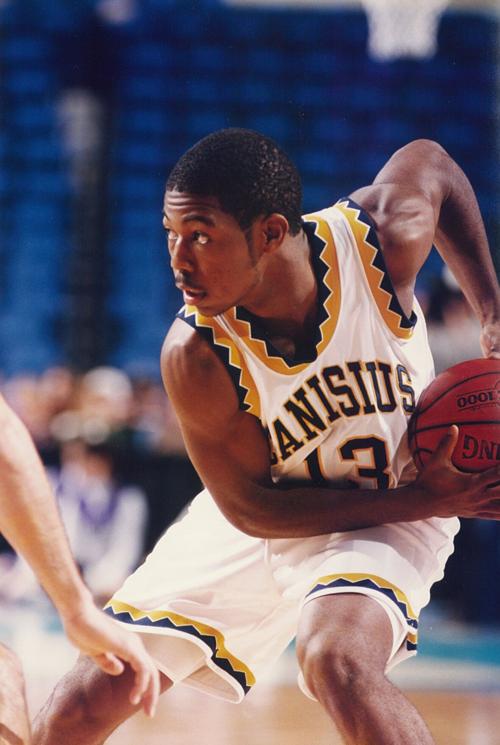 We go to college to get an education, of course, but also to find ourselves. This is the story of how Damon Young found himself at Canisius, where he played on the men's basketball team a generation ago.
Today, at 41, he is a best-selling author with deals to turn his 2019 book, "What Doesn't Kill You Makes You Blacker," into a television series and a podcast. He's got more books in the works, and the website he co-founded, Very Smart Brothas, is "the blackest thing that ever happened to the Internet," according to an admiring appraisal in the Washington Post. He's also a columnist for GQ and a contributing opinion writer for the New York Times, and his work has appeared in the Post, New York magazine, Ebony, Esquire, Slate and many more places.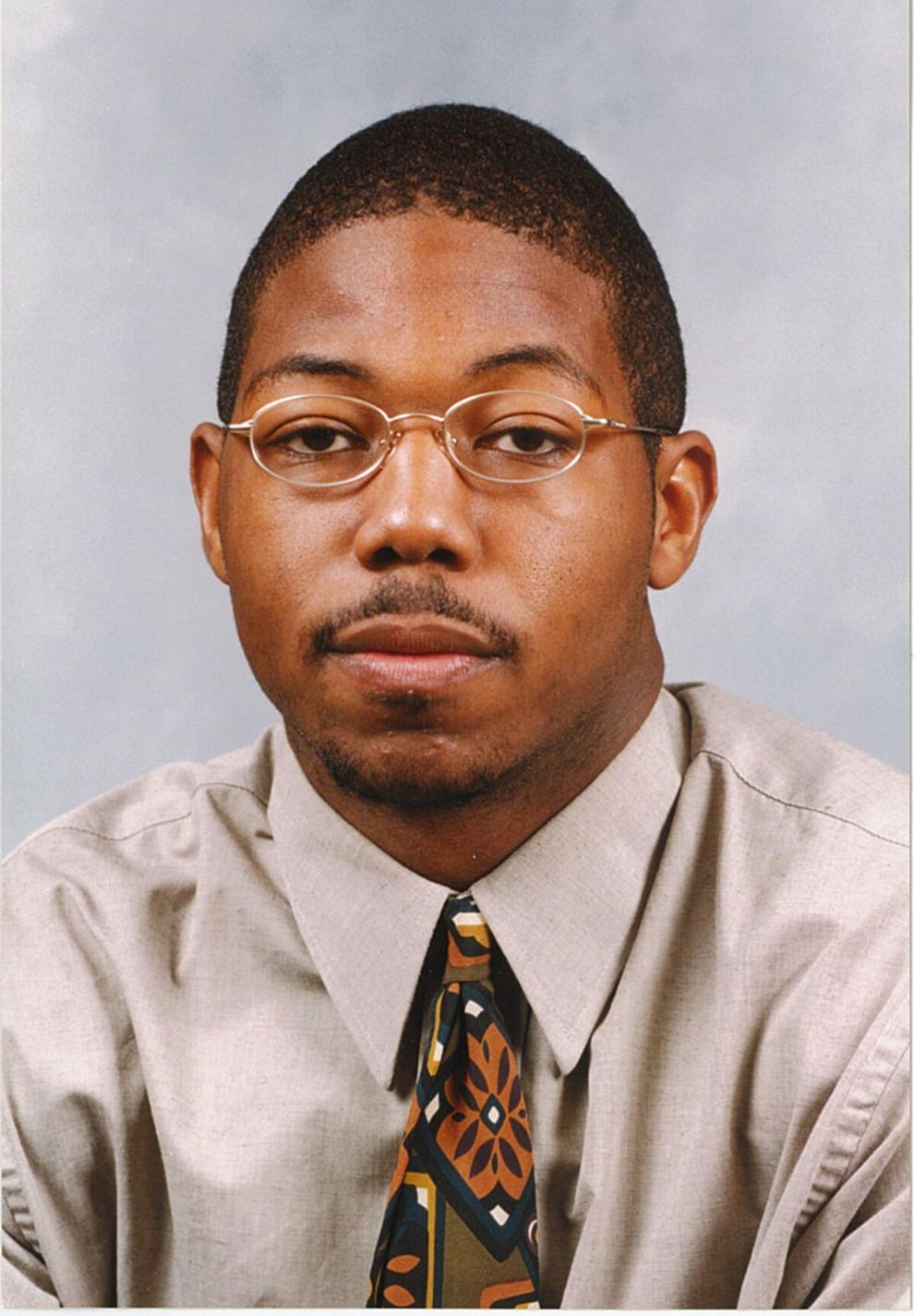 "I have bylines right now at pretty much all of my dream publications when I was 25 or 30," he says. "I've been fortunate, particularly in the last four or five years, with my book deal and my website getting acquired (by The Root). My writing changed from a hobby – a very serious hobby – into a full-time job. It's really absurd when I think about it: This is my life now. I'm pretty happy – not happy with the world; not happy with Covid, when I can't leave my house without a frigging mask – but happy. I'm in a good place."
Young wonders whether he'd be in this place if he'd been a better basketball player. He went to Canisius in 1997 expecting to be a star. He was, instead, a benchwarmer. That led to an identity crisis. If he wasn't a hoops hero anymore, who was he?
"I came to Canisius on scholarship, and basketball is the thing there," he says. "I was used to that status, coming from Pittsburgh, coming from my high school, Penn Hills. Basketball was my identity. You see athletes today, like LeBron, say things like, 'I'm more than an athlete.' Well, I wanted to be less: I wanted to be just an athlete."
He believed he would break into the Golden Griffins' starting lineup as a freshman. "Then I get to Canisius, and everyone is good. When you play Division I basketball, everyone is a star where they came from."
Players who don't play much typically blame the coach for that. Young doesn't. He says he didn't work hard enough on conditioning – "and that's on me. I had the career I deserved."
Illness and injury played a part, too – mononucleosis, torn hamstring, bone bruise on his right knee, torn anterior cruciate ligament in his left. One season he averaged almost eight minutes per game; others he hardly played at all. He writes in his book about the anomaly of being better at basketball than 99% of his age-group nationally, but not better than the rest of the Griffs.
"I was, objectively, the worst scholarship player on the team. I was still better than everyone, except the only people who actually mattered. The same people who happened to be my teammates. And roommates. And classmates. And friends."
So, even as he remained on the team, which carried a status of its own, he began searching for who he was, now that he was no longer a point guard with promise. That's when he began to write poetry. Not as a prelude to some imagined career in the arts, but to impress a female classmate who would become his muse and his friend.
Those poems were, at first, largely derivative. Then, as he found his voice, they "began to get less terrible," he writes. "And by 'less terrible' I mean 'get the attention of white people.' I submitted 'Nomad' to the Quadrangle – a student-run literary-arts magazine at Canisius – and was invited to read it at the spring issue's launch party."
Flash-forward to spring 2019, when Young returned to Canisius to read from "What Doesn't Kill You Makes You Blacker." He hadn't been on the campus in 17 years.
"It was surreal to be back in the halls I walked and the grass I roamed," he says. "Re-remembering things as an adult."
The book won 2019's Discover Great New Writers nonfiction award from Barnes & Noble and was nominated for an NAACP Image Award.
"I didn't know the Image Awards had a category for books. My wife and I made the trip to Los Angeles. I lost" – and here Young laughs out loud – "to Toni Morrison. My foil, damn it, Toni Morrison!"
Young's book is a memoir in the form of essays. Chapter 3 is called "Bomb-Ass Poetry." In it he writes about how he learned early to keep latent dreams of playing in the NBA to himself: "Professing a desire to play professional sports aloud fit the racially codified narrative of what black boys were supposed to want to do. Telling people you wanted to be a ballplayer or a rapper was essentially broadcasting that your parents failed at raising you, and the only possible remedy was being duct-taped to a couch and forced to watch seasons two through five of 'A Different World.' So if asked if I wanted to play in the NBA, I'd lie and say I'd rather be in sports management."
That was his major at Canisius until he switched to secondary education and then, in his senior year, to English. By then he knew that he didn't want to teach. "And then my first job after graduation," he says, "I started out as a teacher."
Before long he was blogging. His posts caught the attention of a fellow blogger, Dwayne Wright (who writes under the pen name Panama Jackson), and together they founded Very Smart Brothas, which the Washington Post says "emerged as a stream-of-consciousness sounding board, an expletive-laden fuse and an absurdist inside joke" in the years after the 2012 shooting death of Trayvon Martin. Young would not meet Wright in person until years after they forged their online partnership; meantime, Young quit teaching to build the Brothas site.
Today he and his wife, Alecia, live in Pittsburgh with their children: Zoe, who turns 5 this month, and Levi, who turns 2 next month.
"They are a lot of fun," Young says. "Also jackals who tear up the house. They bring us so much joy. It's a new day every day. Monotony is not possible with these little people around."
His book won high praise from critics. For example:
• Georgetown prof Michael Eric Dyson: "'What Doesn't Kill You Makes You Blacker' is a humorous and deep dive into the culture and a life lived in that precarious state we call blackness."
• NPR: "An authentic, keen and touching example of the black male experience."
• Author Brittney Cooper: "In these highly serious times of social upheaval, Young always tells the truth, but you get to read the truth as you gulp for air, while reading his highly irreverent, comedic genius."
It is his pairing of serious subjects with acid wit that sets Young apart. The author Denene Millner ranks him with the likes of Eddie Murphy, Chris Rock and Dave Chappelle as "a satirist with a wealth of intelligence and raw wit, a finger on the sociological pulse of pop culture and an incredible gift for making people fall out in side-splitting laughter."
And so I ask Young about his ability to find levity amid calamity. He cites Michaela Coel, creator of "I May Destroy You," an HBO dramedy about terrible trauma.
Coel once told an interviewer for BBC Writers Room that she doesn't add humor – she just doesn't remove it. Humor, she said, "is always there; at every party, funeral and war, although often uninvited, she's always there."
Young says he read that and thought, "Boom, there it is. That is how I see the world and process things."
So it is no wonder that comedians count themselves among the many admirers of his work. W. Kamau Bell says Young has a gift for "creating sentences that make me react like I was watching a slam-dunk contest with Michael Jordan, Dr. J, Vince Carter, Kobe Bryant and the aliens from 'Space Jam.' "
Which brings us back to basketball.
"I look back at my career and think, 'What if I had been a star at Canisius?' And then maybe I go overseas and play for a few years. Am I still doing this today if that happens?"
Young thought he would be a star on the court; now he is one off of it.
"Yeah," he says – then catches himself.
He had started that answer on autopilot. No, he says, there are too many other writers he admires. He can't – won't – call himself a star in the world of writing.
I tell him even if he can't, I can. He laughs.