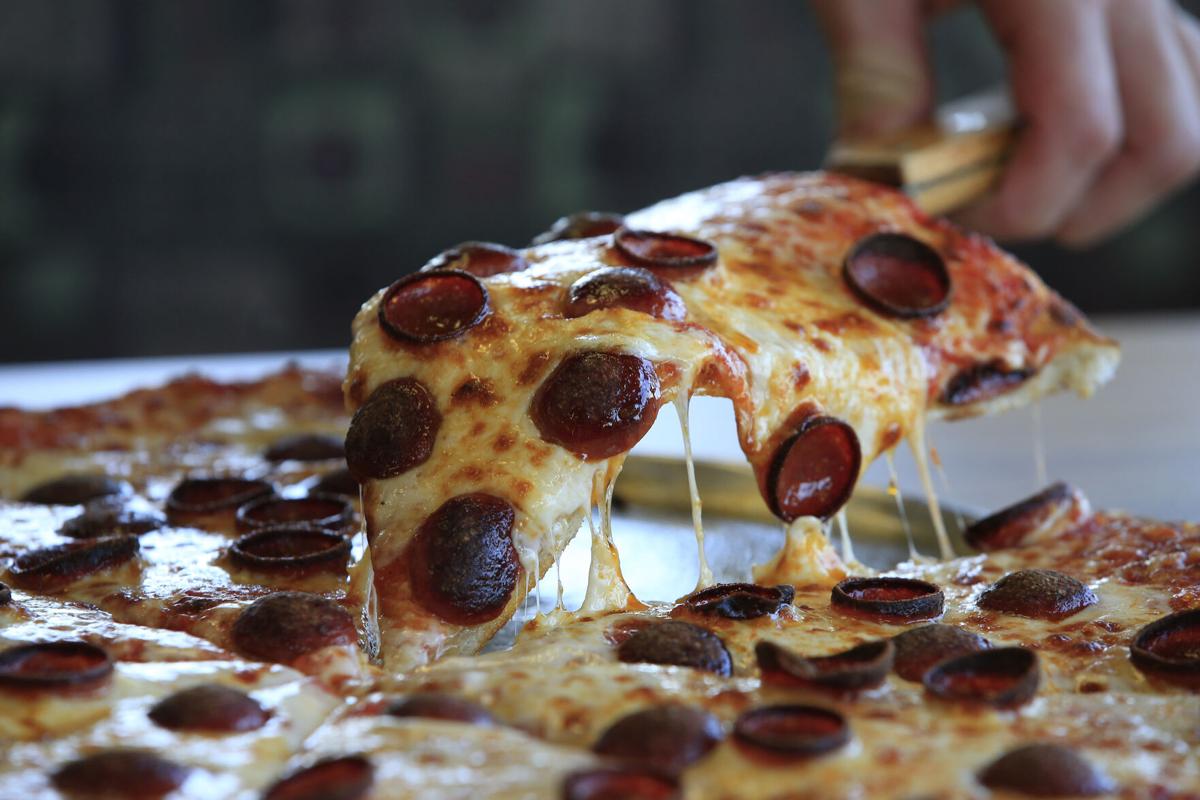 Akin to a craftsman's guild the likes of the Roycroft, the fellas down at Chick-N-Pizza Works are knee-deep in the unconventional and notoriously tricky mediums of raw bird and mozzarella toiling away for the glory of Jah to make sexy sculptures best appreciated when eaten, though I'm not here to tell you how to enjoy your takeout.
Issuers of the 29-inch-diameter mettle-thrashing pizza for two dubbed the "Magnum Challenge," Chick-N-Pizza Works will bust out the wallet if the pie doesn't bust out of your digestive tract during your one-hour carpool to hell's doorstep on the pepperoni express. A $25 gift card or obliteration by pizza is a tricky "would you rather," but dead men don't write pizza articles, so we're wimping out with an 18-inch "giant" to the chagrin of the cheesy reaper. See you soon, bud.
Dough A SexySlices Standout: Thin at the center, thick on outside, then flattened to a cracker-thin and crunchy edge around the perimeter like a speed bump ensuring you don't floor it off the track and latch on to your knuckles. An unprecedented style in my experience that lends huge texture variance to an inarguably bland experience once cheese and pep have left the chat. After you pop the crispy exterior and let the steam rip through your nostrils, you're left with a satisfying chew and an interesting head buzz that's referred to as "chasing the gluten" in the seedy, well-browned underbelly of the pizza world. A few points off from the lack of a crunchy bottom, which I suspect is the culprit of a conveyor oven, but overall a charmingly unique and delicious experience.
Cheese: Nearly liquid to start but slowly solidifying to a proper chewy salty cheese layer, this non-Newtonian dairy delight unfortunately airballed distribution and completely missed the rim. Someone hit this self-proclaimed giant pizza with a halfhearted handful of mozz and decided dipping back into the well wasn't worth saddling up for the one appendage journey cross the prep table. Bummer.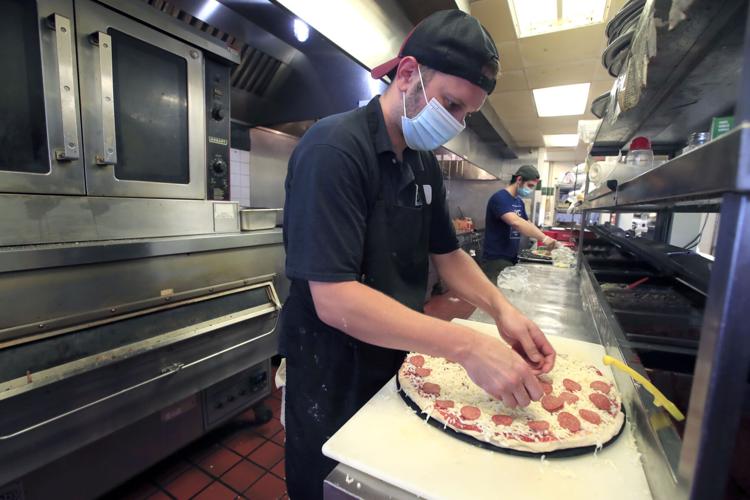 Sauce: Though sacred as the Ganges to Buffalo's native sons, the crimson river of sauce that flows through our city's pizzerias is a touch too heavy for yours truly. The occasional reprieve from general thickness that pervades every aspect of the regional slice is a welcome one on the evergreen Buffalo pizza trail. As pleasantly thin as it may be, the flavor of the Chick-N-Pizza Works sauce is perplexing. Slightly sweet and onion-forward, it's certainly palpable but a little funky and fights with the salt of the cheese and pep.
Pepperoni: No pep left behind, Chick-N-Pizza Works blesses each and every one of these meat mats with a crackling crunch that's almost eerily uniform. SexySlices giveth for pristine preparation, SexySlices taketh away for under indexing on quantity. The category rounds to the average, but it could have been exceptional with one more grab from a prep bin.
Overall: (B) A standout base with solid ingredients that deserve heartier handfuls to match the generously "giant" title.
The vast expanse of exotic pies, a unique dough format, a fun food challenge, an oddball name, and a dual specialty in chicken and pizza make Chick-N-Pizza Works an intriguing shop that sets itself aside from the pack. Though I wouldn't say the cheese and pepperoni pizza alone would keep me away from Chick-N-Pizza works, I'd likely be circling back for one of its other offerings, such as the opportunity to die on the pepperoni-pocked battlefield in their Magnum Challenge. But today is not that day.
Address: 2940 Union Road, Cheektowaga and 129 Abbott Road, South Buffalo
Hours: 11 a.m. to 9 p.m. Sunday through Thursday; to 11 p.m. Friday and Saturday.
Lunch deal: Two slices and a 20-ounce pop, $7.60.
Large cheese and pepperoni: $19.99.
Deal: $12.99 large cheese and pepperoni, Mondays.
Exotic pizza: Perogi Pizza ($17.99, giant) with creamy mashed potatoes blended with sour cream and onion on a butter base, topped with mozzarella.
@sexyslices remains anonymous, but is on Instagram, Facebook and Twitter. Follow and contact @sexyslices there, plus check out the extensive archive of 200-plus pizza reviews.
Stay up-to-date on what's happening
Receive the latest in local entertainment news in your inbox weekly!