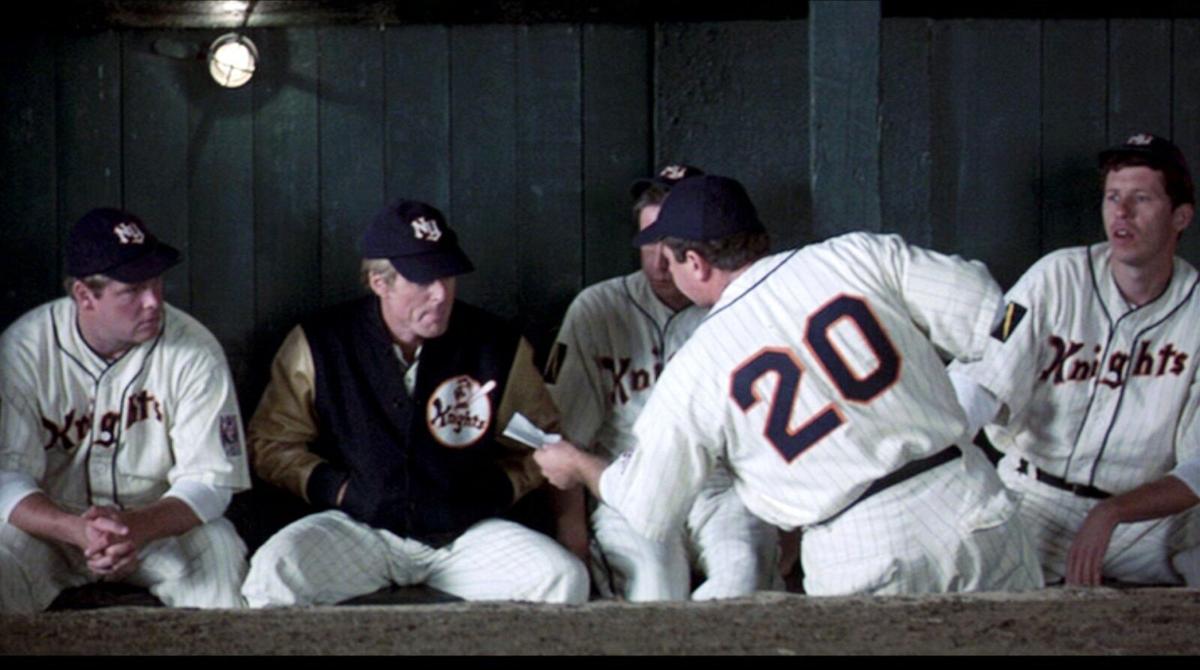 Buffalo's community of classic movie fans just hit a home run.
Turner Classic Movies, the cable channel that screens cinema favorites, announced Wednesday that Barry Levinson, director of Buffalo-filmed classic "The Natural," will appear with TCM host Ben Mankiewicz to host a screening of the film at 7 p.m. Oct. 21 in the North Park Theatre.
The high-profile screening is thanks to Buffalo's winning entry in the channel's inaugural "Bring TCM to Your Hometown" contest. Buffalo beat out 124 other cities in the competition, edging out finalists in St. Louis, Tucson, Ariz. and Tillamook, Ore.
The winning entry was submitted by The Buffalo News Gusto editor Toni Ruberto. Ruberto, a classic film buff, created a video and wrote a story extolling Buffalo's rich cinematic history, architecture and culture. The essay got Buffalo into the final round. And her video garnered the most votes in TCM's contest, which was open only to members of its fan club, known as TCM Backlot.
"When I found out that we won, I let out a little scream. I was shocked," Ruberto said on Wednesday. "I thought the essay would be a great opportunity to write a story about all of the movie houses that we're so lucky to have, and to let people around the country know about these treasures that we have here. We have a great history going back more than 100 years."
"We are more than chicken wings and walls of snow," Ruberto wrote in her winning entry. "We are home of the 1901 Pan-Am Exposition and Frank Lloyd Wright masterpieces; the birthplace of famous entertainers ... and location for hundreds of movies. And that one historic movie palace you need? We have six grand and glorious options for you – all still operating, all built between 1920 and 1926 and all ready to welcome a full house of movie fans, local celebrities and athletes ... and TCM hosts to share a love of classic films."
Levinson's 1984 film "The Natural," starring Robert Redford and Glenn Close and shot in Buffalo, included the classic ending shot in since-demolished War Memorial Stadium. "The Natural" remains the most high-profile movie made in Buffalo. For Buffalonians of all stripes, and especially baseball fans, it represents a fusion of Buffalo pride and a sepia-toned nostalgia for America's national pastime.
Mankiewicz, known to TCM fans as the channel's affable on-screen host with a deep knowledge of classic films, praised Ruberto's entry and Buffalo's commitment to classic film.
"It was really the strongest entry, and I will admit that, Turner-wide, we like Buffalo," Mankiewicz said in a phone interview from Los Angeles on Wednesday. "The city's commitment to classic film and enthusiasm... dovetails nicely with a perfect movie to show in Buffalo."
The contest is part of a new effort by TCM to cultivate a national community of classic film lovers.
"Bringing TCM to Buffalo [offers] a remarkable opportunity to connect locals with their love of classic films, as well as allowing us to further engage with some of our most passionate and devoted fans," Genevieve McGillicuddy, TCM's vice president of enterprises and strategic partnerships, said in a statement.
The Oct. 21 screening at the North Park will feature special guests to be announced later and an opportunity for fans to meet and talk with Levinson and Mankiewicz after the film.
Ray Barker, program director at the North Park, said he was gratified that TCM chose the venue for the screening.
"The North Park opened in 1920, and I think it's one of those rare buildings where you can step in it and go back in time to the golden era of Hollywood moviemaking," he said. "The TCM people are very conscious of film history and they want their films to be seen in a context which is appropriate for the film. Coming into a space like the North Park? It just was a natural fit."
The screening is free, but tickets are needed. Members of TCM Backlot can reserve their tickets now. Tickets will be available to the public on Sept. 8 by visiting tcmbacklot.com/tickets. More information about TCM Backlot is available at tcmbacklot.com.
Stay up-to-date on what's happening
Receive the latest in local entertainment news in your inbox weekly!