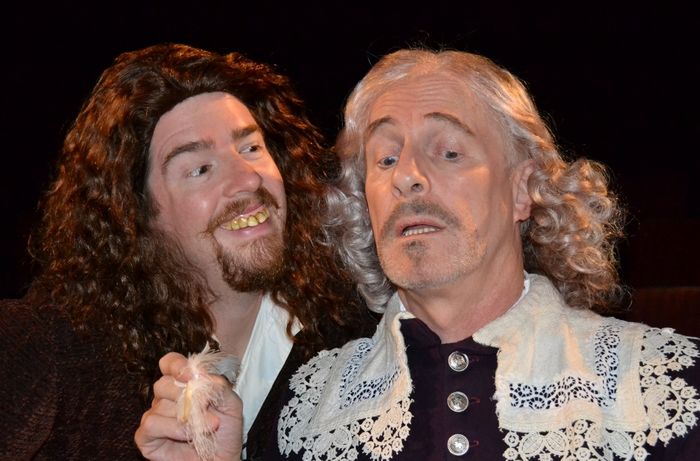 A historic collaboration is taking place this weekend in Kleinhans Music Hall. The Irish Classical Theatre, LehrerDance and the Buffalo Philharmonic Orchestra are all joining forces for "Le Bourgeois Gentilhomme," the classic Moliere comedy performed with music by Richard Strauss.
Moliere's "Le Bourgeois Gentilhomme" – "The Middle-Class Gentleman" – is a broad comedy that was a major hit at the court of Louis XIV, the Sun King. It is about a successful but oafish businessman named Monsieur Jourdain who hopes to fit in among the aristocrats, and so he sets about learning all the aristocratic arts, such as dancing and fencing. Fortunato Pezzimenti directs the drama, Vincent O'Neill stars as the hapless would-be nobleman, and other actors include Brian Mysliwy, Jessica Wegrzyn and Kelli Bocock-Natale. The whimsical and athletic choreography is by Jon Lehrer of LehrerDance. BPO Music Director JoAnn Falletta is conducting, and the music is being recorded for Naxos.
"It is ravishing music," Falletta said. Strauss' score occasionally quotes the original music for the comedy, written by the French Baroque master Jean-Baptiste Lully. "I think Strauss softens this play," Falletta continued. "It's very satirical – he does make fun of Jourdain – but the music creates a world of gentleness and tenderness as well."
There are three performances in Kleinhans Music Hall: 10:30 a.m. Friday, 8 p.m. Saturday and 2:30 p.m. Sunday. Admission is $29-$80. For info, call 885-5000.
Stay up-to-date on what's happening
Receive the latest in local entertainment news in your inbox weekly!