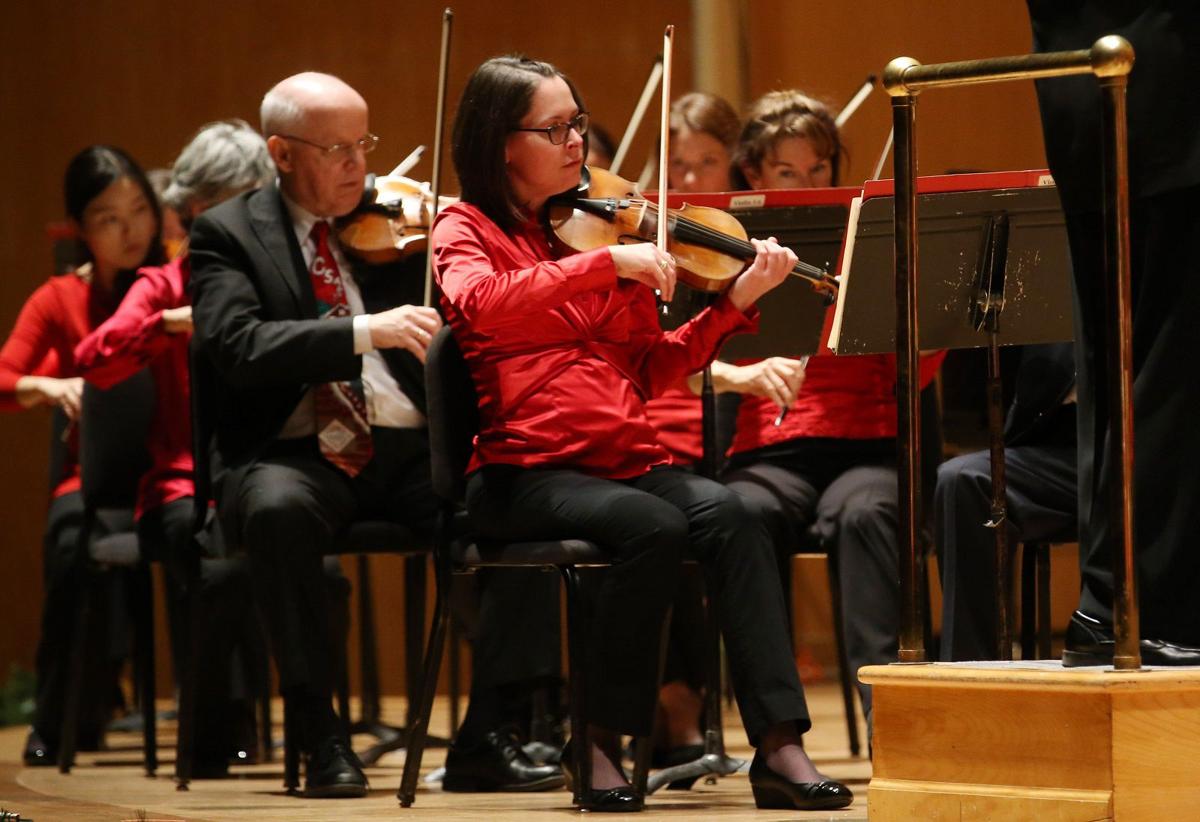 The Buffalo Philharmonic Orchestra makes it a tradition to celebrate Mozart's birthday. This year, the orchestra is celebrating with opera.
It's no ordinary Mozart birthday party.
A group of fine singers from Juilliard are on hand to sing excerpts from "The Marriage of Figaro," "Don Giovanni," and "Cosi Fan Tutte," the three masterpieces Mozart wrote in collaboration with the great librettist Lorenzo da Ponte. The dynamo of a conductor is Andrew Bisantz, a former BPO resident conductor and a SUNY Fredonia grad.
Bisantz is a powerhouse who plays harpsichord to accompany the recitatives, conducts charmingly with no baton, and even stepped in for a cameo role as the Commandatore in "Don Giovanni." The Commandatore dies at the start of the opera and so Bisantz spent a couple minutes simply lying in the middle of the stage. You had to love him for that.
And you had to love him for this unusual program. Currently, Bisantz is music director of the Eugene Opera, and he must put some thought into how to widen the audience for this ancient art form. This concert is one that could make anyone want to hear more.
It was a smart move to limit things to these three operas, devoting a good 45 minutes to each one. It was also smart to enlist the soprano Julie Newell of SUNY Fredonia to act as narrator. Engaging and humorous, she moved things along nicely, explaining what was going on in each opera and even filling us in on what was going on in Mozart's life at the time.
Mozart nerds could debate for hours if they would have chosen the same arias to spotlight. I had a few I wished could have been included, and one or two I would have cut to make room for them. But when it comes to these three operas, there are no wrong answers.  We got to hear all three overtures, which meant the concert began with that magical, breathless overture to "The Marriage of Figaro." The singers filed in as it was ending. It was like the curtain going up.
The singers acted well in addition to singing with excellence. In the absence of subtitles, they worked extra hard to convey the meaning of what they were singing, and made the most of the minimal props (a bench, a desk, a chair). They were flawlessly prepared and professional.
Mezzo soprano Kara Dugan was Cherubino in "Figaro," gracefully singing the sweetly seductive "Voi Che Sapete." Baritone Jonathan Bryan was a supremely confident Count Almaviva in the scenes that followed. Bass baritone Leo Radosavljevic did a good job with "Non piu Andrai," one of the greatest hits of 1786 and still catchy today. Dugan was hilarious during that song, playing the hapless teenage boy who is being sent off to war.
Soprano Rebecca Farley gave a lovely performance of the famous bittersweet aria "Dove Sono." She and Dugan reappeared as the two sisters in "Cosi Fan Tutte."
Meanwhile, in "Don Giovanni," David Margulis soared in the famous tenor showpiece "Dalla Sua Pace." Bryan, standing on the bench, delivered an effervescent Champagne Aria that had even opera newbies laughing with delight.
I got the feeling, though I had to leave reluctantly before it was over, that the concert was running a little long. The intermission was abrupt and awkward, as if the timing had gone awry. The slow, chilling intro to the overture to "Don Giovanni" seemed too fast -- another hint. But this was one concert that did not seem too long. I don't think anyone was impatient to leave.
The musicians, I imagine, were enjoying things too. They took great care with all the subtleties. They don't get to play this music much. Let's give a special Buffalo bravo to our new oboist, 23-year-old Joshua Lauretig, playing the pivotal oboe solo at the start of the overture to "Cosi Fan Tutte." I happened to be sitting next to his mother. She had trekked in from Cleveland for this concert.
As the icing on this 18th century cake, the artists of PROJEX, a local light-mapping group, have contributed designs that bathe the stage in atmosphere. The effect was especially stunning when we got to "Cosi." The entire stage was suddenly covered in rococo wallpaper. It was as if suddenly, we were in a theater from the 1780s. Can we have that wallpaper permanently?
Can we have another concert like this sometime?
The Mozart birthday party repeats at 2:30 p.m. Sunday at Kleinhans Music Hall.
Stay up-to-date on what's happening
Receive the latest in local entertainment news in your inbox weekly!