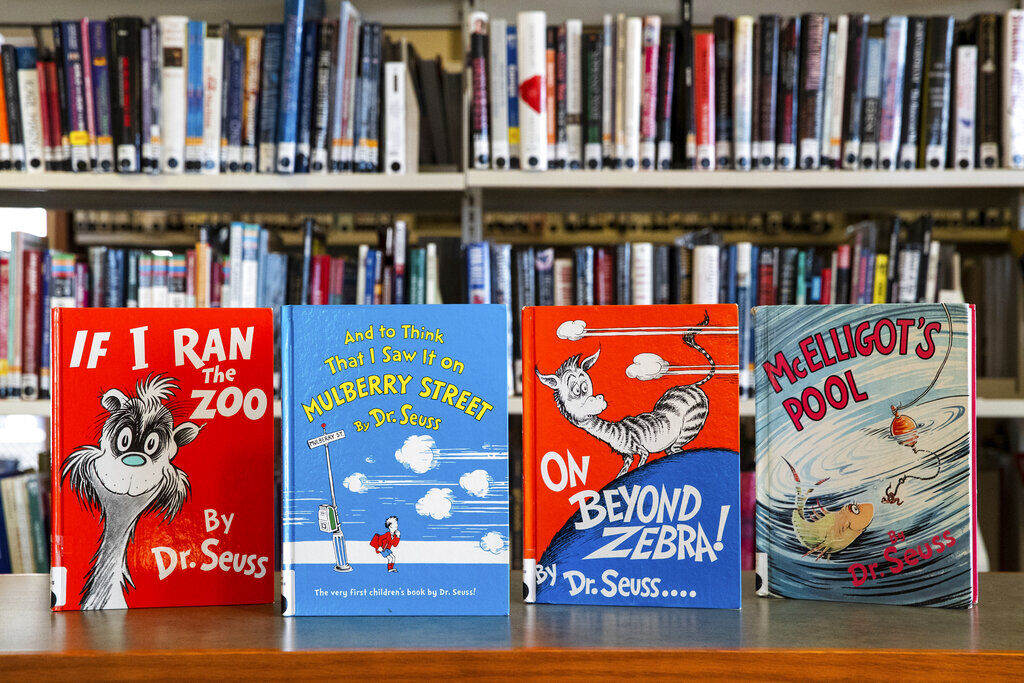 Happy Birthday, Dr. Seuss, said Dr. Seuss Enterprises on Tuesday.
That's the business that oversees everything connected to his legacy. His birthday is celebrated on the same day as Read Across America Day.
To mark the festivities, Seuss Enterprises celebrated in a unique way – by withdrawing six of his books from any further publication.
They ranged from the 1930s to the 1970s, to signal their joy – "And to Think That I Saw It on Mulberry Street," "Scrambled Eggs Super!" "The Cat's Quizzer," "McElligot's Pool," "If I Ran the Zoo" and "On Beyond Zebra!"
The governing body of Seussville is keeping the six books in the vault from now on (used bookstores and libraries take note) because the books "portray people in ways that are hurtful and wrong."
Their way of protecting his legacy, in other words, is to eliminate some of it.
"The human species is just not given to one-dimensionality. We are vastly messier than that," writes Jeff Simon.
Let me contain my feelings of what I consider righteous fury for a moment. I am, to put it mildly, not kindly disposed toward censorship. Let me also pledge total candor here. I am not familiar with all six books, only two of them, "If I Ran the Zoo" and "On Beyond Zebra!"
For that reason, I'm not going to appoint myself defense attorney for all six books. Though I remember reading "If I Ran the Zoo" to my daughter when she was little and, as always with Seuss, enjoying it immensely (a friend who later taught her at the Buffalo Seminary told me on Facebook it was the first book he'd ever read). I'm going to stick to just one of them because it's one of my favorite Seuss books of all – "On Beyond Zebra!"
When my daughter was little, her mother and I loved the Seuss books as much as she did, full of Seuss' wild and wonderful drawings and his joyous and contagious anapestic tetrameter, which is hilarious to read aloud. After a while, even sluggards like me begin to feel like comic virtuosos in the vein of Jon Stewart or Zero Mostel.
I pledged not to lie here. Reading Dr. Seuss to my growing daughter was one of the greatest joys of my long life.
I know quite a few of his books: the Horton books, the Bartholomew books, "The Cat in the Hat," "Hop on Pop," "Green Eggs and Ham," quite a few others.
"On Beyond Zebra!" remains a particular favorite. It's a mock alphabet book written with an irresistible premise. To wit – a lot of cautious and unimaginative books stop at the letter Z, but why do something so stodgy? Why not imagine all the letters that might come after Z for Zebra and then imagine all the creatures they'd denote?
I want to tell you about two failures bigger than most successes.
"If I Ran the Zoo" has a premise so similar it might be its fraternal twin. It's quite as much of a lark as "Zebra," in my opinion. And its major sins of racism and insensitivity are a bit clearer – drawings of unpleasantly caricatured Asians and Africans.
Neither registered foul to me on first acquaintance, but that, of course, is one of the strong arguments against so much of the toxic insensitivity of our culture – that it is so pervasive and apparently natural to us that it doesn't register.
I honestly can't recall anything offensive about "On Beyond Zebra!"– only the glorious joy of taking my child on a wild journey with Dr. Seuss through a mixed-up alternative alphabet and a bunch of new creatures whose names began with hitherto unknown letters.
I'm truly sorry if offensive stereotypes evaded me back then, but I just found it impossible to associate Seuss' drawings with reality, at all.
To me, what's so wonderful about them is that they don't come from reality, but from a unique, cohesive and wholly imagined world that might be called Seussville, whose resemblance to the plodding world we know is both accidental and crashingly irrelevant.
When you're in Seussville, you're an instant native. If you persist in dragging the drearier stupidities of reality into Seussville, you're not really getting the point. Late in life, Seuss wrote a book for adults, "Oh, the Places You'll Go!"
What happened to the culture and business of movies in the Western world was a disastrous darkness in 2020 to be sure, Simon says.
That's the Seuss message to readers great and small. Stick with him. You'll go to wonderful new places.
Places that aren't clotted with peevish officials looking to punish writers for the sins of being brilliant and creative and entirely original.
This is not to say that reality is incapable of obtruding sometimes. When my daughter read one of the now-banned Seuss books to my grandson –"And to Think That I Saw It on Mulberry Street" – she was stopped cold in her tracks by this line's sexism: "Anyone could think of that...Jack or Fred or Joe or Nat...Why even JANE could think of that." Before he could read, she substituted the name "Jack" for "Jane" and got away with it. Subsequent research by her revealed an older Seuss to be far less amenable to change for feminist reasons than racial ones. Her response to that is, despite childhood pleasure, draconian – i.e., abandonment.
The only feeble explanation that I can think of for Seuss' obduracy is that once upon a time feminism was treated as a "Tonight Show" joke, not the epochal thing it is now.
I'm not crazy about abolishing brilliance from the world, in truth. I don't like making allowances, but I do. So do most of us.
A recent correspondent pointed out to me that almost all the villains in the animated features Walt Disney himself oversaw have the features of anti-Semitic caricature. Disney was known to say and do anti-Semitic things in Hollywood, a most unlikely community for it, but I must say I never noticed that on first acquaintance with his greatest films, so richly imaginative and distinctive are they.
At the same time, I can indeed well imagine someone Black or Asian now contemptuous of a seemingly white-centric children's literary world full of stereotype, caricature, ignorance and avoidance.
The trouble is that it is so pervasive that efforts at correction by removal are self-defeating. It's the old argument about hate speech, the cure for it isn't censorship, it's more speech – of the redemptive, curative and effective kind.
If the idea is to sanitize all minority and female images one at a time, where do you begin and how on earth do you end? One of the greatest books in all of American literature, "The Adventures of Huckleberry Finn," has two important characters, runaway Huck and former slave Jim.