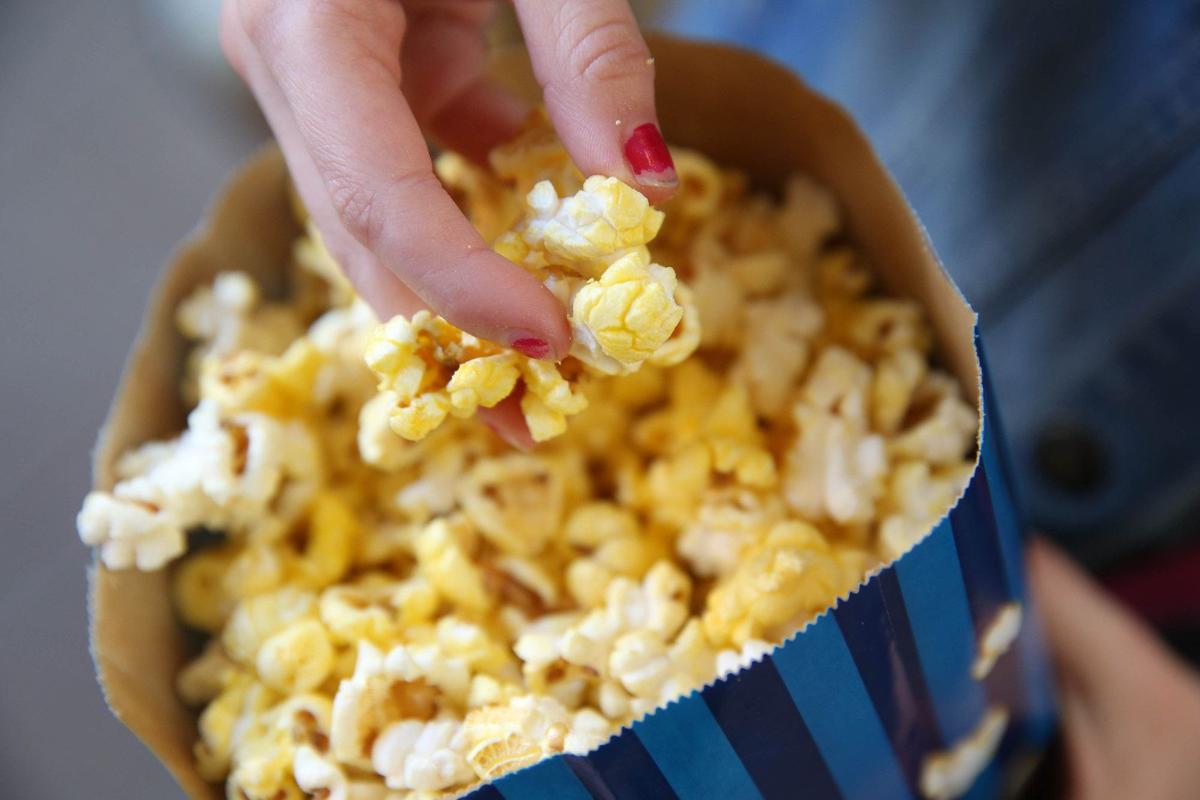 Patience. We're almost there. Movies are almost in season again.
But, as T.S. Eliot warned us, April may indeed be the cruelest month when it happens. It will mix memory and desire among area moviegoers with the result that we may remember how much we've lost when the British owners of Regal Cinemas shut down their whole operation when the Covid pandemic deprived them of popular "product."
But you have to have hope. Civilization is trying to inch its way back to life as sanely as possible so that crowds don't cause a microbial resurgence to end all that good. We're probably not being inoculated with vaccine fast enough to relive the glory days of film exhibition in Buffalo.
But courtesy of theaters – especially American multicinema – films are alive, even great Oscar contenders like "Nomadland."
We'll see when the Oscars hit April 25. It is even more than possible that its female star, the singular Frances McDormand, will win when the Screen Actors Guild Awards are presented on the TNT and TBS cable networks April 4.
That's not the only reason this is uncommonly galvanizing for people who love movies the most. A terrific book is now on sale – "A Light in the Dark: A History of Movie Directors" by David Thomson. (Knopf, $28.)
Thomson isn't just in the pantheon of truly great living movie critics, he's the only one who has written two books that I consider requisites in any home library of serious movie lovers.
Among the many he's written, they are the ones that have become constants in the lives of people who love movies the most.
The first is the fabled "Biographical Dictionary of Film," a book that I merely found promising in 1976 when I first spotted the title on its spine when it was on sale in the textbook store that used to lie across from the University at Buffalo's Main Street campus.
At first I couldn't even see its front cover. I pulled it off the shelf and saw that it promised "Over 800 directors, actors, actresses, producers" – "brilliant critical essays on the leading international personalities of film." That's some chutzpah, I thought to myself.
Because that store was never especially busy – or concerned with how much time professional bookstore browsers spent immersed in its wares – I was able to stand there and read four or five of the most important short entries.
Mind blown. I was instantly bowled over. Thomson is a brilliant critic – a superb writer, a dry and inventive wit, a ruthlessly candid observer and very much a maverick who neither couldn't or wouldn't float an ordinary mediocre opinion into a world choking with them. All that for $7.95.
Here was a writer of uncommon eloquence other knowledgeable folks were sure to argue with – often and passionately with the result that they were guaranteed to learn something, either from him directly or from the gymnastic stretch of their own intellectual muscles.
The likelihood of learning from him was high. Just as high was the likelihood of being entertained in the process. Here was a critic who seemed to have seen just about everything. And read exhaustively about it. And thought about it in fresh, shameless, original, even eccentric, ways.
Which leads to the other necessary Thomson book on the shelves of movie-loving homes – "Have You Seen...?: A Personal Introduction to 1,000 films" in which one mini-review a page gives us what Thomson thinks about 1,000 films he says we should all know.
I can't tell you how often, and how pleasurably, I dip into both books. Almost invariably after one of Turner Classic Movies mini-minimalist docents wets our whistles about their network's selections, I turn to see what Thomson has said about it. I always find something interesting. Sometimes I find something infuriating and outrageous. Sometimes I find some vector of thinking I have never traveled before.
Thomson has been writing assiduously for decades. He is responsible for many books. Almost all of them sound interesting even though, in truth, I'd only claim a few of those are as necessary as his two immense books, the "dictionary" and the "guide."
His last two books are typical. "Murder at the Movies" sounds more interesting than it is. "Sleeping with Strangers," on the other hand, is an examination of desire and sex on screen that's fascinating beginning to end.
"The 'Psycho' Moment" is a classic study of one classic film and its incomparable influence. "Nicole Kidman" is a hair-raising fan's confessional.
"A Light in the Dark" turns up to be the most-up-do-date book of critical wisdom I know . This is a book that knows all about Bill Cosby, Harvey Weinstein and Roman Polanski. It's a book several decades after people began to ascribe all film success to directors-as-"auteurs." They're those who took all their focus from those French writers who'd copy their idols as directors themselves: Truffaut, Godard, Rivette, Resnais, Rohmer.
Andrew Sarris was the American critic who translated their ideas into regular practice. With typical paradox and derangement, Pauline Kael terrorized Sarris and his followers for their ideas and then turned right around to turn into the most absurd "auteurist" critic of all, even though she'd die before ever using the word. (Movie-lover rule of thumb: if you read Kael on the subject of movies by Sam Peckinpah, Robert Altman and Brian DePalma, keep very large sacks of salt at the ready.)
What Thomson does in his new book is delightfully invigorating. He begins right out with very droll and cheeky comedy about D.W. Griffith virtually inventing the job of film director by abrogating to himself all the decisions. Before Thomson is finished, he's stuck to the evidence onscreen and nabbed all sorts of likely folks to be the auteurs of films – writers, producers, stars.
And while he's doing that, he pays all kinds of un-ironic attention to all sorts of things aesthetes usually are too high and pure to condescend to much – box office, Oscars.
Best of all, he is attentive to the current film moment, where longform television is in the picture and screens of all sorts being something that people shamelessly refer to as "content" in the hope that it can be easily exchanged for revenue.
The job of director under such circumstances is, to Thomson, no longer the thing that several generations have been exalting as the occupational heir to Shakespeare, Dickens and Victor Hugo.
"Once upon a time," he writes, "we did not know the names of directors. Then they became essential. And now? Try this. Who directed 'Ozark? '" (You know the point he's making. But I immediately came up with two names he eventually discusses himself – Alik Sakharov and Jason Bateman, the show's star.)
He admits the huge number of folks who are missing. (What? No John Ford or George Cukor?) His subjects are Fritz Lang, Jean Renoir, Luis Bunuel, Howard Hawks, Alfred Hitchcock, Orson Welles, Jean-Luc Godard, Nicolas Ray, the Spielberg-Lucas-Malick generation, Quentin Tarantino. And yes, he's very interested in women in the director's chair, too.
He's too smart to be surprised when the most powerful man on film sets turns out to have the predatory habits of a Cosby or a Weinstein or a Polanski.
In this new world of the new obsessions with long-form television, says Thomson, "directors are shadowy figures again."
But then I'm, as we speak, preparing hours of arguments with Thomson.
Real critics are funny that way. The great ones inspire a lot of things people want to say to them.