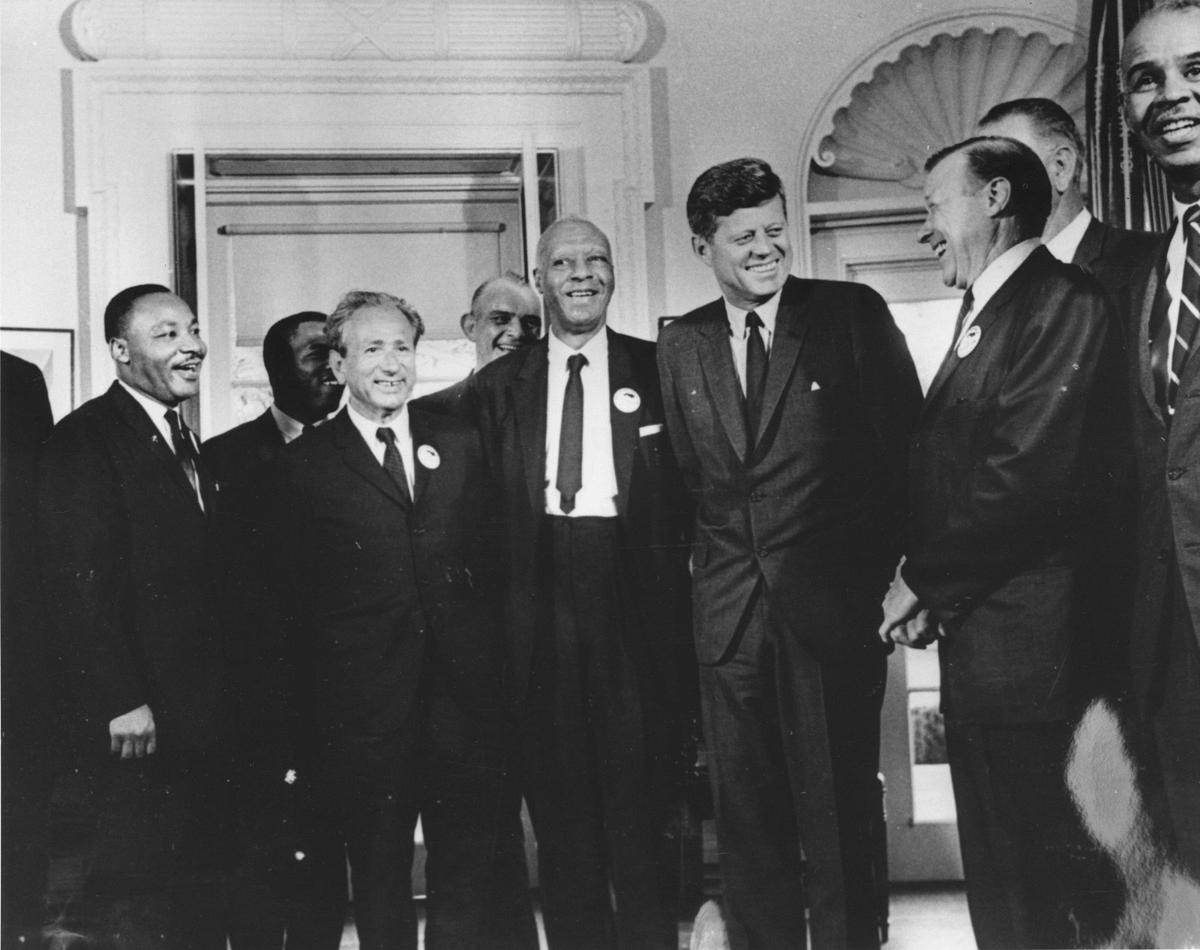 Kennedy and King: The President, The Pastor and the Battle Over Civil Rights
Before becoming president in 1961, John F. Kennedy authored the book "Profiles in Courage," which highlighted office-holders who put principle above political expediency and personal gain.
But Kennedy missed the chance  to demonstrate his own courage and foresight -- and perhaps change the course of American history -- when the civil rights movement took hold during his administration.
While the Freedom Riders were brutally beaten on their bus rides through the Deep South; when civil rights activists were jailed by the thousands; as Eugene "Bull" Connor turned attack dogs and high-powered fire hoses against protesters in Birmingham, and when civil rights leaders had their homes damaged and their lives endangered by bombs, Kennedy largely kept his distance.
His attention and energy was instead focused on the Cold War.
In the early days of his presidency, the Bay of Pigs invasion of Cuba -- designed to spark the overthrow of Fidel Castro -- failed miserably, and Kennedy was humbled in a face-off with Soviet premier Nikita Khrushchev. Stung by those failures and preoccupied with international affairs, he focused on preventing the spread of Communism, getting the measure of Khrushchev and  demonstrating American superiority by landing a man on the moon.
"President Kennedy's foremost concern was re-establishing his international stature," writes Levingston. "Everything else had to wait."
Levingston, a Washington Post editor, has crafted a compelling and beautifully written book that centers on the complex relationship between Kennedy and King. While he breaks little new factual ground, he provides fresh insight to one of America's most fascinating periods by combining revealing anecdotes, sharp research and a journalist's attention to detail.
Despite — or because of — brutal treatment in the Deep South, civil rights activists were gathering strength, momentum and confidence when Kennedy took office.
But while they put their lives on the line, Kennedy was "infuriated" by the Freedom Riders, considering them instigators who endangered more important efforts abroad, Levingston writes. Perhaps of greater importance, Kennedy was unwilling to do battle with powerful segregationist senators from the South who, he feared, could derail his 1964 re-election campaign.
"Kennedy shrank from assuming his leadership," Levingston wrote. "Had the president exploited the power of his office to push for early reconciliation on racial rights, he might have averted the violence that lay ahead."
The fanatic devotion to segregation in the Deep South casts serious doubt on Levingston's optimistic view. Still, it is clear that Kennedy lacked the stomach to try.
At key moments of the civil rights struggle — when Kennedy's direct involvement might have made a difference —the president was riding horseback at a Virginia estate, throwing out the first pitch at a Major League Baseball All-Star game and at the America's Cups races in Newport, R.I.
Three months into his term, Kennedy recognized the need to meet King, but was unwilling to host him at the White House. Instead, they met secretly with a small group in a private dining room.
When hundreds of prominent blacks were invited to the White House in 1963 to celebrate the birthday of Abraham Lincoln, Kennedy forbade Sammy Davis Jr. from attending because Davis was married to  a white woman, which was considered an abomination in the South.
King, who ultimately gained the attention and respect of Kennedy, repeatedly challenged the president to do more and better.
"The federal government must not stand idly by while bloodthirsty mobs beat non-violent students with impunity," he said of the Freedom Riders. Without greater involvement-- both in protecting protesters in individual confrontations and through active support for broader civil rights advancements — "we will be plunged into a dark abyss of chaos," King said.
Finally, in a televised speech, Kennedy put civil rights squarely on his agenda after it took 600 federalized troops to convince Alabama Gov. George Wallace  to allow two black students to attend the University of Alabama.
"In this address two and a half years into his term, the president found his moral voice, his commitment of mind and heart," Levingston said. "Without hesitation or equivocation, he embraced black justice. At last he had risen to the ideal he had envisioned for himself when he wrote 'Profiles in Courage.'"
That conclusion seems highly generous given Kennedy's previous avoidance of the issue, but the final chapters of his civil rights record will never be written. Kennedy proposed sweeping legislation in June of 1963 and was assassinated five months later.
Lyndon B. Johnson, a wily and blunt Texan, took over the presidency vowing to end poverty in America. Combining sweet-talking with arm-twisting, he was instrumental in passage of the Civil Rights Act in 1964 and the Voting Rights Act in 1965.
Johnson lacked Kennedy's charm, appeal and finesse, but he handled civil rights with the courage Kennedy had such trouble finding.
Peter Simon was a longtime Education Reporter for the Buffalo News.