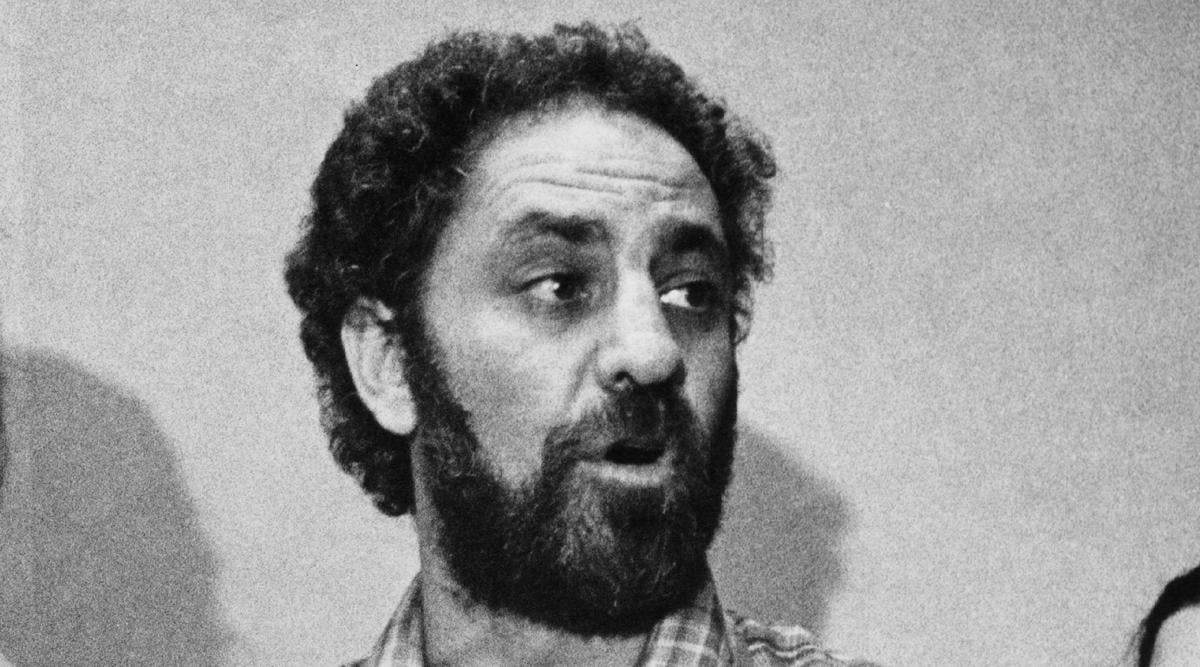 "There's Abbie Hoffman" said the photographer from the New York Daily News, pointing him out to me (as if I didn't know). "He makes news wherever he goes."
But then, that was half a century ago. We were sitting in the short-lived press tent at the Woodstock Festival. I'd just finished dictating my first story to an excited colleague in Buffalo while Richie Havens began the set that opened the whole festival. (Before he was originally slotted to perform. Acts had to be shifted around because people were having big trouble showing up on time.)
Long before that first night was over, the press tent was converted into an infirmary to deal with the damage being done by the soon-to-be-fabled "brown acid." What Abbie later described as "buckets of rain" soon began to fall. It was all a harbinger of the festival to come.
There was Abbie, newsmaker, before it all started. By his own lights, he was a revolutionary. By the lights of writers and photographers who did the actual hands-on making of news in the world, Abbie was the genius of countercultural spew, the Captain America of generational propagandists.
He was passing out handbills demanding the release from jail of "White Panther Party" leader John Sinclair. Abbie later wrote that Sinclair "had just been sentenced to 10 years in Michigan State Penitentiary for giving two joints of grass to two undercover cops."
Well, if Abbie was so eager to make news that he'd crash into the press tent while Richie Havens was singing, I might as well try to interview him. Which I did.
What I got instead was a protracted harangue on the subject of Sinclair and his problems. I wasn't yet advanced enough in my Abbie Hoffman studies to realize it was never wise to get between the fellow and his agenda of the moment. I'd later learn that if you let his agenda dissipate, there was a human being who could eventually be talked to. At that moment, he had stumbled into a gift from the gods – a crowd of young people bigger than anyone had ever seen.
He proceeded to dissipate all of it in his public actions that weekend. Privately, the radical organized soup kitchens and medical outposts in the area. He was a political organizer after all, even if the majority of those he solicited always refused to be organized.
He soon became the public butt of Woodstock mythology when he became the guy who grabbed the microphone from the Who during a momentary performance lull and announced to half a million people, "This is a pile of (expletive) ... while John Sinclair rots in prison."
He'd finally gotten to make his harangue to the multitude rather than one courteous reporter from Buffalo and a Manhattan photographer next to him. In the mythology of Woodstock, Pete Townshend of the Who hit him on the back with his guitar and threw him off the stage. Abbie denied it and no film of it survives, so you can believe whomever you like.
My favorite part of Abbie's harangue was that while he was raving about Woodstock's political faithlessness, he actually referred to it as "this conference." You've got to be really tired and temporarily word-deprived to refer to the Woodstock Festival as "this conference."
Abbie didn't stay that way. He wrote, almost immediately, the greatest piece of Woodstock mythology besides Joni Mitchell's song (originally written for Crosby, Stills, Nash and Young). It was his book called "Woodstock Nation" whose title lingered for a couple of decades to describe the social aftereffects of half a million people who had been soaked and drugged and entertained into peaceful quiescence for a few days (unlike the assemblage for the Rolling Stones at the Altamont Speedway four months later, which proved just how combustible and potentially dangerous huge crowds can always be.)
In the light of America half a century later, Abbie has receded into history's hazes despite his key role over time as Woodstock's most influential propagandist and mythologist.
He is to me, the most tragic figure of the whole event (other than the poor sleeping attendee who died when his mud-covered sleeping bag was run over by a tractor hauling water).
Leave it to Abbie to figure out how to profit in a book.
The trouble with history after Abbie's heyday is that there really isn't a place in it for Abbie Hoffman, the walking agenda and countercultural propagandist – the ultimate in "outside agitators."
His presence at the 1968 Democratic convention in Chicago made him one of the Chicago Seven on trial for riot incitement. He and Jerry Rubin had already become co-founders of the Youth International Party (Yippies), a rollicking satiric parody of a mainstream political party.
During the trial of the Chicago Seven, both Rubin and Hoffman showed up one day sarcastically attired in judges' robes in mockery of the sneering judge in the case, Julius Hoffman (no relation, obviously). When it was time for Rubin to remove his robe, he was dressed like Yippie Jerry Rubin. When Abbie revealed his, he was wearing a police uniform.
He always had one more layer of satire to him than Rubin. Which was borne out when maturity befell them both.
Rubin soon became a self-glorifying yuppie instructing the formerly young on the techniques of networking for fun and profit.
Abbie wound up a busted cocaine dealer and a six-and-a-half year underground fugitive from the law.
He also wound up following the insta-book "Woodstock Nation" with one of the truly great American autobiographies, which he called, "Soon to be a Major Motion Picture."
It is, I've always maintained, one of the most entertaining and revealing of essential American books.
American literature didn't score it that way because Abbie the newsmaker had made entirely too much news in his time for conventional society. He was no one's idea, back then, of a "writer."
In 1988, he was trying to sell revolution to young people in Vermont while Bernie Sanders was trying to sell democratic socialism. Abbie described his work as "a career of being a troublemaker," which turned out to be inadequate to find a berth in history.
If only he and the world had instantly understood how good his autobiography was – and how how much his "rip and read" Woodstock book was instrumental in solidifying Woodstock mythology.
But things were turning bad for Abbie Hoffman. He never made it into the '90s. His once antic place in the American political imagination dissolved.
He was diagnosed with bipolar disorder. Toward the end of his life, he even tried to make it as a stand-up comic, wearing his old American flag shirt (originally intended as political provocation, but almost instantly transformed into a countercultural fashion statement).
The last time I saw Abbie Hoffman, we were, by accident, riding a hotel elevator together at the Toronto Film Festival with a film critic I knew. That's where he was unveiling his comedy act.
As Abbie exited the elevator and shuffled off into the mists of history still wearing the American flag shirt he'd performed in, I resisted the urge to say to my colleague, "There goes Abbie Hoffman. Once upon a time, he made news everywhere he went."