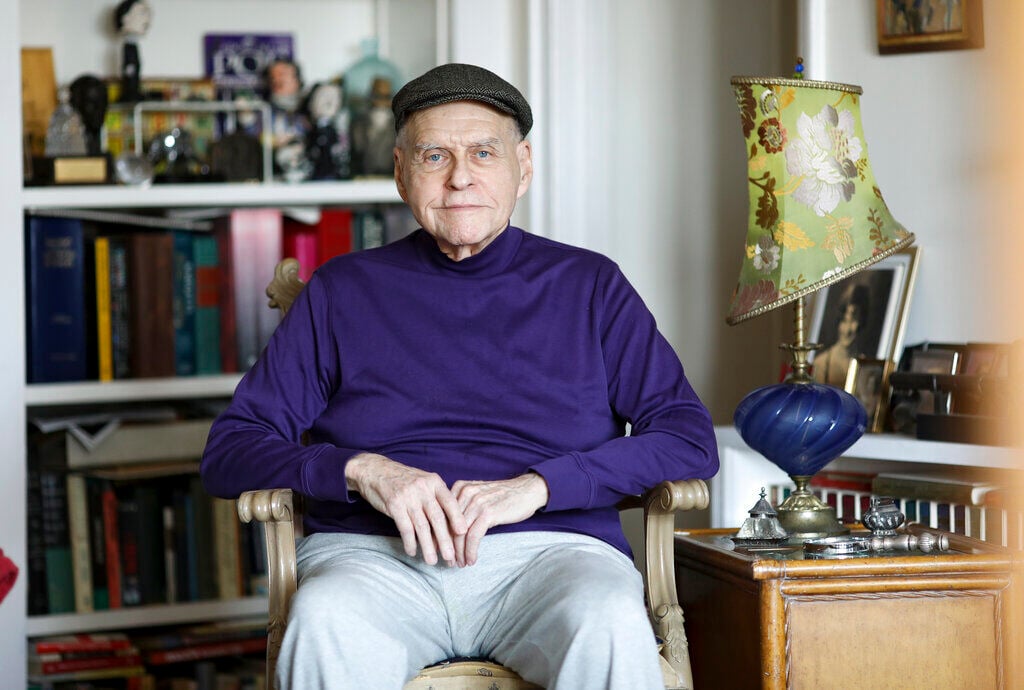 I didn't care what my teen elders said. I never believed Larry Block was the bogeyman and I still don't.
I was told, in confidence, that in the wee small hours on weekends, he prowled the neighborhood with his .22 rifle, shooting cats.
The person who did the confiding was himself a bit of a cat hater.
Lawrence Block is seven years older than I am. He grew up a block away from me on Starin Avenue in the '50s. (Other alumni, from the block, would become attorneys, dentists, urologists, journalists, cardiologists and, in one magnificent case, an internationally acclaimed Neo-expressionist painter.)
Larry, back then, was well on his way to being that incomprehensible thing: a "professional writer." He might as well have been a Boogie Man, for all the status that conferred at the time. Nor are we talking about "professional showbiz (movies, TV, comedy) writer" either. Those were comprehensible.
Wanting one's work to appear in "Manhunter" magazine was something else.
"Writer" was a strained ambition at the time – especially if it weren't the "respectable" kind who would appear in the New Yorker or wind up profiled in Life or Look magazines. I began writing poetry at 12, not pulp short fiction. I wasn't especially good at it but I enjoyed trying. I spent every study hall at the prep school I attended reading great poets and hoping my pretentious presumptions would seem to be recognizable pretenders to their genius.
Every year, I submitted five or six of them to the school literary magazine. For my efforts when I was a junior, the magazine's editor, a senior, made sport of the school's "professional writers" in his introduction, as if we were all guys with hurdy-gurdies and dancing monkeys.
He's gone now but he grew up to be a professor of Celtic literature and mythology at a city university in the Midwest. (I bet he was a superb teacher. He was a good guy beneath the faculty-pleasing condescension and his own hermetic passions were persuasive even in his teens, when he was already a Joyce scholar.)
Block would have been kosher if he had gone to the fabled writer's school at the University of Iowa, whose faculty was legendary. But he went to Antioch, which required students to spend half a year actually working out in the world.
The apprenticeship of Lawrence Block has looked, from afar, hilarious. No fancy schmancy stuff there. He was, practically from midteens on, a pulp writer-in-training. His first novel was written in Buffalo. It was a lesbian novel. His editor at the publishing company changed the title to "Strange Are The Ways of Love." She changed his name to the pseudonym Lesley Evans.
Block wrote pulp by the pound for magazines and cheap paperbacks. Some of his pseudonyms were Jill Emerson, Andrew Shaw, Paul Kavanaugh, Sheldon Lord, Don Holliday, Lee Duncan and Anne Campbell Clark. He co-wrote books with the equally fabled pulp practitioner Donald Westlake.
He also wrote some of the most honored crime fiction in this country's history under his own name.
Larry is 83 now. For many decades, he has been considered one of the great living masters of crime and mystery fiction. His prose style in many of his books is ruthlessly plain and functional – not Hemingway plain, which is a language as stylized in its way as Sir Thomas Browne or Edward Gibbon. His first model was Erskine Caldwell, of "Tobacco Road" and "God's Little Acre" fame.
Many of his novels tell you stories that go from A to B to C to D without literary fuss. If pulp heavy breathing shows up, no one cares. That's because weird grace notes do, too, sometimes in profusion.
One of the books I've most looked forward to has finally been published by Block himself to preserve its integrity – his semi-pedagogical autobiographical memoir of the pulp apprenticeship of a crime fiction grand master. It's called "A Writer Prepares." A "professional" writer prepares, that is – the kind of guy who wrote columns about being a professional writer for writer's magazines that the denizens of Iowa writing schools would howl at in derision when they weren't fleeing them at top speed.
There is, among many things in this book, rich comedy and readable post-adolescent ignominy, especially when Block does semi-slave work for literary agent Scott Meredith.
It seemed apparent in the '50s that Block was taking a professional course unlikely to wind up, say, in a local synagogue when more "respectably" aspirational former members convened to celebrate their childhoods. And yet that's what happened with Block when such a visitation of art folks descended on Buffalo's Temple Beth Zion.
What is marvelous to me is that in his senior years, he is a candid and conversational fixture in the world of American pulp literature without ever becoming as "respectable" as a hopeful synagogue might hope.
Which is, of course, the thing about him that makes him so delightful in the world of aspirational citizens.
The book, unsurprisingly, is full of fond reminiscence of School 66 and Bennett High School and chock full of genuine passion for the New York City so familiar from his masterful crime novels. (He tells us he just missed hearing Charlie Parker perform live in the village. But then, right after, he heard Al Cohn and Zoot Sims perform.)
I can think of very little praise higher than this: "A Writer Prepares" didn't disappoint.
Imagine some of Block's dicier novels – some written in Buffalo, by the way – raised to the level of genius by a writer who transformed the idea of literary pseudonyms into a singular world of literary brilliance that is finally getting its due in the English language.
It is yet another of the books that I most looked forward to in this literary season: "Pessoa: A Biography" by Richard Zenith (Liveright), a biographer whose name couldn't possibly have been more appropriate. Zenith's subject is Fernando Pessoa (1888-1935), a Portuguese writer all but unknown in his lifetime who is now considered one of his time's towering figures in world literature.
What Pessoa did wasn't just write books with "pseudonyms" – he invented what he called "heteronyms," a throng of hugely elaborate fictional writers whose lives were limned with enormous specificity as well as their literature itself in Portuguese, English and French. It's as if Vladimir Nabokov's singular stunt in "Pale Fire" – a "fictional" (but real) poem written by a fictional poet and then explicated by a fictional madman who explains that the poem is really about him and his monarchy in the Kingdom of Zembla – was multiplied in a hall of mirrors to be arranged differently every time.
Pessoa postulated all of literature as fiction, or rather all of literary fiction to be read as multiple literary genres.
Just when Pessoa's literary cause seemed hopeless, some "25,000 unpublished papers" were extricated from a wooden trunk and left to be ordered and revealed in a lifework among the great achievements in 20th century literature.
This is a huge and brilliant biography of a huge and brilliant life inside literature that recreates that art as something that could easily run alongside it – maybe not all of it but a great deal of it anyway.
The final book I looked forward to this season is Eddie Muller's "Dark City: The Lost World of Film Noir" (Running Press), the revised and expanded edition of the book that first brought Muller to everyone's attention as the approachable and friendly guide to a cinematic genre whose terrain has been continuously mapped out with each passing decade.
Muller has a breezy and informal way of being gigantically knowledgeable about film noir, which dedicated watchers of his TCM show "Noir Alley" know from watching his weekend presentations. Even more valuable of late has been his series of "neo-noir" films on Friday evenings with co-host Ben Mankiewicz, which will end this week with Ridley Scott's "Blade Runner."
In 1998, Muller apparently felt his friendly approach required him to use such outdated usages as "dames" as a cutesy indicator of authenticity. But aside from those occasional missteps for the purpose of familiarizing the strange, the world of TV watchers owes Eddie Muller a huge debt for what he's contributed to TCM.
If you want an idea in book form how much that is, take a look at "Dark City."