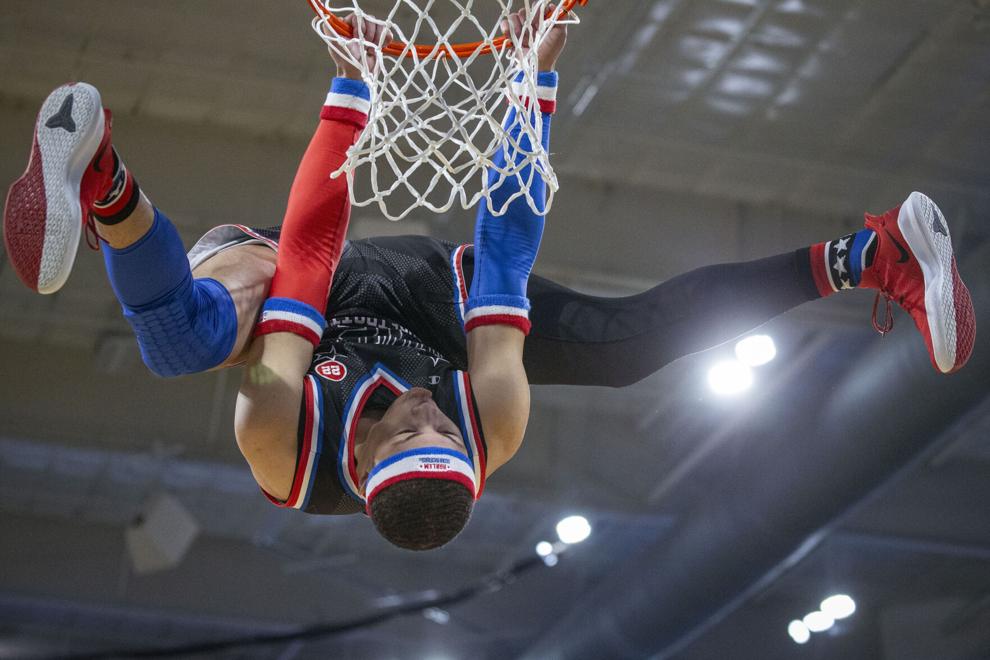 Harlem Globetrotters World Tour. 7 p.m. Friday, Feb. 3 at KeyBank Center, 1 Seymour H. Knox III Plaza. Tickets are $35.55 to $101 (ticketmaster.com).
For decades, "Sweet Georgia Brown" by Brother Bones and His Shadows has been a tell-tale association with basketball players bounding down the court and doing tricks and dunks you normally wouldn't see in a typical regulation game. Celebrating nearly 100 years, the Harlem Globerotters' game against the Washington Generals is as much about the theatricality and spectacle of the experience as it is about the sport.
"Reinventing Reality." Exhibit opens Saturday, Feb. 4 and continues through Sunday, June 18 at the Buffalo Museum of Science, 1020 Humboldt Pkwy. Tickets are $26 adults; $23 seniors, students, military and children ages 2 to 17; $6 museum members. Museum hours are 10 a.m. to 4 p.m. Monday through Sunday (sciencebuff.org).
Within 12 different virtual reality "pods," feel like you're stepping into 12 experiences and interactive games, as eye-tracking technology and 3D dot body mapping creates a pretty convincing experience of being in a new place. The exhibit also dives into some social impacts of VR, which can be used for medical treatments, product designs and astronaut trainings.
Black History Through Art Series. 5 to 8 p.m. Fridays through February starting Feb. 3 at the Nash Lofts, 163 Broadway Ave.
The Michigan Street African American Heritage Corridor Commission (MSAAHCC) – a combination of organizations including the Michigan Street Baptist Church, the NASH House Museum, The Historic Colored Musicians Club and Jazz Museum and the WUFO Black Radio Collective – celebrates Black History Month with this weekly series. It starts Feb. 3, as Stephen Gabris shares his photo exhibit and personal experience visiting the Equal Justice Initiative national lynching museum and memorial in Montgomery, Ala. with music by Curtis Lovell. Following are exhibits from activists and Eat Off Art founders Alexa and Edreys Wajed on Feb. 10; Charlotte Cardwell, known as ArtiShe, on Feb. 17; and a community pop-up artist exhibition with pieces reflecting African American history, on Feb. 24.
Barrel Jam Beer Festival. 2 to 5 p.m. Saturday, Feb. 4 at 42 North Brewing Company, 25 Pine St., East Aurora. Tickets are $55 general admission, $75 VIP (eventbrite.com).
Contrary to typical winter activities (read: Netflix and generally, being indoors) the third return of this winter festival decidedly embraces the cold. In addition to beer tastings from Community Beer Works, Thin Man, BlackBird Cider Works and 13 other breweries that have become a staple at similar festivals, this event also features a skiing and snowboarding rail jam competition behind the brewery. Folks can also grab barbecue from Fat Bob's and enjoy live music.
Broadway Market's Dip Fest. 11 a.m. to 4 p.m. Saturday, Feb. 4 at the Broadway Market, 999 Broadway. Free admission.
Dips are less of an appetizer around here and more like another food group. And this festival is dedicated to them with Caribbean, soul food and traditional Polish cuisines, among others, from a sweet and savory pepper dip at Oma's Kitchen to selections from Mumbo Wings & Things, which uses a tomato-based sauce for its flavors. Samples are $2 to $4 apiece.
"Art of Jazz" with Elio Villafranca and The Chick Corea Afro-Caribbean Experience. 3 p.m. Sunday, Feb. 5 at Kleinhans Music Hall, 3 Symphony Circle. Tickets are $37 general admission, $22 students, $32 Albright-Knox members/BPO subscribers (kleinhansbuffalo.org).
No matter what piece of music jazz the late pianist Chick Corea played, he brought his own unique way of storytelling with it. As he described in a 2019 Billboard interview, "That [Latin] flavor, I find, is mostly in everything I do; it's a part of me." Grammy-nominated Cuban pianist Elio Villafranca — picked by Corea to perform in his Chick Corea Festival at Jazz at Lincoln Center in 2013 — brings an Afro-Caribbean style to Corea's compositions in this tribute that's only been performed twice, both at Lincoln Center.
Book Launch: "The Unsealing." 6 to 8 p.m. Wednesday, Feb. 8 at the Buffalo History Museum, One Museum Court. Free.
Buffalo gets its own moment in the true-crime spotlight with novelist Robert Brighton's "The Unsealing," a book that revisits an unsolved case of the death of businessman Edwin Burdick who was bludgeoned in his Elmwood Avenue home in 1903. (A little light reading.) Along with answering questions on his research into this dark side of Buffalo's past, Brighton also shares the only surviving photo of the crime scene that hasn't been seen since 1903.
Experience Psychic Fair. 1 to 6 p.m. Friday, Feb. 3; 11 a.m. to 6 p.m. Saturday, Feb. 4; 11 a.m. to 5 p.m. Sunday, Feb. 5 at the Hamburg Fairgrounds Grange Building, 5820 South Park Ave., Hamburg. The $10 admission is good for all weekend. Free for children younger than 12.
Thirty vendors and 15 psychics offer everything from numerology reports and henna to crystal jewelry and skin care. There are 20- to 30-minute readings and while you won't have your future told, you will get a "road map" of your life, reads the site. The self-dubbed "psychic smorgasbord" got its start in 1990, and travels around to locations in New York and Florida.
---