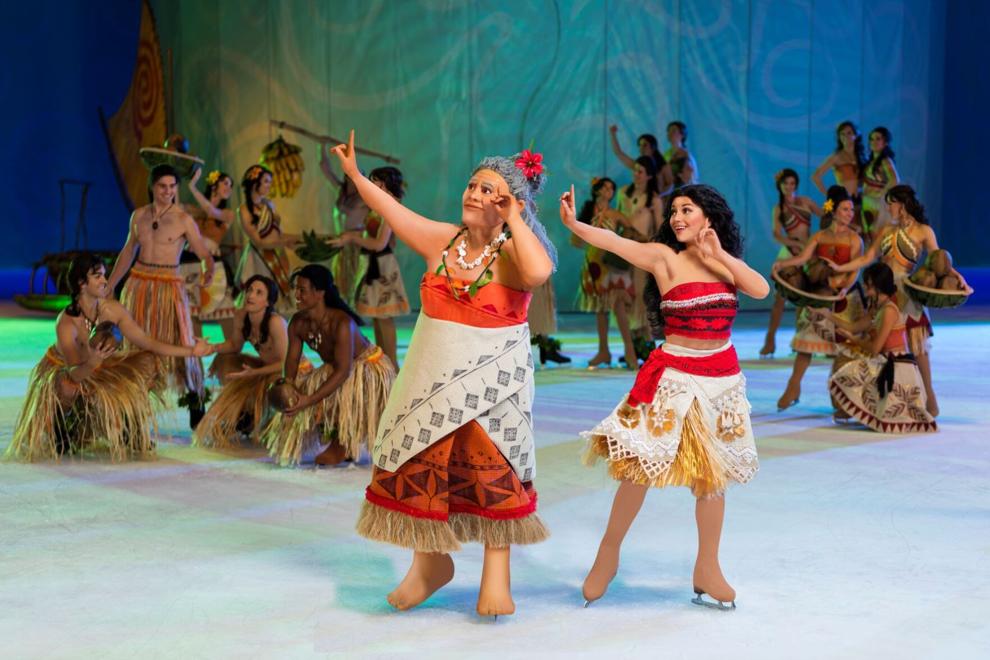 Main events
Disney on Ice presents "Into The Magic." 7 p.m. Thursday, Jan. 26; 7 p.m. Friday, Jan. 27; 11 a.m., 3 and 7 p.m. Saturday, Jan. 28; noon and 4 p.m. Sunday, Jan. 29 at KeyBank Center, 1 Seymour H Knox III Plaza. Tickets are $26.95 to $244.46 (ticketmaster.com).
Favorite Disney characters from "Frozen," "Moana," "Beauty and the Beast," "Tangled," "Coco" and "Cinderella" performs songs from the movies with impressive dancing, costume changes and a transforming castle set — all while on ice skates. The theatrical medley from each film is a bit like a theater production (minus the live singing), with a sparkly blue carriage that brings Cinderella to the ball, and voyager boats "sailing" on the ice during Moana's "How Far I'll Go." The show lasts between 90 minutes and two hours with one 15- to 20-minute intermission.
Niagara Falls Winter Festival of Lights. Light show "Sparkling Winter Lights" displays at 6, 7 and 8 p.m. daily through Monday, Feb. 20 at various locations in Niagara Falls, Canada. Full route available online. Free admission.
To celebrate its 40th anniversary, Canada's largest illumination festival has introduced the light show "Sparkling Winter Lights" inspired by the changeable winters up north — which, as Buffalonians know all too well, can include everything from peaceful snowfall to harsh blizzards. Tour displays of twinkling tunnels, trees and glimmering animals, among other light features throughout Niagara Parkway and surrounding areas, and see the illuminated American and Canadian Horseshoe Falls and fireworks shows. To warm up, the self-guided hot chocolate trail has 17 stops along Clifton Hill and Stanley Avenue where you can sample 23 flavors from mint and s'mores to orange and the spiked "Dirty Snowman."
"Deathwish" by Cult Mother. 8 p.m. Friday, Jan. 27 and Feb. 3 at Torn Space Theatre, 612 Fillmore Ave. (Adam Mickiewicz Library and Dramatic Circle). Tickets are $15 general, $10 students.
Original music, along with samples of music and horror/cult movies will blend together for this conceptual punk show and performance installation that creates a transcendental space where you can "see, hear and feel Golgonia," alien mother of humans, and Gaba Gobu, the first human to see her. Sounds fun, doesn't it? It stars musicians Tristan Tims on guitar, Justin Von Strasburg on drums, Jason Keller on cello, John Gusky on bass and Brian Milbrand on video, vocals and saxophone. Look for samples from movies and TV that run the gamut from "Aliens" and "Independence Day" to "The Blob," "Mars Attacks" and "The X-Files."
The Hofbräuhaus Hoedown. 6 p.m. Friday, Jan. 27 at Hofbräuhaus Buffalo, 190 Scott St. Free admission, reservations encouraged. After 8 p.m., only ages 21 and older are admitted.
Although rodeos are not typically customary in Germany, Hofbräuhaus is embracing the idea, offering mechanical bull rides and line dancing along with its usual German-inspired food and drinks. The event also features live music from OsbornNash and Christian Kramer and the Backwoods Revival, both of which have historically performed country originals and covers of songs from Fleetwood Mac and Luke Combs respectively.
Unlike Bill Murray's experiences in the 1993 film, this is a Groundhog Day you might not mind returning to over and over. And given it is the 10th year running for the event, this seems to be true for many people. The tradition began after founders visited Punxsutawney, Pa., the home of the legendary groundhog Punxsutawney Phil whose shadow - or lack of - predicts the length of winter - and thought Buffalo could host the festivities a bit better, reads the event's site. Highlights include live music, food, two Flying Bison beers of your choice and the obligatory winter weather predictions.
Mozart Masterpieces by the Buffalo Philharmonic Orchestra. 7:30 p.m. Saturday, Jan. 28 and 2:30 p.m. Sunday, Jan. 29 at Kleinhans Music Hall, 3 Symphony Circle. Tickets are $32 to $101 (bpo.org).
In a celebration of Mozart's birthday, this program begins with one of his most famous pieces, Symphony No. 31, Paris, with a grand opening and fast-paced strings throughout. The piece features Canadian violinist Nikki Chooi, previous concertmaster of New York's Metropolitan Opera Orchestra, and violist Caroline Gilbert, former New World Symphony musician. The Sinfonia Concertante follows, giving Chooi and Gilbert the chance to shine with some heavy solos, and caps off with Coronation Mass and its powerful choral singing.
---