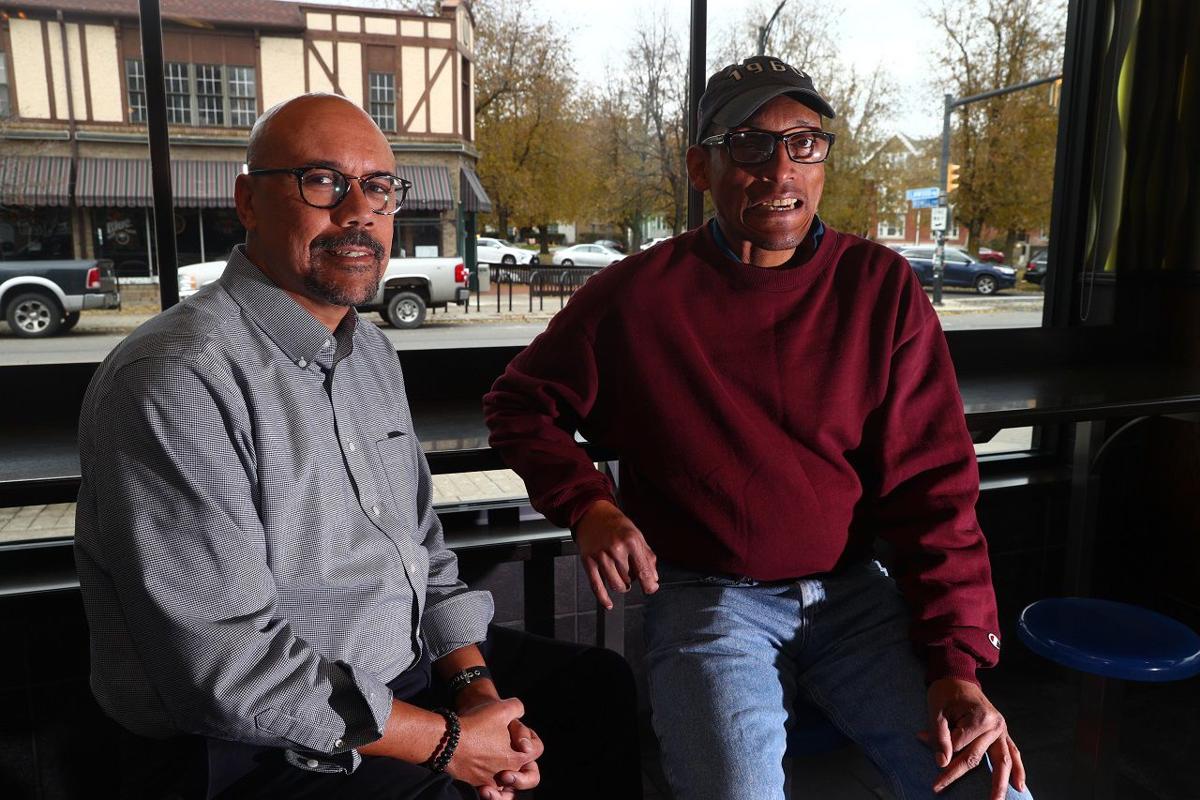 Karl Shallowhorn has flourished during the last three decades.
Great marriage. Successful professional career. Wide circle of friends.
It's been a far cry from the years that followed his first psychotic episode in February 1981.
Shallowhorn was 18, struggling through his second semester at General Motors Institute, and seeking solace in alcohol and other drugs.
He and his family had no inkling that bipolar disorder was about to overpower him.
His illness forced him to move from Michigan back home to Amherst with his parents, Lillie and Charles. He weathered seven hospitalizations in the behavioral health units at the former Buffalo General Hospital, Erie County Medical Center and the Buffalo Psychiatric Center.
The turning point came 30 years ago next month, when a counselor encouraged him to attend a recovery program meeting. Such meetings have been part of his wellness strategy since.
Shallowhorn, a certified alcohol and substance abuse counselor and SUNY Buffalo State graduate, has worked at Buffalo General Medical Center and Horizon Health Services. He has spent the past four years as director of community advocacy for both the MHA and Compeer, the latter a nonprofit that trains those who've overcome mental health challenges to mentor peers who can use some extra support and encouragement.
He will leave those posts later this month to bring the Therapy Live Prepare U program to schools across New York State. The program is designed to help students of all ages to become more aware about mental health, and how to better address mental illness.
"It's a relatively new organization but there's a lot of opportunities to grow and work in the area of educating not just students but teachers and other groups," Shallowhorn said.
Mental Health Association Executive Director Kenneth Houseknecht said the Mental Health First Aid and Mindset workplace mental health education programs Shallowhorn helped established will continue with those Shallowhorn helped train.
"We're not losing an employee, we're gaining an ally," Houseknecht said.
What they will miss, he said, is Shallowhorn's ability to look others with mental illnesses in the eye and say, "You know what? You can have a serious, lifelong mental health challenge and still live a full, productive, happy, meaningful life, and I'm living proof of that."
Shallowhorn, 55, and his wife, Suzy, have two daughters, Sarah, 22, and Lillie, 19.
"I caused a lot of havoc in my family years ago but my parents supported me," Shallowhorn said. "I had extended family that supported me and I had some close friends who were good. I was supported, which a lot of people don't have, unfortunately."
Q. What can you do to replace that? Is there another way?
There is, and a lot of people have to go the route of peer support, reaching out to others, whether it be in recovery programs that are mental health-related or otherwise. That can be crucial. I used Peer Connection through my recovery program.
Q. What would you like people to know about the job your leaving?
Working at the MHA and Compeer has been tremendously rewarding. It far exceeded any expectations I had when I started, especially the ability to not only grow professionally but to help people. I've been able to do the work I've been called to do. I hope to rejoin the MHA board and will continue to visit with my Compeer friend, Terrance.
Q. You say self-disclosure helps in your job.
Years ago, I just wanted to tell my story. Recovery is possible. You can get better. Once I started doing that, it was liberating to be able to say, This is who I am. I'm OK. There's nothing to be afraid of, despite what we see sometimes in movies or TV, or even on the news. Most people living with mental health challenges don't fit that profile.
I take my professional hat off all the time. I don't speak as a professional. I speak as a peer. That's what I like the most about what I do. When I can talk to someone one on one, that's what I get the most out of. In the end it's about recovery, about giving hope. I look at this as my calling. I look at this as something God has asked me to do as far as my life. I feel fortunate that I've discovered that.
It's essentially a program about creating friendships. Everybody needs a friend and we've learned over time that many people who have mental health challenges oftentimes don't have that. We have volunteer mentors who work with children, adults, older adults and veterans. We help foster relationships to help people have a better quality of life. It's very simple. Our volunteers meet with their Compeer friend for roughly an hour a week. We ask for a commitment of one year. We've learned over time that people who have these relationships are happier, are healthier and have fewer visits to the hospital and emergency room. It's an evidence-based program, which means it has been tested, researched and proven effective.
Q. How did you get into the field?
I stabilized, my condition got better and I thought, "I like this recovery thing. I like connecting to people. I like groups," so it made sense to become a counselor.
Q. How does your loved ones fit your bipolar disorder into the family story?
The kids have known for the longest time I was involved with an addiction program. Even when they were young, they'd ask, "Why do you go to those meetings?" "What do they do at those meetings?" It evolved in a very natural way. Over time, we talked about that. The bipolar piece came when I was running on the treadmill one day and Sarah came to the basement and said, "Dad, are you bipolar?" I said, "Why did you ask that?" She said, "This magazine on the table, BP Magazine."
I write and blog for BP. She was 13. She knew me all her life as a guy who was stable, who never saw me as someone who had difficulty. When I started at the MHA, it started to be a more public thing and the girls came to accept it and are proud of the fact that I'm doing what I'm doing.
When Lilie was 12 and we were at a 5K race, a woman came up and said she had heard me speak. That was kind of nice and Lilie said, "Dad, it's nice you can help people like that." She got it. She understood why I do what I do.
Q. What are some of the key steps that you've taken to address your mental health condition and the negative things that came with it?
Being linked with professional help is first and foremost. I've been very fortunate over time to have good treatment. Mind you, early on it was tough because finding the right medication was difficult, but I've had a great therapist over time. I've had the good fortune to have good psychiatrists to help me find the right medication. I still take medication. That's a big part of my recovery. Another big part is exercise. I got into that almost 20 years ago and do that regularly. I try to get good sleep. For people with bipolar disorder, sleep is really critical. I'm strong in my faith. I go to church and practice my faith regularly. Also, I have a good support system of friends and extended family. This is my tool kit.
Q. What clicked for you as you began to get better?
First and foremost, I realized that by using (illegal) drugs my mental health condition was getting worse and unless I stopped using, I couldn't get better. Also, when I stopped using, I felt better. Things became more clear and focused. I realized that I could have a life, finally.
Q. How common is mental illness and how wide ranging?
Between one out of five and one out of four people in any given year live with a diagnosable mental illness, and one out of four people in the course of a lifetime will have a diagnosable mental illness. It doesn't discriminate. We have mental illness with children as young as 2 or 3. Some is trauma-based. Trauma is a big factor in mental health and addiction in terms of a risk factor. There are environmental and genetic factors. A combination of things, usually, will culminate in a condition.
Q. What do you wish most people understood about mental illness?
That it can be treated, that with the proper tools people can recover. Recovery is different for everybody. For some people, it means symptoms are reduced. For some it means they'll be able to go to school or work again. Some people get better. But the point is that to some extent recovery is possible with the proper treatment. The key is that only four out of 10 people get treatment, so we have 60 percent of people who could use help and aren't getting it because of stigma and other factors. ... and just like any other illness, aftercare is critical. We often don't recognize that when it comes to mental health but it's important to have that support in place. Also, we need to be gentle with ourselves and understand that, unfortunately, this can happen. We're not flawed individuals. We have a sickness that needs to be treated. We should follow the steps to keep ourselves well – and be patient. It does take time to recover, especially after being in the hospital.
Q. Can you talk about co-occurring disorders?
Sometimes, the substance abuse comes first and a person develops a mental health condition because it doesn't get treated. Others have a mental health condition and use substances to medicate.
Now, we're looking at integrated treatment where both issues are treated at the same time, in the same context whereas for years, you'd get mental health treatment or addiction treatment. Sometimes, that still happens now, where people are in two different systems and that care isn't as well coordinated. We're learning more and more it has to be, with a skilled clinician and a skilled team to be able to treat that person the best way and get the best results.
Q. Mental illnesses are physical illnesses of the brain. You wouldn't tell someone to snap out of cancer or diabetes or asthma. What are some of the most important things loved ones should know and understand about someone who has gone through a mental health crisis?
When it's behavioral, people don't know how to respond. They're afraid sometimes, especially with more severe cases. It's not something to be afraid of. It's more to be understood. Mental Health First Aid goes into all those things: how to respond, what to do, how to know the signs and symptoms, and how to help someone.
Empathy is important, just trying to put yourself in your loved one's shoes and trying to see where they're at. It's difficult to be dealing with these things and not have that family support. It can be frustrating for families because you want your loved one to be well. Sometimes you want to take control. But you have to realize, when someone's facing an illness or challenge like this, they want to be well, too, but you have to be patient. You have to educate yourself, too.
Q. Does someone have to have a diagnosed mental health condition to benefit from mental health counseling?
Absolutely not. It's always helpful to get a third-party, objective perspective on something. When we talk to a therapist, we are getting someone who's able to look at it from a healthy, objective, unbiased perspective. Also, when you go in, it's about you. They won't spin it around to themselves. It's also confidential, with somebody you can trust. They're not going to go around sharing your business with everybody.
Q. What are the benefits of talking with a peer?
With peers, it's that shared experience. You can relate to them and they can relate to you, and they can maybe share some things they were able to do successfully that you can benefit from. It's almost like having a common language. I had an experience a few weeks ago where I had the chance to spend five days with a group of veterans who have PTSD and traumatic brain injury and polytrauma. I was the mental health professional on hand in case anyone needed support but I got a chance to be inside their world, their peer experience. They bonded immediately with that shared experience of having served. It was wonderful to see. Mind you, they've been through very difficult experiences and these guys were from all over the country.
It's the same in the mental health world and the addiction world. When you bring people together who've had a common experience, magic happens. When I first entered that recovery program almost 30 years ago, the thing that hooked me was that shared experience. I'd never had that anywhere else in my life, where I could be myself. You can be yourself. You can be genuine. I've seen so many people benefit from it.
Q. The holidays can be a stressful time of year. What have learned about managing your mental health that others can take to heart when it comes to lowering stress, or feelings of anxiousness or sadness, this time of year in particular?
A lot of people put emphasis on family during the holidays and a lot of people don't have family. For those who might not have family, this is where a peer organization can help. Maybe this is the time to connect, to get that support. Also try to find ways to not feel obligated. Do what you're comfortable with. If you're not feeling up to going to that party or gathering, it's OK to say no. You don't have to give excuses. You can say, "Maybe next time." Keep the holidays simple. If you're still alive and still breathing, and have something to hold on to, be grateful. There's always that opportunity to get better and to grow, to reach out and to get help.
Q. What are the "symptoms" of good mental health?
I would call that wellness. Laughter. Communication. Healthy relationships. Having fun. Gratitude. Persistence I would say, too. And hope. I would say hope is number one. Without hope, you don't have anything. That's what I hung onto when I was sick. I had hope that I could get better. I just wanted to know I could make it through the day, get a job, have a life. There were times when it got pretty dicey, when I didn't know it was possible. Those were pretty scary times. But once I began to gain a little traction, and began to get better, I realized, "Maybe I can do this." Then I began to gain some self-confidence. Then I began to take some healthy risks, stepped out of my comfort zone. I believe everyone has the ability to do more than they think they can in life. That's how I live my life now.
Twitter: @BNrefresh, @ScottBScanlon