It's a rare restaurant that still runs smoothly after an ownership handover, an act as daunting as repairing roller-coaster rails in real time. Rarer still are the ones that survive while maintaining the swagger and savor your parents remember.
While novelty in dining offerings attracts attention, as do all shiny objects, and evolving menus reflect customers' changing views on nutrition and dining, sometimes you just want Welsh rarebit. You want an iron cauldron of extra-sharp cheddar magma, still bubbling with simmering heat, fierce with extra-sharp cheddar and nose-pinching mustard, and nothing else will do. At Eagle House, the oldest restaurant in town, history isn't just in the hand-hewn beams – it's on the table.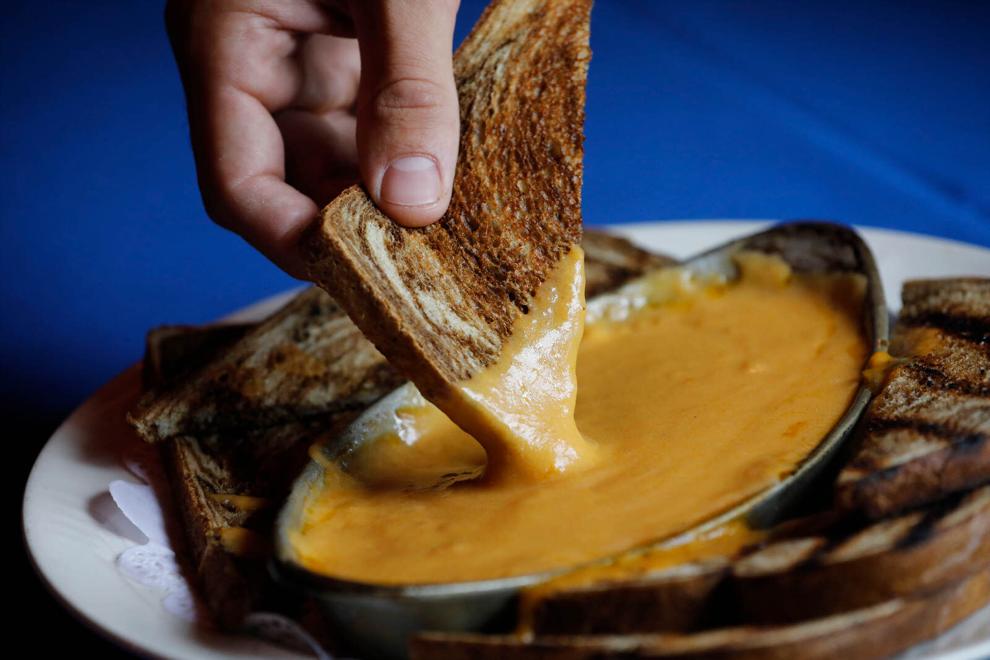 Dating to the 1830s, the main structure, with 2-foot-thick-limestone foundations, is built on sloping land. You can walk right into the dining room from the Main Street side. Park behind the building, and you're climbing a couple flights of stairs, past patio nooks that can hold family-sized tables, up to the back door.
Inside it's dark and cool, a cave of wood and stone, wrought iron and brass. The proprietors have restaurateur in their DNA.
"From Hanny's on Canal Street in the 1880's, to Niagara Street in the 1920's, The LaMarque on Delaware Avenue in the 40's and The Little White House in the 60's, the Hanny family boasts five generations in the restaurant and hospitality industry," its website says.
That rarebit is $14 with bacon and plenty of toast. It's a recipe brought to the Eagle House from the Little White House by the latest Hannys that relies on extra sharp Black Diamond Canadian cheddar.
Artichokes Montemage ($13), named after longtime chef Tom Montemage, are hearts of the artichoke blossom dipped in cheesy egg and pan-fried, before getting a lemon butter topcoat and a dusting of shredded cheese.
The menu describes the crustaceans used in the coconut fried shrimp appetizer ($16) as jumbo, because I guess "Shamu-sized" would turn people off. Coated in a shaggy pelt of toasted coconut, they evoked Polynesian-themed glories of past generations with a spiced apricot sauce. Pricey, but epic.
Burgers ($14) and a sandwich lineup that includes a grilled open-faced Reuben ($13) and beef on weck ($13) all come with chips and a pickle. Salads include standards like Cobb (chicken, bacon, blue cheese, tomatoes, chopped egg) and a grilled chicken Caesar ($14).
Dinners that served as test cases for the kitchen included a special of cucumber dill salmon over spinach risotto ($24.95). This fish filet was oven-roasted but firmly moist, treated with respect. Its creamy sauce borrowed conceptually from Greek tzatziki with dill and cucumber, but the cuke was diced, adding a vegetal crunch, and the use of sour cream instead of yogurt amped the richness factor. Squishy grains made the risotto more like cheesy rice, but it was quite tasty, and the accompanying crisp-tender asparagus was perfect.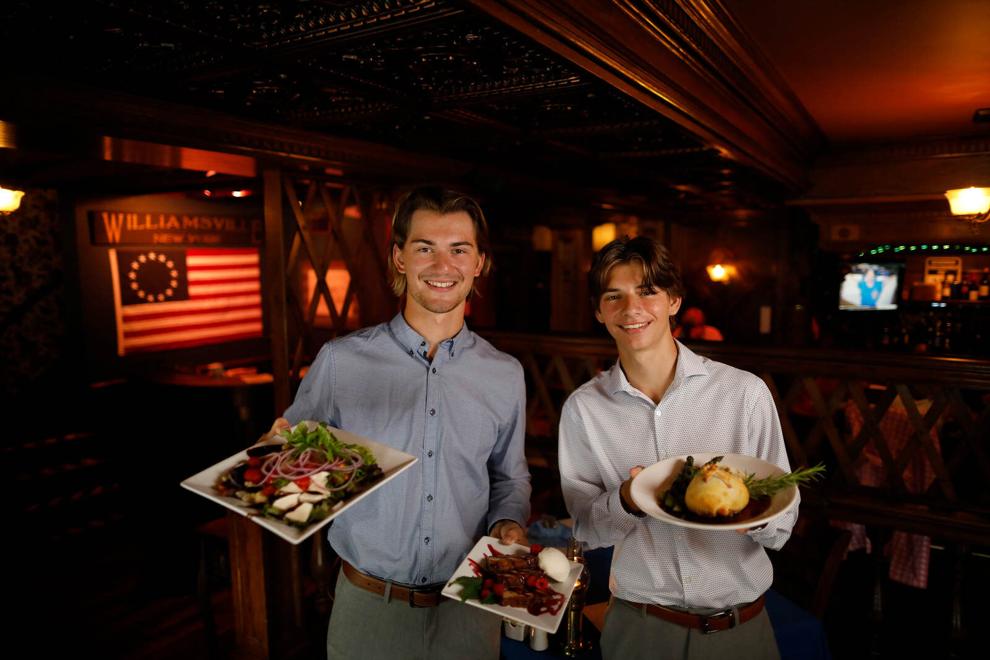 Remember chicken cordon bleu (breast stuffed with ham and cheese, crumbed and fried)? Eagle House localizes the Continental classic with stuffed pepper chicken ($18). It has a filling of gorgonzola-inflected cheese and spinach, served on a lagoon of creamy banana pepper sauce so the crispy chicken surface stays that way. The effect is accented with a hit of cool and tangy tomato balsamic compote.
The trip down Before My Time Lane wouldn't have been complete without welcoming beef Wellington ($34) to the table. This pre-Mesozoic entrée is beef tenderloin enrobed in puff pastry and served with gravy or au jus. The Eagle House version opts for a layer of finely minced mushroom pate, or duxelles, atop the beef before it's wrapped; no liver pate here.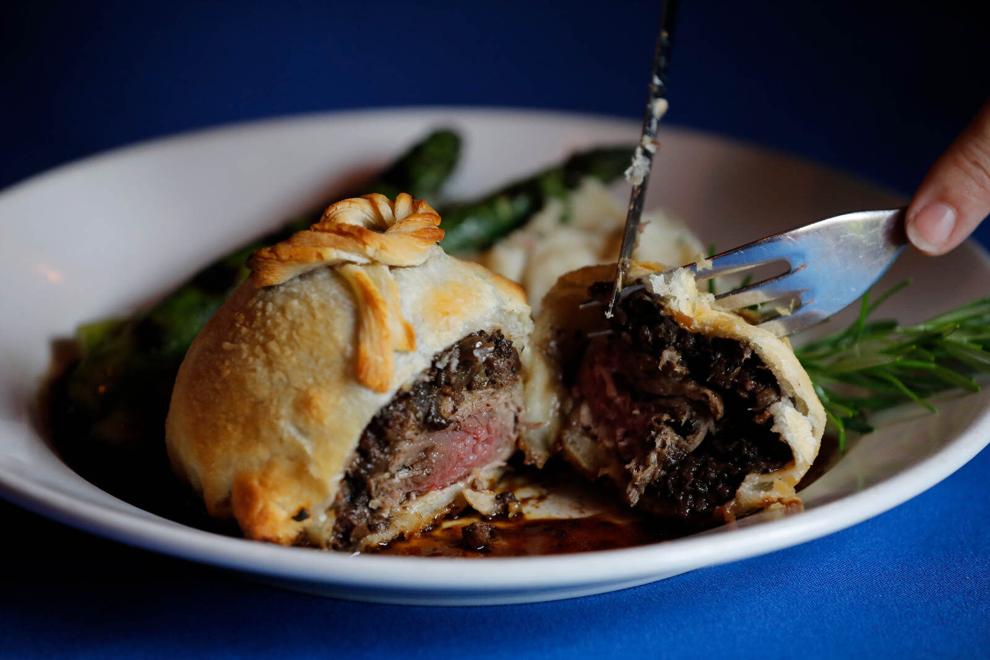 I thought it was terrific, though I must confess I've had nothing to compare it to in the last decade. The pastry was buttery and not sogged by gravy. The beef was rosy-rare, given a woodsy boost from the fungus concentrate, and the serrated steak knife was never called into action. I'm not often hunting for Wellington, but it's good to know where to find one.
My most recent meal at the Eagle House was my favorite of the times I've dined there. It may have had something to do with the company. When you get to spend time with people you haven't seen much, everything seems more life-affirming.
Perhaps the kitchen crew was refueled by the break. Still, I came away convinced that the Eagle House isn't a relic selling its history, but a restaurant that earns its place in the community every day.
Hours: noon to 8:30 p.m. Sunday through Wednesday, noon to 9:30 p.m. Thursday-Saturday.
Prices: appetizers $7-$16, burgers and sandwiches $13-$16, entrees $16-$38.
Atmosphere: lots of wood and room.
Parking: street, lot behind building.
Wheelchair accessible: Yes