"Have you heard about the pizza Nazi?" an acquaintance asked.
"Who's that?" I replied, employing my sophisticated journalistic technique of admitting I know nothing.
That's how, in 2015, I learned Jay Langfelder was in Buffalo. As a demanding food perfectionist, he had earned the moniker, inspired by the "Seinfeld" TV show's Soup Nazi character. On social media, he gained notice by vociferously rejecting the notion that the customer was always right. Langfelder's pies – of poofy-charred corniciones and paper-thin insides covered in first-rate ingredients – found an instant, forgiving following.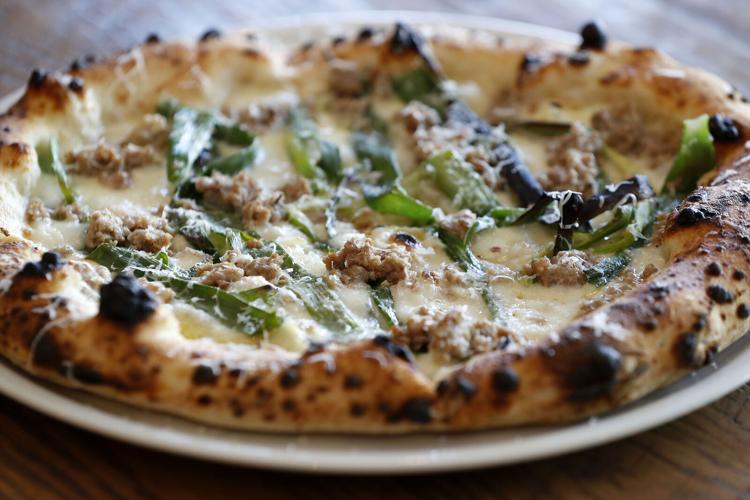 His obsession, making Neapolitan-style pies, started with a food truck called OG Wood Fire. This frustrated him, as both dough cultivation and Neapolitan-style methods – cooking in about 90 seconds at 900 degrees – are temperature-dependent. A truck setting is not optimum, in the same way that cutting diamonds in a passenger seat during the Paris-Dakar Rally is not optimum.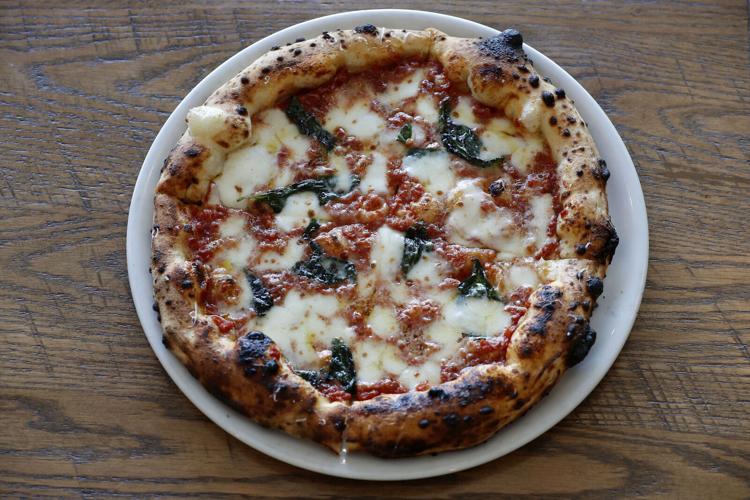 Relief came in the form of Jay's Artisan Pizza, a building with walls, in Kenmore. He added Detroit-style pies, baked in a pan, emerging with frico-style cheese crisp all around the edges.
Until the pandemic, Langfelder had a steady business in sit-down pies and a sideline to-go business. Now, it's temporarily a to-go only operation and he's more successful than ever. Never satisfied, Langfelder swapped out an oven and reformulated his main dough recipe, so it would take to reheating better.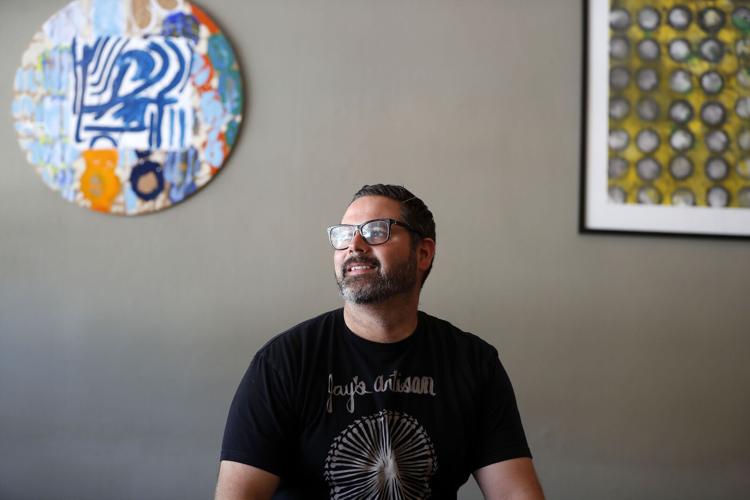 The result is my favorite pizza. Not just in Buffalo, but the best this raised-on-Bocce boy has ever had. If you told me I would only get one more pizza, then lights out, this would be the one. Specifically Jay's red top spicy Detroit Style ($15).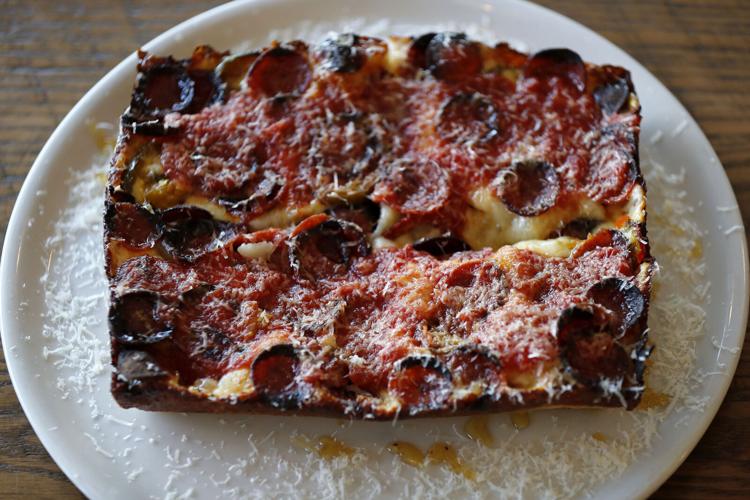 That means better-than-usual cup-and-char pepperoni, sweet crushed tomato, Parmigiano and smoldering-hot cherry peppers and chile honey on a field of mozzarella that blends into sharp cheddar around the rim for a Cheez-It snap in every perimeter bite.
Pillowy crust, thicker but also somehow more tender than the usual Buffalo-style dough deck, undergirds it all. Other versions are gussied up with imported Italian pear mostarda and prosciutto ($16), or a vegetable version with roasted onions, tomatoes and kale ($14). There is even an outstanding gluten-free version that is almost identical to the glutenish numbers, with just a bit more chew.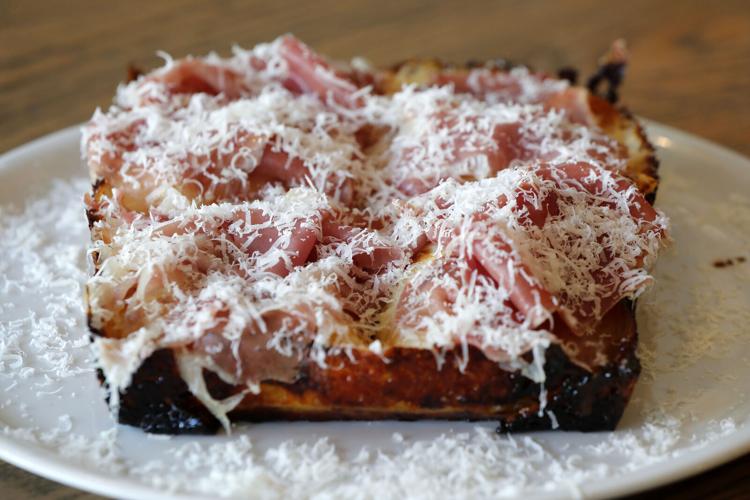 Smitten as I am by the Detroit twist, Langfelder's Neapolitan-style pizzas are still aces. Classic margherita ($13) and its cheese-free vegan cousin, the marinara ($11), are master classes in wielding fire to maximize the intertwining fragrant delights of tomato and herbs on fresh bread.
Funghi ($15), a white pizza starting with roasted garlic cream, gets local Flat 12 mushrooms, scallions, fontal and aromatic truffled pecorino romano. Squawk all you want about a $15 pizza-for-one, but when those ingredients hit your taste buds, you know where your money went.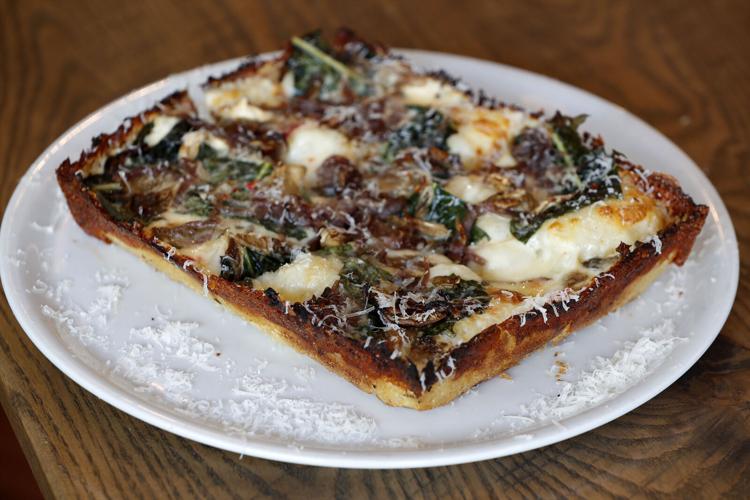 Jay's does one calzone ($15), a whisper-slight dough envelope wrapped around premium American-made mortadella based on artisan-breed Berkshire pigs. That cozies up next to sheep's-milk ricotta cheese, tomato sauce and fontal for a premium calzone experience where quality outranks size.
Similarly the quattro formaggi ($14.50), or four cheeses, brings you classy curd like grana Padano and gorgozola, in addition to fontal and mozzarella. Dressed with dried Sicilian oregano that flares like incense under the intense heat, this is an especially good candidate to open in the car and test-drive before you head home.
That's where you can appreciate the true magic of Jay's Artisan Pizzeria. Neapolitan pies always wilt the further they get from their birth hearth.
But the good news is, the way Langfelder has reformatted his dough gives you a pie that's designed to be reheated. The crisp-tenderness comes back with a vengeance, and no matter how good the service used to be in Jay's dining room days, you can get it from your oven to your face faster. It reheats so well that it may even be better refired the next day.
Try it yourself and see what you think.
But first, you need to plan. The doughs Jay's Artisan Pizza uses have to be fermented for 20-30 hours before they're ready. The shop runs out of dough almost every day, so listed "business hours" come with an asterisk. Since you can only order online through jaysartisan.com, you should think about ordering in the afternoon.
That way, you can make sure all is in place. Will you bring wet naps and a bottle of wine and head for the nearest park? Just dig in behind the wheel? (Only while parked please.)
Or will you bring home Jay's Artisan to be refired at will, giving people a taste of Buffalo's best pizza? I know it's not a submarine sandwich, but believe me, Jay's can still make you a hero.
Hours*: 3 to 8 p.m. Wednesday and Thursday, 3 to 9 p.m. Friday and noon to 8 p.m. Saturday. (*Or until dough runs out). Closed Sunday through Tuesday.
Atmosphere: currently takeout only.
Wheelchair accessible: Yes.
Stay up-to-date on what's happening
Receive the latest in local entertainment news in your inbox weekly!