The list of fine dining places that I would review the week they came out of pandemic pause is short, like lower single digits. The day I learned Carmelo Raimondi had re-opened his doors, I called to ask for a table. On the drive over, I realized that contrary to best practices and long-ingrained professional habits, I hadn't asked to see a menu.
We'll get to the food in a jif, but that demands explanation. Among the frazzled and stressed battalion of chef-owners, Raimondo's steadiness stands out. In a world where a five-year run is success, he took over Carmelo's Coat of Arms from his father 27 years ago, the year Bill Clinton entered the White House.
My tenure as food editor has only covered the last years, but here's what I know: I've never had a lame dish from him. Not even as he broadened his palette to incorporate Asian, Mexican and Spanish moves. Not after he bought as much local produce and meat as possible, committing to the frequently changing menu that requires. The spectrum has run from good to life-changing.
Still, as I strolled past the sidewalk seatings into the cool low-ceilinged interior, I wondered: Was I expecting too much after a complete involuntary systems reboot?
Then I saw who beat me in the door: Iron Chef Geoffrey Zakarian and his family.
Hail fellow fan club member, I thought.
As dishes arrived, I relaxed. One threat to fine dining has been supply line disruption, but a talented cook can make any bird sing sweetly. Potatoes, chard, salmon and chicken leg, the cheapest cut of meat at supermarket, all had their chance to star.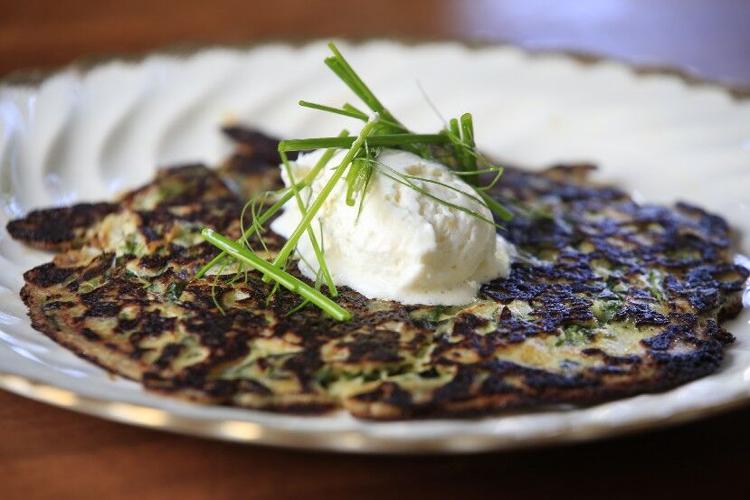 Swiss chard is among the first shock troops of spring. At Carmelo's it anchored a thin savory pancake laced with greens, herbs and chives. There was just enough eggy batter, savory with cheese, to hold the foliage together, and enough browning to toast the cheese. A generous quenelle of whipped cream alive with freshly shredded horseradish supplied a tangy, sinus-engaging counterpoint. He charged $9.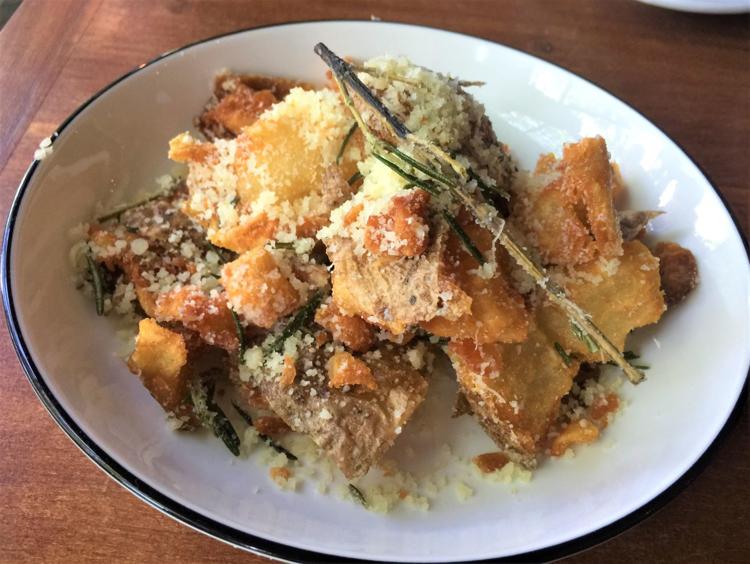 Potatoes were boiled, crushed and fried to a craggy bronze with rosemary sprigs, and showered with Parmigiano cheese, Carmelo's made them remarkable ($8).
Bread is a dollar per person, but it's worth it. We got a sort of whole-wheat focaccia topped with coarse salt and spices, plus fruity olive oil tasty enough to sip, and schiacciate, a zingy celery-olive relish that Raimondi sells by the pint.
Salads include the fried calamari over mixed greens ($15), smoked peanuts and lime-chile dressing that has been a standard for years, and a butter-poached lobster salad ($17). Baby kale had been massaged into translucence, and coated in a gently garlicky Caesar vinaigrette. Morsels of claw meat, tender and butter-kissed, gave it a seaside air under a shower of breadcrumbs kissed with lemon and garlic.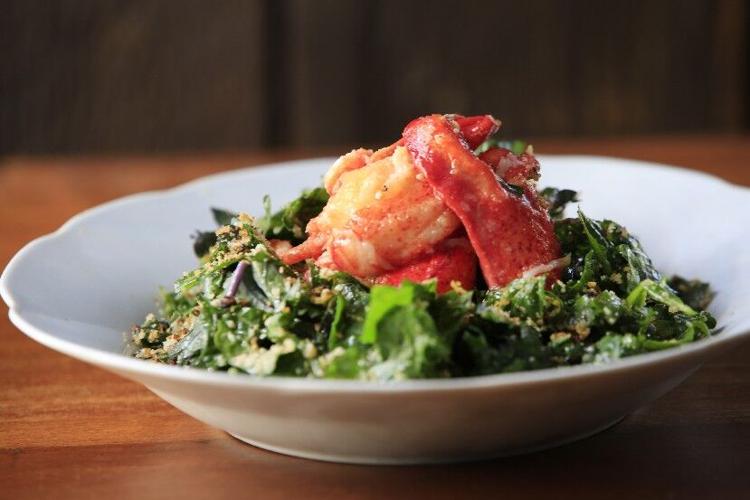 Housemade pasta at Carmelo's lures folks to Lewiston. Three varieties were ready.
Lumache, a shell-shaped noodle, got an aquatic dancing partner with fat finger-sized shrimp in vodka sauce, with a foundation of tomato and cream ($25), accented with paper-thin garlic. As with the other pastas, the precisely metered sauce hung to each bite, but didn't puddle in the bow.
Linguine was married to fragrant basil pesto, and sliced crisp-tender asparagus coins and tips ($22), its herbal perfume announcing its arrival, a breath of summer in every vegetal crunch.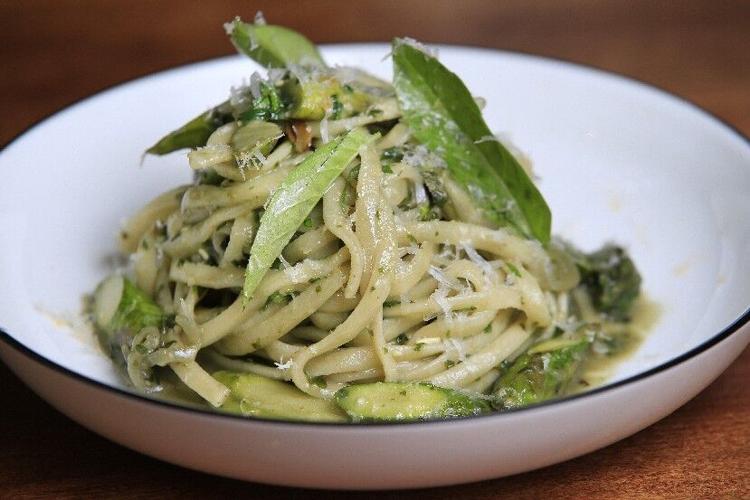 One bite of the ridged tubes called rigatoni in Bolognese ($25), and I sighed for all the wan simmered meatloaf mix I'd been disappointed by. Raimondi's version has a mesmerizing savoriness with echoes of autumn leaves and cured meat, the sort of dish that might make you weigh whether you are the sort of person who licks a plate in a restaurant.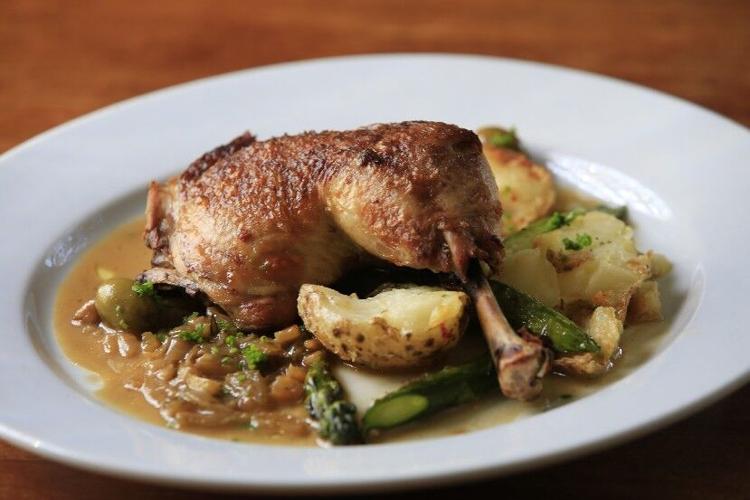 That humble chicken leg ($25), braised in some of Raimondi's celery relish, alive with vinegar and chile, rewarded with deeply extracted chicken character atop rosemary roasted potatoes that soaked up the juice. It was an excellent example of hug-your-grandma homeyness.
Salmon is the fish species most spotted on menus, excepting Fridays, and it is the most often mishandled, cooked to chalkiness under flabby skin.
This Norwegian salmon fillet ($28) emerged succulent with cracker-crisp skin. Salsa verde, a macerated mashup of parsley, mint, basil, lovage, rosemary, anchovy, capers, garlic and olive oil, racy with sherry vinegar and chile flake, added sass to every bite. Gently roasted fennel, zucchini and red bell pepper, mixed with firm-grained white quinoa, laid an appropriate foundation.
Desserts ($8) were also straightforward pleasers, including a lemon curd topped with blueberry compote, and a dreamily smooth puddinglike chocolate budino.
While we ate, I looked at the view, which includes the charred remains of the Brickyard restaurant complex across the street, and the inescapable subject of restaurant mortality.
Visit Carmelo's and see what a good cook can do with the common clay of potatoes and chard and chicken, or even after he gets his hands on fancier stuff.
Fine dining with character will only last as long as the characters in fine dining do.
425 Center St., Lewiston (754-2311)
Hours: 4 to 9 p.m. Wednesday through Saturday.
Prices: appetizers $7-$19, pastas $22-$25, entrees $16-$28
Atmosphere: quiet and roomy
Wheelchair accessible: dining room yes, bathrooms no.
Stay up-to-date on what's happening
Receive the latest in local entertainment news in your inbox weekly!