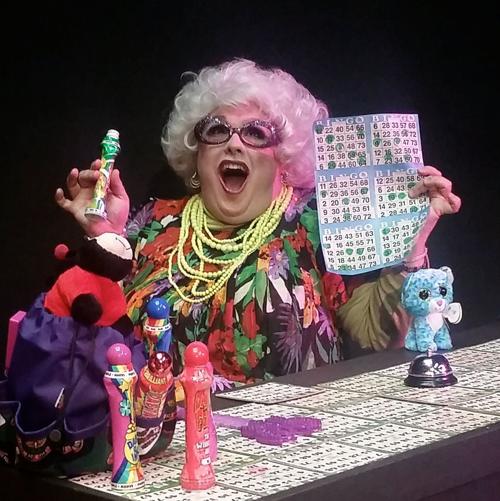 There is only one Betsy Carmichael and there is only one chance this season to see her in her element, in O'Connell & Company's bonus show for November, "Betsy Carmichael's Bingo Palace."
Born the daughter of a Buffalo bingo caller (according to her unofficial biography), Betsy grew up determined to spread bingo joy to all the world. With help from alter-ego Joey Bucheker and John Pirrone, directed by Betsy's bestie Mary Kate O'Connell, Betsy will be sharing that joy at 7:30 p.m. Nov. 16 in O'Connell & Company's new home theater at Ken-Ton Elmwood Commons (3200 Elmwood Ave., Tonawanda). Parking is behind the building, which is a former elementary school.
Tickets are $32 general, $27 for seniors and $17 for students, military and children. Call 848-0800 for reservations; tickets also will be available at the door. Arrive ready to get involved, because Betsy hates playing bingo alone.
Theater lovers planning to be farther south on the weekend might want to try the latest presentation from the Aurora Players Readers Theater, a staged reading of "Something Wicked" by local playwright James A. Marco. Marco's inspiration for the play is one of the most notorious events in Buffalo's early history: the triple hanging of brothers from the Town of Boston in 1825. The three Thayer brothers killed John Love after they became so indebted to him that they were going to lose the family farm. Their execution in Niagara Square drew more than 20,000 to what was then the small town of Buffalo and made it famous, in a gruesome way.
Readings of "Something Wicked" will be at 7:30 p.m. Nov. 15 and 16 at the Roycroft Pavilion in Hamlin Park (166 S. Grove St., East Aurora). Tickets are $5 at the door.
Even farther south, in Chautauqua County, the Lucille Ball Little Theatre opens "Harvey," the Pulitzer Prize-winning play about a gentle man and his closest friend and drinking companion, a 6-foot-6-inch tall rabbit named Harvey. Shows are Fridays through Sundays, Nov. 15 through 24. Tickets are $20 at lucilleballlittletheatre.org or call 483-1095.
The Lucille Ball Little Theatre is at 18 East Second St., Jamestown, just east of the intersection with Route 60 (North Main Street). You can also find information about nearby restaurants on the theater's website.
Curtains also rise on campuses
Settle in for something silly at SUNY Buffalo State when students present the award-winning musical comedy sendup "The Drowsy Chaperone," set partially in the 1920s but first presented in 1998. Find the popular show's gangsters, showgirls and mixed-up lovers on campus in the Warren Enters Theater in Upton Hall beginning Nov. 14 and running through Nov. 23.
Carlos R.A. Jones directed and choreographed the production for the Buffalo State Theater Department. The tale centers on a show-within-a-show as a Broadway fan reimagines a Jazz Age musical in his living room, to ridiculous effect. Tickets are $15, with discounts for students and Buff State faculty and staff, available by phone 878-3005, at the Rockwell Hall box office and suny.buffalostate.edu (click on "News and Events").
Another flash from the theater past opens across town at the UB Center for the Arts, when the University at Buffalo's Theatre and Dance Department presents the much-loved musical hit "Guys and Dolls." More gangsters, gamblers and singers populate this production, based on stories by Damon Runyon and directed here by Keith Andrews. Among the student performers are Western New Yorkers Hannah Keller, Thomas Evans, Michael Wells and Jamil Kassem-Lopez.
Performances are Nov. 15 through 24 in the Black Box Theatre in the Center for the Arts on the UB North Campus (find directions at ubcfa.org). Tickets are $20 general, $10 for students and seniors, also through the center's website, and will be available at the door for one hour before showtimes.
It isn't just the theater students who are getting their acts together at UB. The UB Department of Theatre and Dance presents dance works in its Emerging Artists Showcase, directed by faculty member Joyce Miller Lichtenberger and student Alexis Corletta. Student choreographers used music by Duke Ellington, George Winston, Bon Iver and other genres to develop their works in styles of tap, jazz, modern and even Irish step.
In the throes of poetry at 'Poetexpo'

Words rule at the Burchfield Penney Arts Center during the special literary event "Entropy: The Poetexpo" from 1 to 6 p.m. Nov. 16. The interactive afternoon of verse of all kinds includes an opening panel discussion with some of the day's readers, a showcase for young writers from Just Buffalo Writing Center, mini workshops on journaling and making journals from upcycled media and a chance to get your own author portrait from photographer Rylea Cammarano.
A stellar lineup of poets will be on hand, including Russian-born Buffalonian Marina Blitshteyn; children's rights advocate and author Rachel Robles Saeger; Latino poet and letter writer Matthew Bosque; chapbook author and anthologist Meghann Boltz; and the incomparable Marquis "Ten Thousand" Burton, a writer, educator, poetry slam team leader, Music Is Art poetry curator and spoken-word artist extraordinaire. Burton alone is worth the price of admission, which is included with gallery admission and free for members.