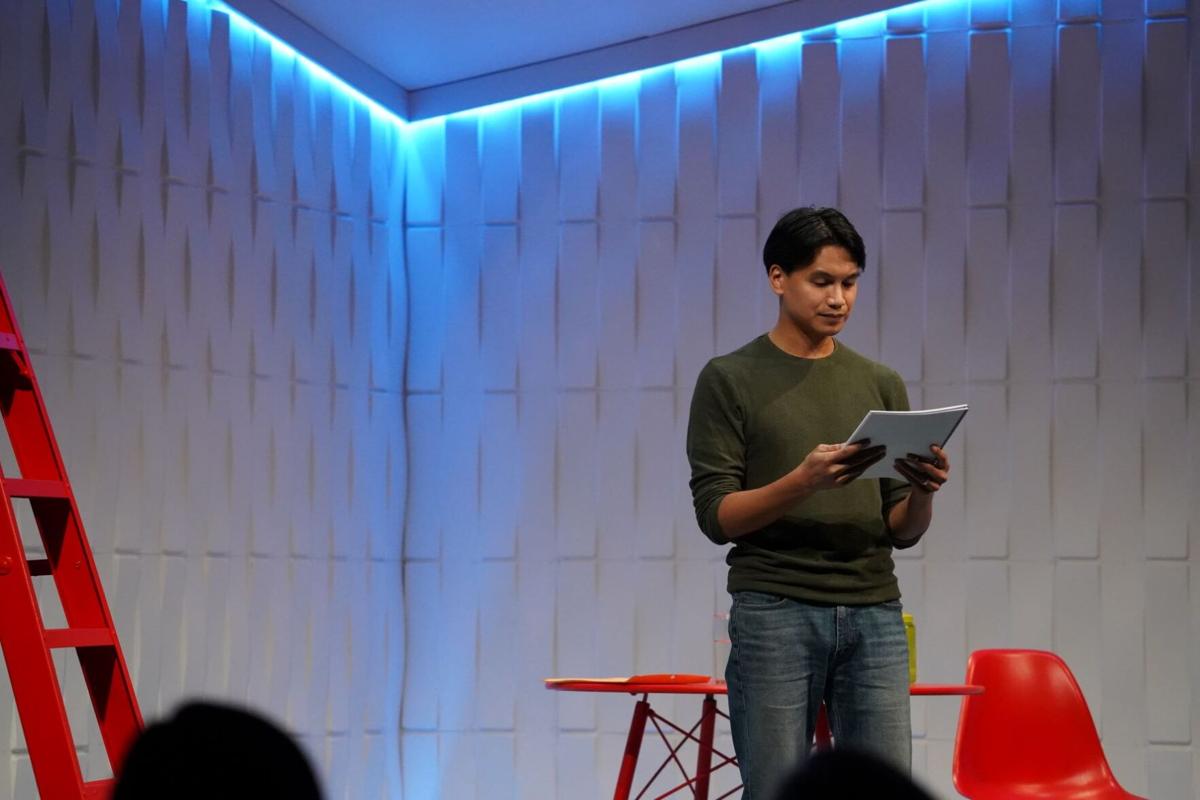 When Darryl Semira stepped onstage for "White Rabbit Red Rabbit" last Saturday night in Alleyway Theatre, it was the first and last time he would perform the play.
And that's Nassim Soleimanpour's intention: The Iranian playwright wrote "Rabbit" in 2010 while he was forbidden from leaving his home country because of his refusal to participate in military service. The solo-play is his way of cheating the system – when actors speak Soleimanpour's words they, in essence, become him. Playwright and performer are united across space and time. But once an actor begins to read the script – which they receive the moment they step on stage – they become ineligible to perform the play again. Knowledge, in the case of "Rabbit," is the ultimate sin.
By the time "Rabbit" finishes its run in October at Alleyway Theatre, 12 actors will have performed the play. None of them will have rehearsed the show. What's that like, then, to go blind into a performance in front of a packed house? For Semira, a Broadway veteran with more than 20 years of acting experience, performing "Rabbit" was unique.
"It was one of the strangest things I think I've ever done as an actor," Semira said after his performance. "Stepping onto the stage, feeling very ungrounded, having not been able to prepare anything, really."
As a critic, I've never experienced anything quite like "Rabbit" either. Well that's not entirely true, because I saw "Rabbit" in the fall of 2018 in Chicago. I remember quite liking it, too, because of the way Soleimanpour's discussion of censorship and violence resonated with the times. I also remember it being a somber, thoughtful evening. The actor who performed that night waded through the text with a deep concentration. The audience mostly sat in reverential quiet.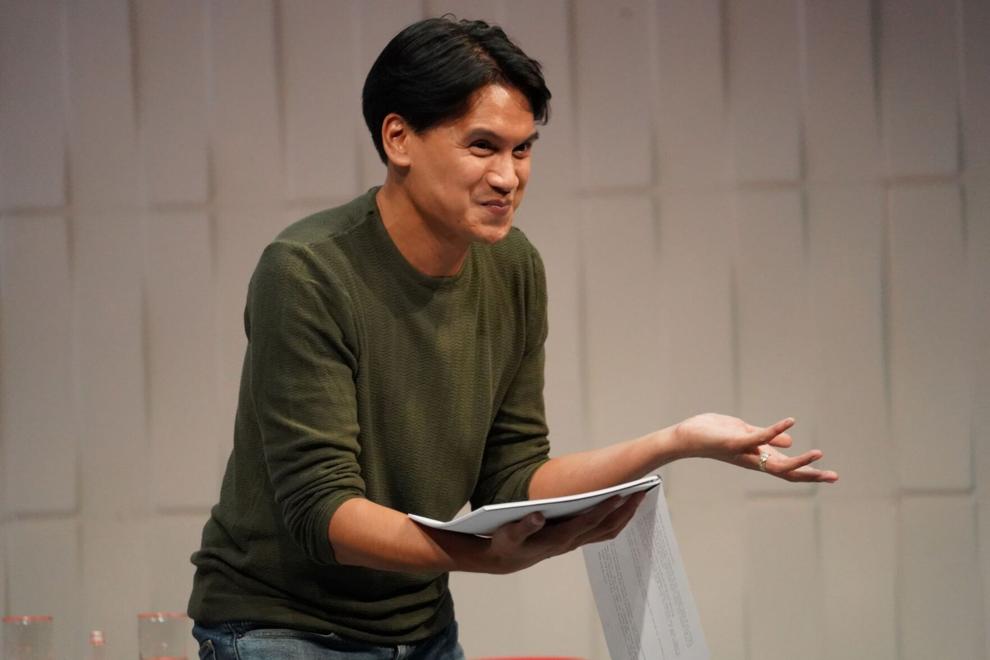 And so, it was to my surprise that the play I witnessed at Alleyway was full of energy, punctuated by bouts of laughter. That's largely due to Semira's performance. He dove right into the words with a wide smile. He smoothed over any false-start or hiccup with a boyish charm. But he wasn't without help because, more than most traditional shows, "Rabbit" relies on its audience to shape the evening.
Semira later told me that his castmates from "Camelot," the musical he is rehearsing at MusicalFare, were in the audience that night at "Rabbit." I think that accounts for some of the excited, supportive energy being directed toward the stage. But there's more to it than that. In Buffalo, in 2021, audiences haven't been allowed inside a theater for nearly 18 months. And so a sense of homecoming became essential to what unfolded that evening, as audience members were called upon by Semira (in essence, by Soleimanpour) to offer a prop or an answer to a question. They were even invited on the stage to help act out scenes from the play's central fable involving, you guessed it, rabbits. Audience participation can feel awkward, unwanted. I remember the crowd tensing up in Chicago when it was presented. But at Alleyway, shaped by the last year of isolation and uncertainty, it seemed the audience was almost eager to participate, hungry for connection.
This is part of Gusto's local theater season preview.
To overly explain "Rabbit" is to rob the reader of one of the show's main delights: that of surprise, and discovery. But I will note that the play is often dark, disturbing in its worldview. Soleimanpour is interrogating ideas that, a decade after being written, only make "Rabbit" seem more prescient. In the midst of a global pandemic, on the 20th anniversary of the terrorist attacks of Sept. 11, I could feel the weight of history, and the consequences of our complacency in Soleimanpour's tale. But, a lightness persisted. From the masked audience, yes, but also, as he would later tell me, from Semira's conscious effort to steer the collective toward something more hopeful.
"[I was] trying to cut through all that weight by the fact that we were gathered in a place together," Semira said. "I think because we've been through so much darkness recently, we all kind of know what that is to confront the darkness. So for me it was my goal to try and uplift any lightness that I could find."
"White Rabbit Red Rabbit"
Presented through Oct. 2 in Alleyway Theatre, One Curtain Up Alley. Performances are 7:30 p.m. Thursdays, Fridays and Saturdays. Tickets are $42 general, $30 for ages 30 and younger (852-2600, alleyway.com). Covid vaccinations are required for all performances. Masks must be worn.
Here is the list of the 12 actors and their performance dates:
Alexandria Watts, Sept. 10
Melinda Capeles, Sept. 16
Brandon Williamson, Oct. 1