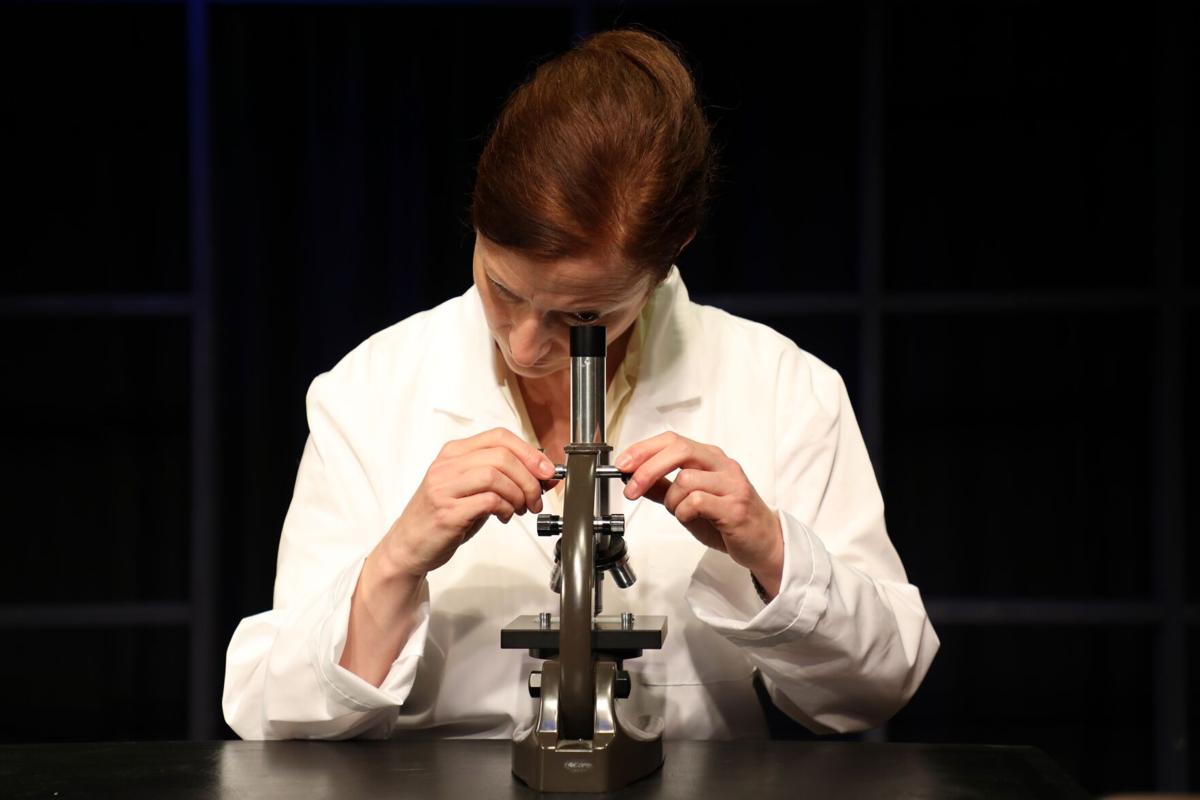 Scientist Rosalind Franklin was not a woman to suffer fools lightly. She also didn't have much use for collaboration, humor, taking orders or making friends. She was, in a word, "prickly." She also was "brilliant." But she is no longer, as once was feared, forgotten.
The story of Franklin's key role in parsing out the structure of the DNA molecule has been told many times since her name was left off the Nobel Prize awarded to James Watson, Francis Crick and Maurice Wilkins in 1962. (Franklin died in 1958.)
Now, playwright Anna Ziegler introduces us to the woman behind the research in the well-crafted character study "Photograph 51." The play is onstage at Jewish Repertory Theatre through Nov. 14, and it is a show worth seeing.
Kristen Tripp Kelley strides through the role of Franklin with the confidence of a young woman who knows – absolutely knows – she is always right. There is no arguing with her. In fact, it can even be touchy trying to agree with her. Still, one cannot help but be impressed with her.
By the time Ziegler's action takes off, the British-born Franklin has earned her Ph.D. at Cambridge, published groundbreaking discoveries on coal molecules to help the war effort and held a research position in Paris. When she returns to Britain to take a fellowship at King's College, she is outraged to learn she is expected to be an assistant to someone else, Maurice Wilkins (played with a proper mix of pomposity and politeness by John Profeta).
Although Wilkins is nonplussed by the vigor of Franklin's reaction, the two come to any uneasy truce, with each in charge of their own projects. The title of the play refers to an image of DNA that Franklin and her lab assistant Ray Gosling (brightly acted by Dan Torres) captured that showed DNA to be a double helix molecule. It was photo 51.
The 1950s were heady times in the world of scientific research. Atomic bombs had been built and exploded, and more might be coming. Polio was a scourge around the planet. Labs were looking to explore the stars and to reveal the secrets of life that were locked within DNA.
The character of James Watson, who was then in his 20s, personifies the excitement of the times, and Adam Yellen portrays him with energy. For Watson, who is American, discoveries are not just something to find, they are something to win, and win big.
His partner, the older Francis Crick, is played with low-key British reserve by Jacob Albarella, who knows how to deliver a line like, "There's not a chance I'm going back to hemoglobin diffraction patterns," as it is intended – to make us laugh.
Seen through the eyes of her rivals, Franklin comes across as cold and ungrateful. Not so for Don Casper (Ray Boucher), a young Ph.D. student who worships Franklin's work from afar. Through Casper's admiring eyes, Ziegler allows the audience to see the beauty that can be revealed when nature is understood.
Director Katie Mallinson shows a steady hand in elevating each character to his or her own appropriate prominence, and her actors respond. Pushing the limits right to the edge of caricature, but not crossing over, they keep it real and they keep the audience with them through 90 uninterrupted minutes.
Despite mentions of X-ray crystallography, double and triple helixes and phosphates connected to amino acids, "Photograph 51" requires no more scientific understanding than the typical television forensic drama. Ziegler instead gives us a personalized window into the hows and whys of one of science's most personal discoveries – the structure of the molecules that make us us.
Presented by Jewish Repertory Theatre in the Maxine & Robert Seller Theatre (JCC), 2640 North Forest Road, Getzville, through Nov. 14. Masks and proof of Covid-19 vaccination required. For tickets, go to jccbuffalo.org.