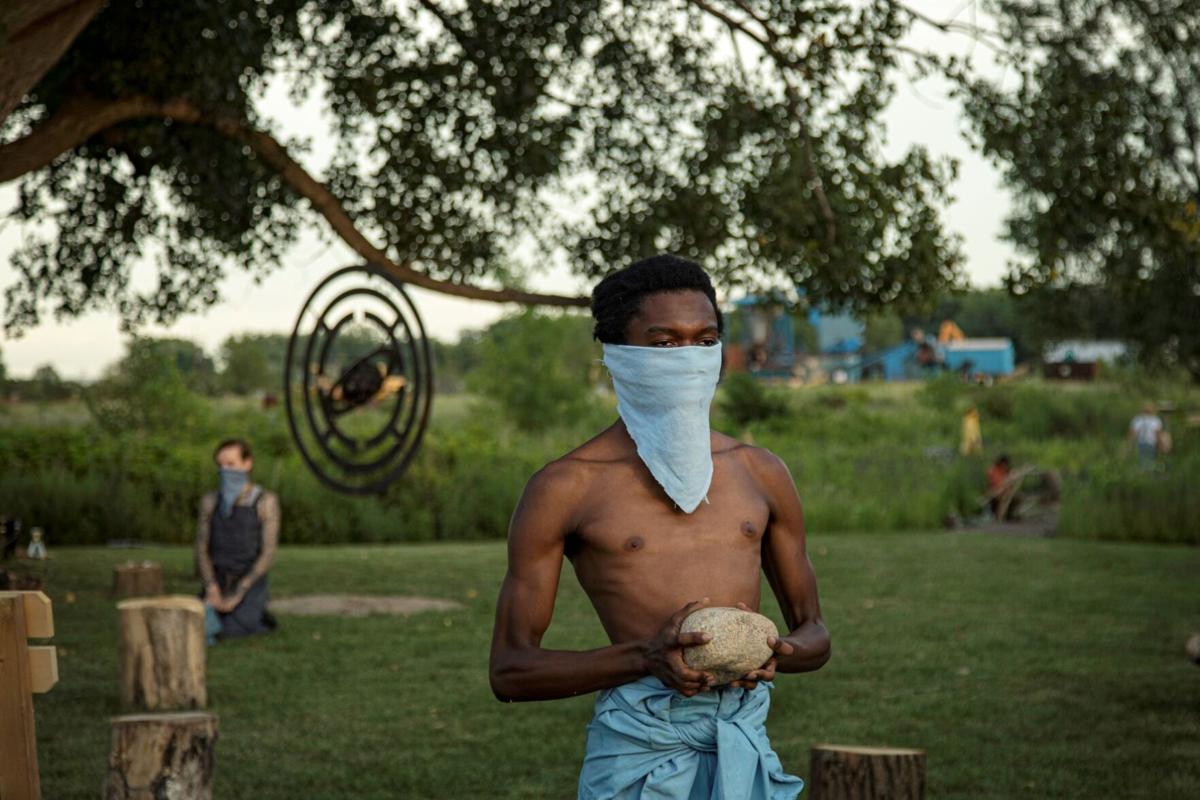 Torn Space Theater's annual outdoor experience at Silo City returns this year with a production that promises to be theatrical and communal as it explores the history of the universe and humankind's brief jagged journey within it.
The title of the show, "and the sun sets in golden circles," reflects the ripple effect of singular events in time, events that steered, or even altered, the nature of existence. For three weekends, beginning Aug. 6, audiences will be exploring in micro how those major concepts work in the world.
It actually sounds like a lot of fun.
The audience – no more than 75 people each night – will be divided into three groups on Silo City's new soccer pitch before heading out to take part in philosophical "field days" that will illustrate the values of competition versus cooperation. Between venues, there will be stands selling craft beer.
"and the sun sets …" is part of the ninth edition of Torn Space's Response Performance Series, original theatrical works designed for the outdoors, in this case the post-industrial largely vacant landscape of Silo City. Performers are part of a "community" engaging in rituals of harvest and renewal, crafted as a response to each year's specific dynamics.
For instance, despite widespread Covid-19 shutdowns in August 2020, Torn Space was back at Silo City to present "Silence" for a socially distanced outdoor masked audience. Company founders Dan Shanahan and Melissa Meola captured the zeitgeist of the pandemic with a spiritually vivid event of poetry and fire that spoke to people's inner thoughts and fears.
The pendulum swings a full 180 degrees for "and the sun sets in golden circles," heading as far out as time and physics allows. Shanahan explained that the theme looks at the randomness of history and at points when chemical or human cooperation was able to affect it.
"The idea is to address these large, epic themes that we are grappling with.," Shanahan said.
The scale, he said, is intentional. Meola recently has been immersed in studying how others have chartered the origins of the universe and life, resulting in a sort of timeline that will frame the production.
"We look at these threshold moments that got us where we are now, and we also look at extinction points in the universe," Shanahan said. He added that the counterpoint is "large moments of cooperation, when we come together in order to deal with large challenges. This is the large, macro concept over the production."
After moving through the stations, the full audience recombines at the cottonwood tree that has been a centerpiece for shows in years past.
"When they come together, the 'competition' has ended. The timeline brings us to the present moment, to living in this moment. Together."
As always, attendees are advised to wear comfortable flat shoes due to the uneven terrain. Last year, people were asked to wear dark-colored clothing as a backdrop for the ritual; this year, Shanahan said, light-colored clothing will better suit the atmosphere. Hopefully that is a good sign.
"and the sun sets in golden circles"
Torn Space Theater's Response Performance Series is presented at 7:30 p.m. Friday, Saturday and Sunday, Aug. 6-22 (rain dates Aug. 12 and 19), at 85 Silo City Row. Parking this year is at the Ohio Street entrance rather than inside Silo City. Tickets are $30 general; $60 for Captain's tickets, at tornspacetheater.com. All Covid-19 protocols in place at the time of the performances will be followed.