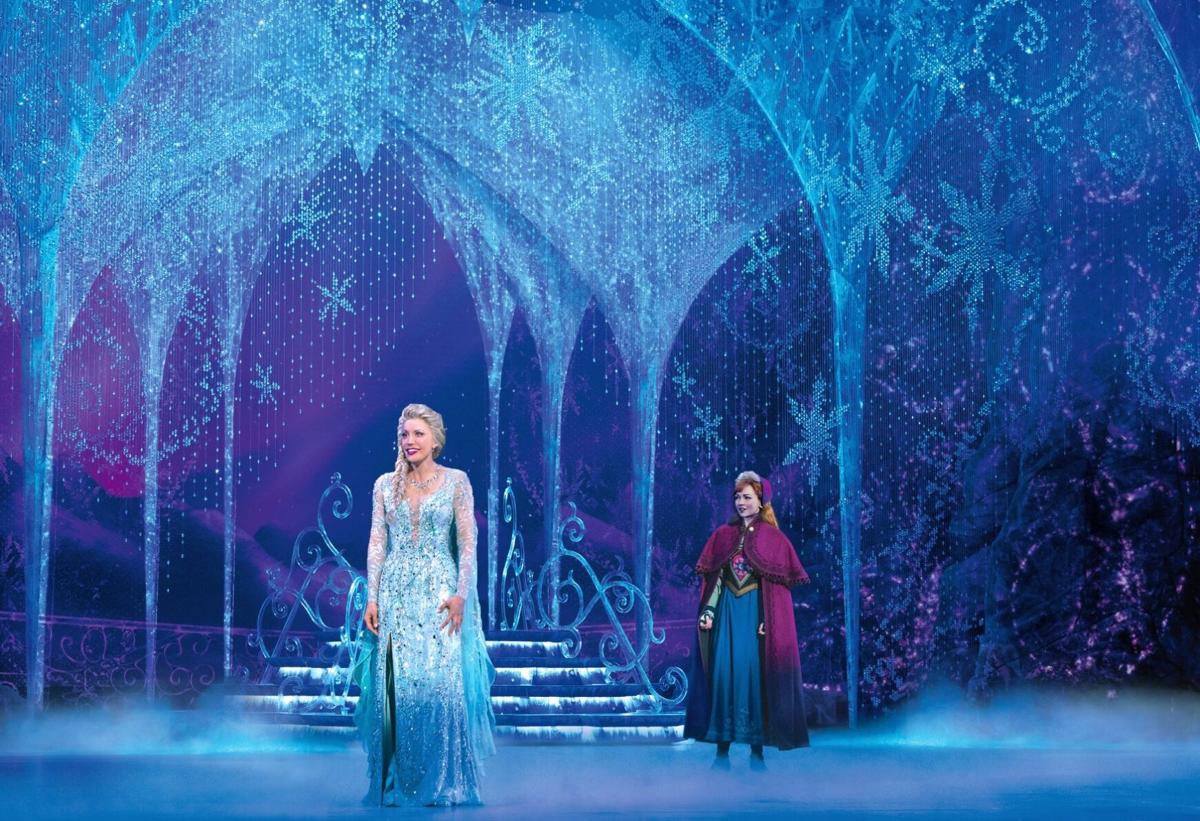 Our long cold winter of theatrical deprivation thawed with the reopening of Shea's Performing Arts Center with the official launch of the North American tour of "Disney's Frozen." Any hesitation I had about being in such a large and crowded space during the pandemic was assuaged by the total cooperation of everyone in the audience about wearing a mask.
When a well-established and much-beloved show sets up shop in a new city, the world is not waiting with bated breath for the local critical reaction. Folks just want to know, does the magic still work and does the tour live up to expectations? Be of good cheer. The show is terrific.
If you have an aversion to Disney, there's nothing I can do for you. Those who love the movie, however, will be delighted.
This is the story of two princesses in a fictitious Scandinavian kingdom. Elsa, the elder, has the magical power to create ice. It's a dangerous talent, and when she accidentally puts the freeze on her sister, Anna, their parents instruct Elsa to wear gloves and to suppress a gift they see as a curse. The plan goes pretty well, until the day of Elsa's coronation, when the new queen inadvertently unleashes her powers and chaos ensues.
Almost 18 months after Shea's closed its doors, "Frozen" will open there before an audience of 3,019 masked people.
The full creative talents of Disney and Broadway are lavished upon this show to tell a sister story that has dashes of "Wicked," "Gypsy" and even Queen Lilibet and Princess Margaret. There's also just a pinch of "Frankenstein" tossed in, evident when the townspeople decide that Elsa is a monster and advance on her ice palace with violent intent.
Caroline Bowman is sublime as Elsa. I first saw her on Broadway in "Kinky Boots." Then I saw her singing "The Star-Spangled Banner" at a Pride event in Manhattan. Then she showed up at Shea's to play "Evita." With an incandescent smile and the voice of an angel, she is a born leading lady, and seems to be conquering one role after another. In a word, her Elsa is wonderful.
For many, the most compelling thread of "Frozen" involves the relationship between Anna and Kristoff, the Nordic outdoorsman who, accompanied by his reindeer, Sven, helps her find her sister. Caroline Innerbichler is adorable as the rough-and-tumble princess, singing and clowning with perfection. Handsome Mason Reeves is her charismatic equal as resourceful Kristoff. The chemistry between them (coupled with a wickedly good plot twist) takes away any disappointment over the fact that this princess does not land a prince.
Olaf the snowman is played by a puppet, embodied by the voice and personality of charming F. Michael Haynie. A superb vocal artist and clown, Haynie is visible to the audience the entire time and yet, we are convinced that Olaf is alive.
Robert Creighton, who originated the role of nasty Weselton on Broadway, reprises his part at Shea's. He is deliciously despicable and adds great fun to the evening.
The choreography by Rob Ashford is especially playful and compelling. The lively "Love is an Open Door" dance between Anna and handsome Prince Hans, played with winning gusto by talented Austin Colby, is a comic masterpiece. Colby (the real-life husband of Bowman) is a true triple threat. I especially admired this well-modulated performance, and Colby's dancing and general physicality are impressive.
Direction by Michael Grandage, who pulls out a full repertoire of American theater tropes, from Rodgers and Hammerstein to burlesque, is impeccable. "Frozen" never stalls for an instant. I was especially delighted by his use of inventive stage crosses to represent long journeys, the passage of time, or to engage the audience during set and costume changes. These are worthy of Joe Layton, the legendary Broadway director who perfected them in such shows as "Once Upon a Mattress" and "The Sound of Music."
Among the magical devices deployed in "Frozen," none is more anticipated than the transformation of Elsa's dress from austere forest green Scandinavian costume to stunning ice blue haute couture. This change happened as if by real magic. Elsa, now wondrously frocked in the crystalline creation by set and costume designer Christopher Oram, boldly crossed downstage, belting the show-stopping "Let It Go" with full power, duplicating a thrilling movie moment as the adoring audience responded with applause and cheers.
Other stage wizardry includes video design by Finn Ross that evokes snowstorms and other astonishing winter magic to sensational effect. Puppet design by Michael Curry includes the amazingly lifelike reindeer, Sven. With so much invention, it is impossible to know who did everything, but Jeremy Chernick is credited with special effects design.
I first saw "Frozen" during its pre-Broadway run in Denver back in 2017. I admired it then, but must say, it is a notably tighter and more emotionally powerful show now, and it looks beautiful on the Shea's stage.
Through Sept. 24 in Shea's Performing Arts Center. Times are 7:30 p.m. Tuesdays through Fridays; 2 and 8 p.m. Saturdays; and 1 and 6:30 p.m. Sundays. Tickets are $32-$147 (box office, 847-0850 or sheas.org. Masks must be worn while inside the building and throughout the performance.