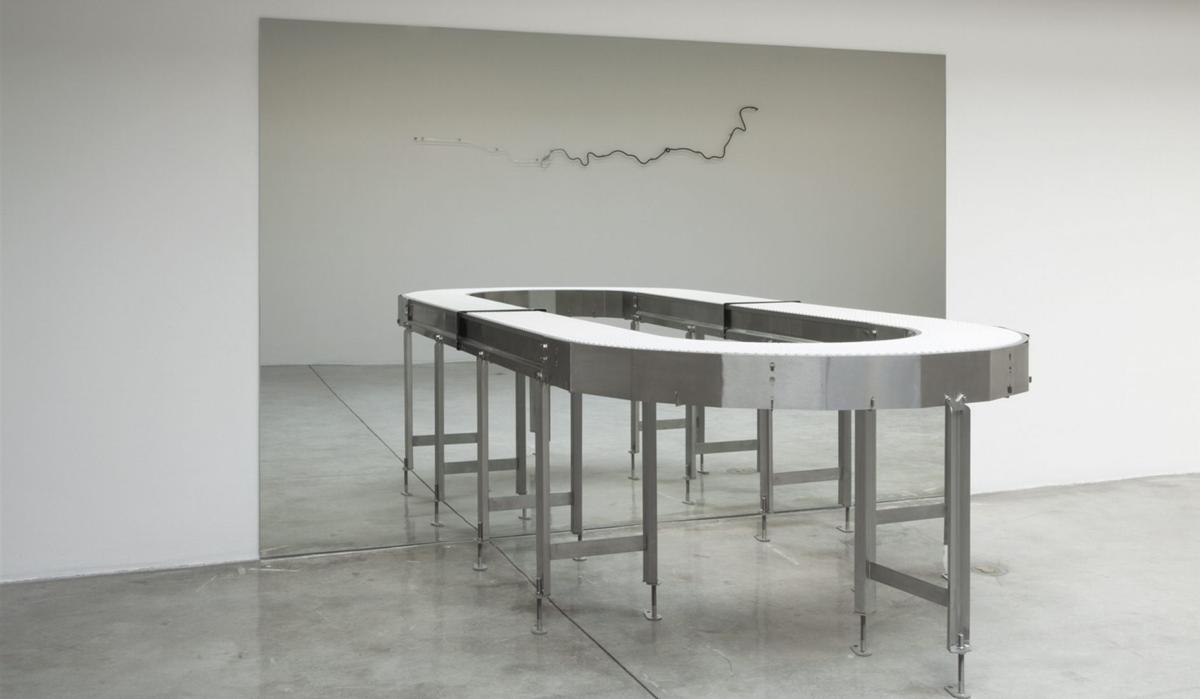 The first object visitors see in the Albright-Knox Art Gallery's smart and searing exhibition "Overtime: The Art of Work" is an Instagram-ready conveyor belt rotating endlessly into a spotless mirror.
The pristine contraption, an untitled 2014 piece by the Polish artist Agnieszka Kurant, contains no products and implies no human operator. It's simply an automated tool whirring away at some mundane, monotonous and perhaps ultimately pointless task. (And who hasn't used at least one of those adjectives, at some point, to describe their own job?)
By showing us a traditional assembly line with nothing on it, Kurant is asking us to think about all the invisible products – financial derivatives, consulting work, market research – that have grown to occupy the largest share of the American economy.
Kurant's installation sets the crucially clinical tone for this show, in which Albright-Knox curator Cathleen Chaffee demonstrates with keen and cool-headed insight some of the infinite ways artists have thought about and portrayed labor since the mid-19th century.
The view, whether filtered through the lenses of Buffalo photographers Milton Rogovin and Bruce Jackson or the paintings of Honoré Daumier and Jackson Pollock, is sympathetic.
That makes perfect sense if you think about artists themselves as a vast class of historically underpaid laborers, which most of them are. But it qualifies as revolutionary at the Albright-Knox, which like many American museums historically funded by wealthy patrons whose interests often run directly against those of the working class, has not exactly gone out of its way to represent the struggles of the proletariat in anything beyond a token manner. Until, apparently, now.
You can't walk a foot in this show without bumping into a revelation.
Take Tehching Hsieh's extraordinary "One Year Performance," in which he punched a time clock methodically on the hour, almost every hour for an entire year. It's presented here as a video that documents every one of Hsieh's time clock punches, his hair growing slightly longer in each shot. More than anything else, it is about how corporations exert control over employees' lives not only from 9 to 5, but increasingly dictate how workers spend their free time as well.
Like the exhibition itself, Mierle Laderman Ukeles' "Touch Sanitation Performance" – in which she shook hands methodically with some 8,500 New York City sanitation workers from 1977 to 1980 – at first seems heavy-handed or condescending but quickly reveals its genuine concern for the often underappreciated or invisible laborers who keep society running.
Fred Lonidier's "Health and Safety Game," which presents egregious, real-life cases of corporate disregard for employees' well-being via old-school instructional placards, is the most rage-inducing and blatantly activist piece in the show. Its depictions of negligence, complete with images of blistered skin and cancerous lungs, will make your blood boil.
Harun Farocki's video installation, "Workers Leaving the Factory in Eleven Decades," is 12 excerpts from movies in different decades that show workers leaving factories, is the show's only real clunker, a conceptual dead-end that compiles a great deal of footage to reveal comparatively little. Audio issues also make the video interview portion of Josh Kline's otherwise compelling "No Vacation Days," a take on FedEx's exploitation of contract workers who receive no benefits, very difficult to hear.
Through works such as Kurant's endless conveyor belt and Hsieh's "One Year Performance," the show sets a baseline of clinical coolness that helps set off the emotional impact of pieces like "Health and Safety Game" or Bruce Jackson's "Cummins Prison Farm, Grady, Arkansas," a chilling 1975 wide-angle photograph that instantly calls to mind the sweltering cotton fields of the Antebellum South.
And if you go to this show without sitting for the entire 20-minute length of Mika Rottenberg's spellbinding 2010 film "Squeeze," a masterful surrealist meditation about the global economy, you'll be missing out. The same applies to Li Xiaofei's calmer five-channel "Assembly Line" series, shot in or near Chinese factories.
The free broadsheet exhibition catalog, with a lovely and concise essay by Chaffee and accessible descriptions of each work in the show, is a terrific and indispensable companion.
Across the Albright-Knox sculpture court, now filled with a strange Stonehenge of chiseled wooden totems by Rochester-born artist David Adamo, is "Eye to Eye: Looking Beyond Likeness."
The show, curated by the inventive Albright-Knox curator Holly E. Hughes entirely from the gallery's collection, dovetails nicely with Chaffee's exhibition.
It takes on the full sweep of portraiture in the gallery's collection. It intersperses traditional portraiture by the like of George Bellows and Thomas Gainsborough with modern and contemporary examples ranging from a muddy, magnetic Degas painting of ballerinas to a creepy-as-all-get-out, digitally manipulated sculpture by Evan Penny.
The exhibition can seem scattershot in spots, and its lack of crucial context for many contemporary works seems a missed opportunity for those who have no history with the works or aren't lucky enough to be on a guided tour.
How are we to know, for instance, that Eric and Heath ChanSchatz's series of colorful pieces in the show are actually fanciful abstract portraits of Western New Yorkers who sat for interviews with the artists during their 2013 visit? Or that Byron Kim's 2008 piece "Synechdoche," a series of rectangular paintings arranged in a grid, is a powerful statement about human diversity based on the skin tones of Albright-Knox board members? Or that Shasti O'Leary Soudant's lenticular photograph is designed to show viewers the normally invisible effects of skin damage from sun exposure? Without that knowledge, it's often difficult to appreciate the smartness of Hughes' juxtapositions, especially of Kim and Soudant's works.
Even so, there are many bright spots: A salon-style hanging of mostly traditional portraiture filled with dour faces expressing a limited range of grim emotions – from imperiousness to disdain – is interrupted beautifully by McCallum & Tarry's 2010 portrait "Show Me Where You Brought Me From, Clairborne, Alabama, 1945 (After Mrs. Sarah L. Tarry)." That painting, covered by a silk scrim, depicts the mother of Buffalo-born artist Jacqueline Tarry gazing out almost defiantly into the future.
Gillian Wearing's video piece "Secrets and Lies," in which her subjects wear extremely creepy masks and proceed to reveal their darkest secrets, is must-view material, however uncomfortable it may make the view. The secrets range from murder to strange sexual habits, and the presence of the mask points up the sense of shame her subjects feel.
What's perhaps most striking about the show is the almost universal lack of happiness in the expressions of almost every subject. The exceptions are Thomas Lawrence's lovely smirking "Portrait of Miss Rosamond Croker" from 1827, McCallum & Tarry's 2010 piece, and, if you make it to the gallery before these shows close on May 17 and find something to like – maybe you.