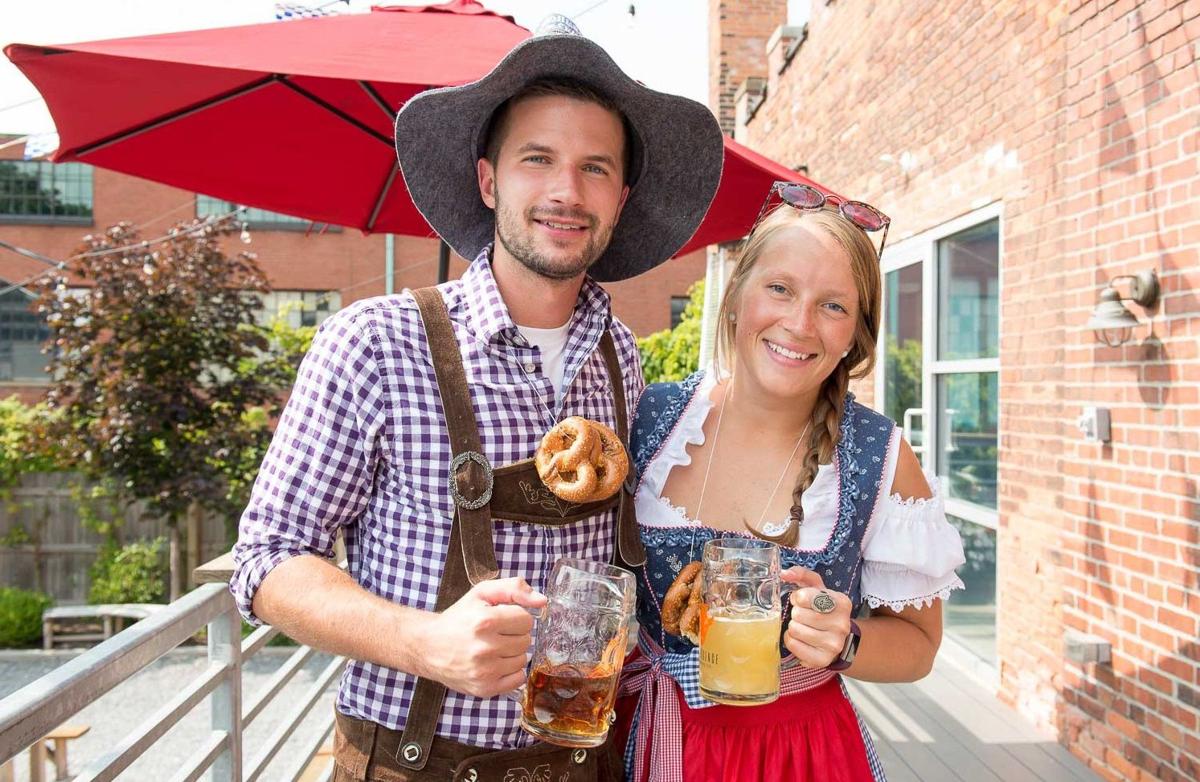 Fall in Buffalo will start off with a bang. Sure, autumnal activities were the theme of this week's Gusto cover story, but the wheels are already in motion.
The festival schedule is absolutely packed this weekend; Oktoberfests and harvest fests are happening around virtually every corner, suburbs and cities alike.
Will you find out what Black Rock and Riverside have cooked up for their combined celebration? What kind of tricks will the Larkin Square folks have up their sleeves? How about the Harvest & Hops gathering in Lewiston?
See what else is on the horizon for the area, and don't miss the quick hitters at the bottom, because this weekend has the greatest selection in quite some time.
[Receive this list as a biweekly email newsletter to keep up with Buffalo's events]
Black Rock & Riverside Oktoberfest, begins with a 3 p.m. keg tapping Saturday, Sept. 28 at Artisan Kitchens & Baths (200 Amherst St.) until 5 p.m., when two shuttles to whisk attendees to the eight participating bars until 4 a.m. Free to attend.
By now, most people have grasped the concept of Oktoberfests. They're usually drinking-based events with varying degrees of connection to German culture, filled with weighty steins, traditional dress and live music to heighten the partying spirit.
But Black Rock and Riverside - the two neighborhoods at the heart of this sprawling festival - add an extra layer of excitement. Typically closed venues, such as the Cro Club and the Unknown Club, will open specially for the Oktoberfest, while hidden gems such as Rohall's Corner and Hot Mama's are part of the shuttles' routes.
Orchard Park Oktoberfest, 5 to 10 p.m. Saturday, Sept. 28 at the Orchard Park Village parking lot behind KeyBank, 4239 N. Buffalo St. Free to attend.
Few things shout "German!" like Orchard Park. (OK, maybe that's a modest reach). But four hours of music by the Frankfurters, bites from local restaurants, wine from Ten Thousand Vines and a wealth of beer from both major local distributors Certo and Try-It combine for fall revelry, via the Orchard Park Chamber of Commerce.
Larkinville's businesses will bustle with activity Saturday afternoon, with Ed Wyner serenading from 1 to 4 p.m., Fat Bob's doling out smoked meats from Hydraulic Hearth's beer garden, MapleView alpacas accepting gentle pats and food trucks for additional eating options. The list of vendors is long and deep.
Just down the road, Flying Bison Brewing and Buffalo Distilling will host a book expo and live music, respectively, into the evening.
Harvest & Hops Festival, 10 a.m. to 5 p.m. Saturday and Sunday, Sept. 28 and 29, in Lewiston, at 895 Center St. Free to attend.
It seems like there's always a big weekend festival in Lewiston. The "Harvest" is the artistic, family-friendly portion with more than 100 artists setting up on the street, with a complementary farmers market wielding early fall crops.
Resident brewery Brickyard and its affiliated restaurant handle the "Hops" through their own Oktoberfest, with live bands all day, capped by the Strictly Hip - the popular Tragically Hip tribute band - at 7:30 p.m. under the tent at Center and 4th streets. Pints of brewery's Oktoberfest beer will cost $5, a stein-holding contest will take place and a light lager, the Ledge Party Light, will be released.
Less than a month after JazzFest took over Chandler Street, the Thin Man/Tappo combo presents a German-themed food-and-drink party, with live music by the Auslanders and a special guest. Appropriate German attire, such as lederhosen or dirndl, is encouraged.
Featured food will include a traditional bratwurst poached in Thin Man Oktoberfest then grilled over charcoal, served in a roll with sauerkraut and mustard, as well as a bratwurst-and-kraut pizza from Phil Limina's Tappo kitchen.
Locktoberfest, 9 a.m. to 5 p.m. Saturday, Sept. 28 at 57 Canal St., Lockport. Free to attend.
Hang out by the locks and browse local vendors of all kinds hailing from Lockport and surrounding areas such as Albion, Appleton, Cambria, Wilson and more. Chicken chowder from Lock 34, made-to-order candy apples by Henderson's and crepes from relative newcomer Bonjour Crepes are among the enticing foods, while the live music tends toward the Irish/Celtic genre.
Check out the other vendors - farmers, artisans and community organizations, specifically - planning to attend.
Arts on the Ridge Festival, 2 to 7 p.m. Saturday, Sept. 28 on Ridge Road in Lackawanna, closed-off between South Park and Franklin. Free to attend.
If you don't visit Lackawanna often but remain curious about its businesses, then the annual Arts on the Ridge, which brings the spread-out community together through the Southtowns Regional Chamber of Commerce, is a tempting one-stop shop. Street performers - dancers and musicians - food and drink vendors, and a teeming list of artisans will showcase their talents on the closed-off street.
The Mindfulness Alliance presents its first festival dedicated to mindfulness, a therapeutic technique based on awareness of the present moment, practiced through meditation, yoga and an increased alertness to emotions and feelings. Considering rising stress levels and the prevalence of mental illness, mindfulness has stood the test of time as a respected treatment.
Author Sharon Salzberg, a University at Buffalo alum who penned a New York Times bestseller, will be the key speaker, with more than 40 wellness vendors on hand, plus kids activities and even an indoor labyrinth (Not sure how that's tied to mindfulness, but you'll have to go find out).
PurpleStride run, 8 a.m. to noon Saturday, Sept. 28, at Buffalo RiverWorks (359 Ganson St.). Online registration has closed, although day-of registration is permitted. Cost is $35 for adults (timed), $30 for adults (untimed), with kids (3-12 years old) paying $15/$10.
RiverWorks hosts the 5K run/walk on Saturday to support the cause of ending pancreatic cancer, the mission of the Pancreatic Cancer Action Network.
Opening ceremonies begin at 9, with the purple-clad runners/walkers starting at 9:30. Boys of Summer will handle the post-race entertainment that coincides with the awards ceremony.
Entercom station Alternative Buffalo 107.7 FM will party with fans to mark six years in business, and they've curated a familiar lineup of bands for their celebratory show.
This might be a well-known fact, but many Millennials have an emotionally intense, cathartic relationship with Dashboard Confessional, stemming from teenage breakups or reasons for angst. (You might be happy to know that Dashboard and lead singer Chris Carrabba just announced the release of something akin to a greatest hits album early next year).
The best name on the bill is I Don't Know How But They Found Me, which stems from '80s film "Back to the Future." Dallon Weekes, a former touring bassist for Panic! at the Disco, has fronted that project since 2016. Shaed and Marquee Grand round out the performers in RiverWorks.
10 quick-hitters for this busy weekend
6 events to look forward to next week
Journey at Seneca Niagara Casino (sold out)