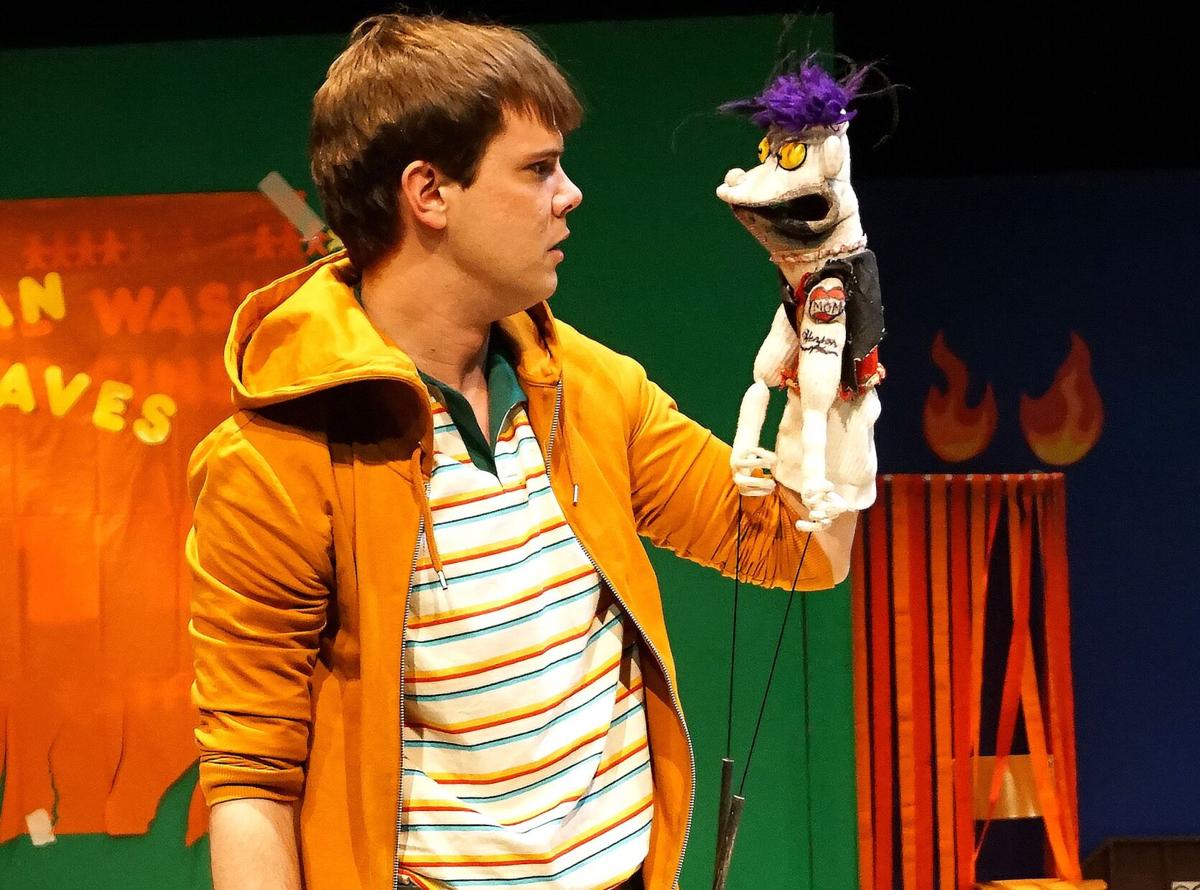 Road Less Traveled Productions will reopen to in-person audiences for the first time since March 2020 with a full season that will start in November.
"Hand to God," which was among the plays abruptly shut down at the start of the Covid-19 pandemic, will return to open the season from Nov. 4 to Dec. 12. Previously purchased tickets for the play's original run will be honored.
"The demand was very good for this play and we thought it was a positive and fun way to reopen the theater," said RLTP Managing Director Gina Gandolfo.
"Once it's off and running, this production delivers a captivating story told with great maturity, humor and
The original cast returns including Dan Urtz who was universally praised for his performance as a shy young man who deals with his grief over his father's death by exploring his creativity in the Christian Puppet Ministry. He shocks others when the puppet turns irreverent and foul-mouthed, even spilling secrets.
"The perfect role for the perfect actor in a (nearly) perfect production that aligns into a moment, an event – a breakthrough performance," wrote News Contributing Reviewer Ben Siegel in his review of the play. "There's no hyperbole to the buzz. Here and now: Urtz is a star."
"Tribes" by Nina Raines, Jan. 13 to Feb. 6. A young deaf man whose hearing family has never "listened to him," brings home his girlfriend who is going deaf.
"Breadcrumbs," by Jennifer Haley, March 3 to 27. A troubled caretaker helps a reclusive writer with dementia finish her autobiography.
"Little Women … Now," April 21 to May 15, 2022. The beloved novel is given a modern spin by Donna Hoke in this world-premiere adaptation.
RLTP also has announced new dates for three postponed events. Previously purchased tickets will be honored.
"Screen to Stage Series: A reading of 'Beverly Hills Cop'," April 2, 2022.
"RLTP 10-Minute Play Series," May 2, 2022.
"Buffalo Stories: The Life of Robert Gioia," June 4, 2022.
Three- and four-play subscriptions are on sale. Patrons who previously subscribed to the season will have their tickets rolled over into the 2021-22 season. Paper tickets will not be given out for the season. Instead, e-ticketing will be used for the new season allowing the use of a smart device such as a phone to check in at the theater (456 Main St.) If you don't have a smart device, bring your ID to check in by name at the theater.
Covid-19 safety information and protocols on such things as seating will be sent to ticket holders in the fall before the season opens. Visit roadlesstraveledproductions.org.