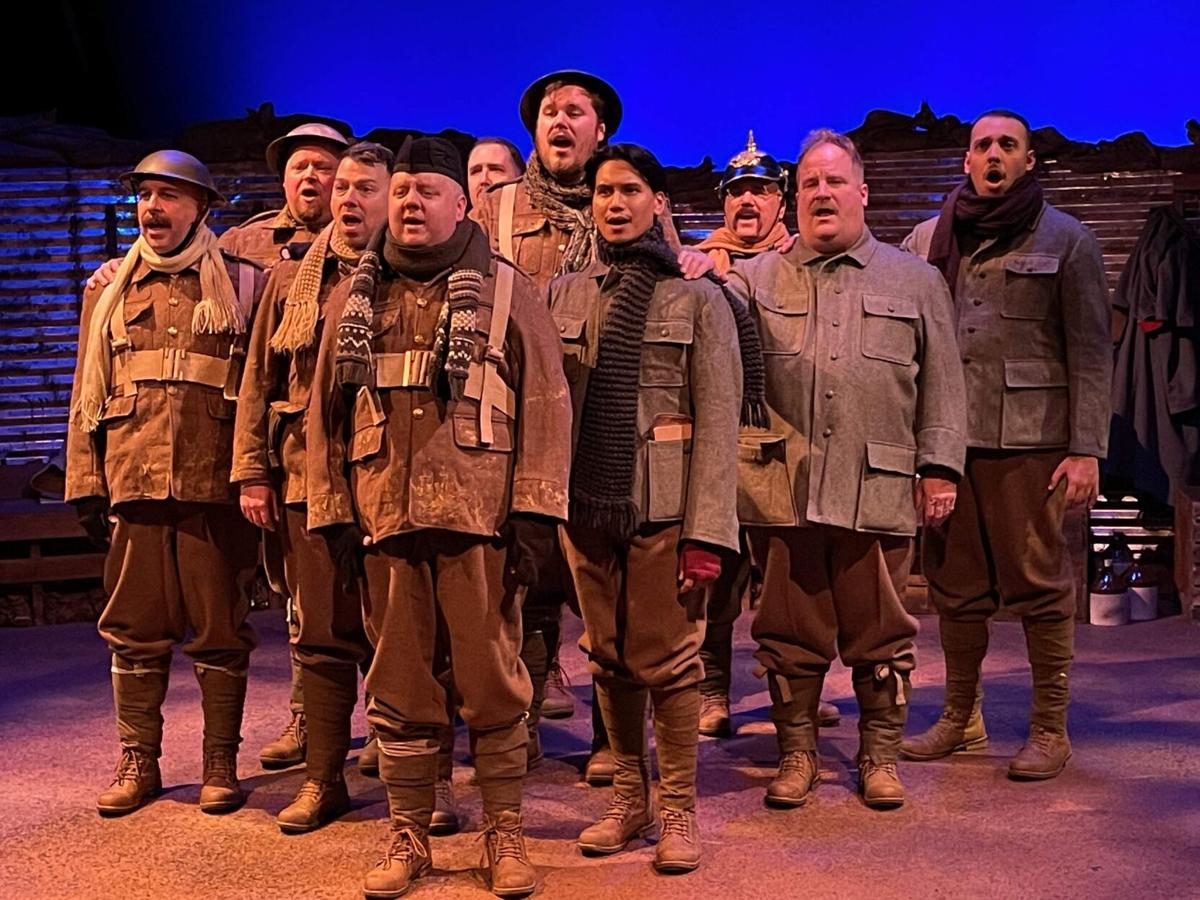 That's the single word I would use to describe MusicalFare Theatre's production of "All is Calm," a musical written by Peter Rothstein, with vocal arrangements by Erick Lichte and Timothy C. Takach, inspired by an unlikely true-life event that occurred during World War I.
On Christmas Eve in 1914, five months into war, thousands of soldiers from both sides, all along the Western Front, put down their guns and climbed from the trenches to meet their enemies. They exchanged gifts of tobacco, puddings, chocolate and rum. They sang songs. There was a report of a game of soccer. In one instance, they buried each other's dead.
Finally, the soldiers were ordered to stop this spontaneous truce, and returned to their trenches to continue the killing. Nonetheless, they had demonstrated that beneath the horror and inhumanity of war, their essential humanity survived.
Everything about this production, directed by Susan Drozd, is stirring and beautiful. The staging is poetic. The sound design by Chris Cavanagh that starts the show is moving, as is his evocative light. The set by Dyan Burlingame simultaneously conjures the trenches and No Man's Land.
The music ranges from patriotic tunes to Christmas carols in languages from both sides, performed in thrilling harmony, making the centerpiece of the show music direction by Theresa Quinn. The show is sung a capella. There is not so much a drum or harmonica. The human voice is everything here, and Quinn has guided this cast of 10 talented men toward sheer beauty with total simplicity.
Rothstein has pulled the script from authentic documents: letters, journals, official war documents, poetry, historic speeches and even epitaphs.
The songs are sung and the words are spoken by a most impressive ensemble. Christopher Andreana, Kyle J. Baran, Christian Brandjes, Louis Colaiacovo, Chris Cummings, Bob Mazierski, Ricky Needham, Marc Sacco, Darryl Semira and Dave Spychalski. Drozd has brought together a cast that includes some of Buffalo's most celebrated musical theater stars, but on this occasion, every person melds into the whole perfectly. There are no stars here. Each individual shines. They are glorious.
"All is Calm" was a profoundly meaningful way to spend Veterans Day, particularly since my generation is the last that can remember veterans of World War I, which began on July 28, 1914, and ended on Nov. 11, 1918. The last of those veterans, Florence Green of Great Britain, died in 2012 at the age of 110. When I was a child, my grandparents' generation spoke often of "The Great War," and songs like "Pack Up Your Troubles in Your Old Kit-Bag," were familiar in our house.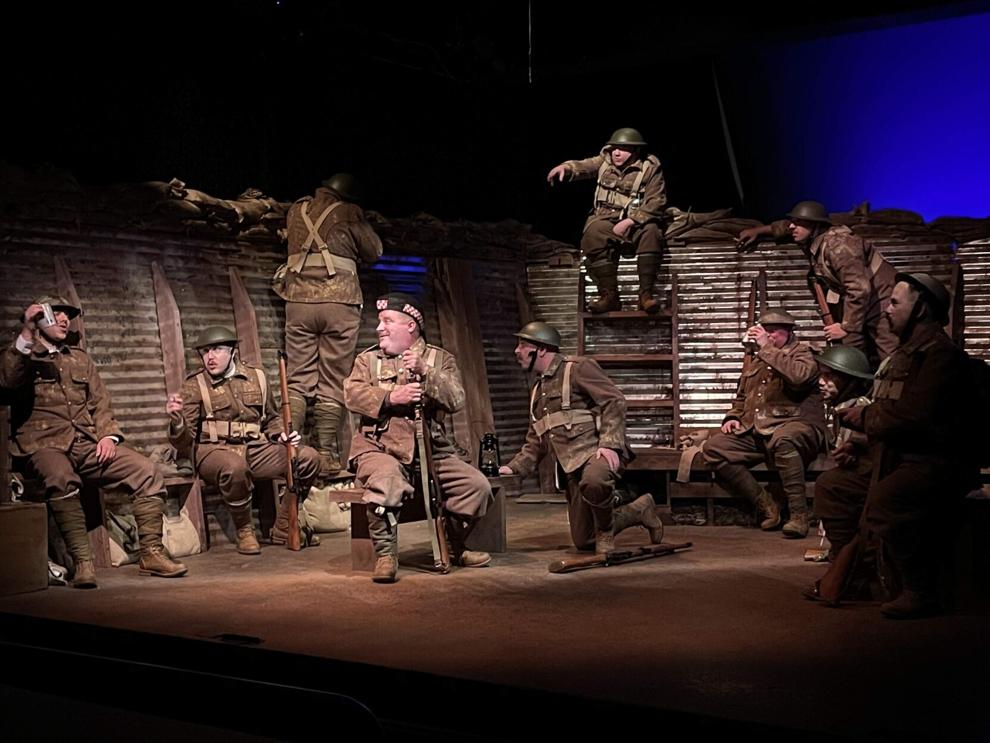 In a 1998 book, television journalist Tom Brokaw opined that the generation that fought in World War II had been America's "Greatest Generation." On Nov. 11, 2018, my brother, James Chase of Sykesville, Md., wrote, "a century ago today, the guns went silent. The most brutal, destructive, and murderous war in human history to that point was finally over. My grandparents' generation could stand down. That generation learned a thing or two. They learned the futility of war and they tried – and failed – to secure a peace that might have prevented another conflagration just 20 years later. They tried to guide their nation away from that war. Before they were finished, the World War I generation would give women the vote, shepherd their children (the World War II generation) through the Great Depression, establish Social Security and establish the FCID as safeguards to prevent another Depression, support the next war effort, and then near the end, march for civil rights. I've always thought that when Brokaw posited his 'Greatest Generation,' he missed by one."
I agree with my brother and am grateful to MusicalFare for this profoundly moving theatrical experience. I am also grateful to the World War I generation. We will remember them.
---