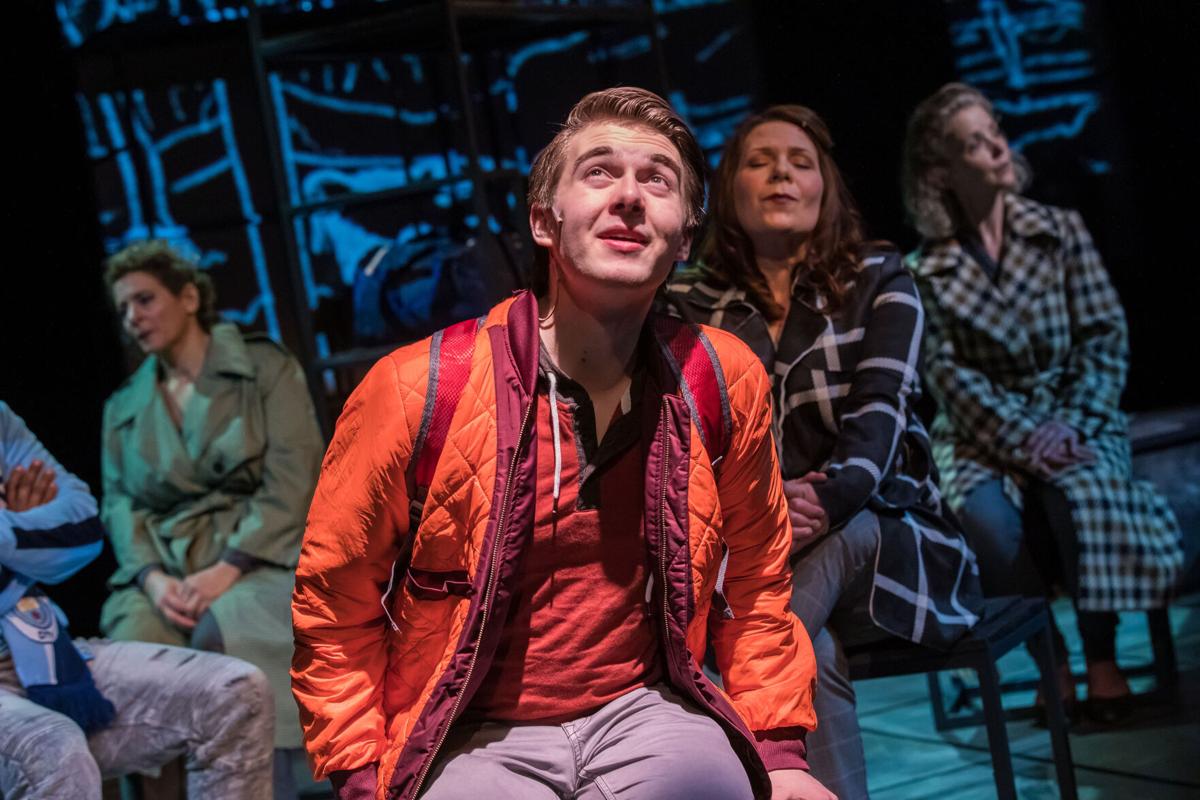 That's because Christopher is a logistical savant, probably at the higher end of the autism spectrum, and he loves numbers. Without hesitation, he could tell you the exact number of days between when "Dog in the Night-time" was all set to debut (March 12, 2020) and its eventual real opening night – Oct. 28, 2021. (It's 595.)
He also knows that something is very wrong when he sees Mrs. Shears' dog Wellington dead on her lawn with a garden fork sticking out of its midsection at 7 minutes after midnight. This is the opening scene of Mark Haddon's best-selling award-winning novel and of Simon Stephens' excellent adaptation of the book for the stage.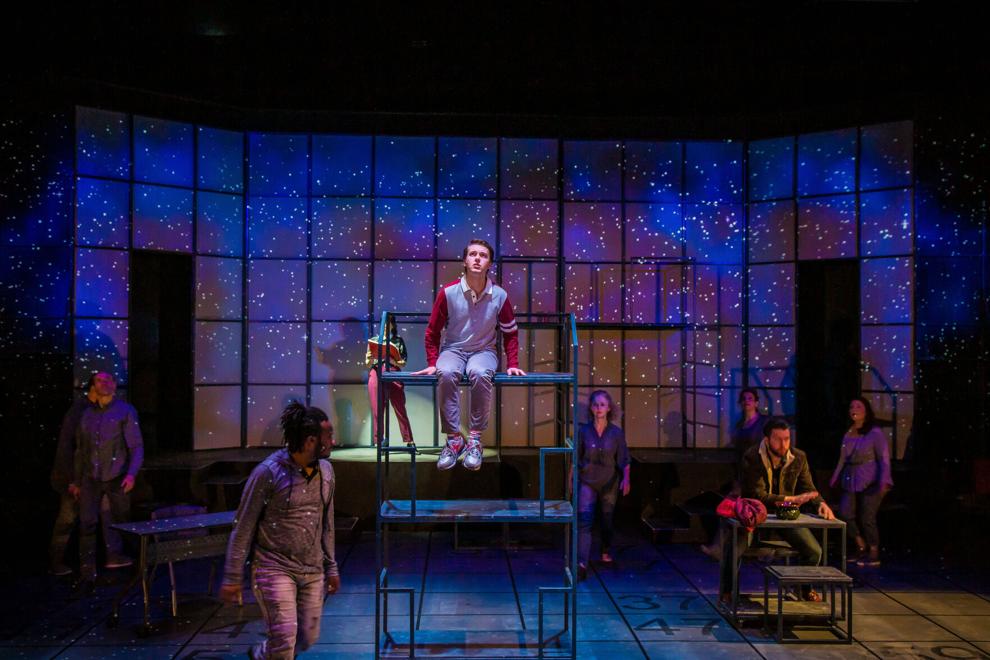 This curious incident sends Christopher on a journey of discovery, taking him far outside his comfort zone of order and predictability. With the teen as narrator, the entire show hinges on whether we care to go along with him. Thanks to Samuel Fesmire's wonderfully nuanced performance, we do.
His character is prone to screaming, hitting and curled-up collapsing when he is frustrated or angry. It could be off-putting to watch, but Fesmire, a North Tonawanda High School graduate and current student of animation at Daemen College, brings us into Christopher's worldview without judgment.
Other characters' interest in understanding him runs the gamut. Anthony Alcocer is almost heartbreaking as the father who struggles to do what is right for his untraditional son. Sara Kow-Falcone is an island of acceptance as the teacher who sees the best in him, and Candice Kogut draws sympathy in what could be a thankless role.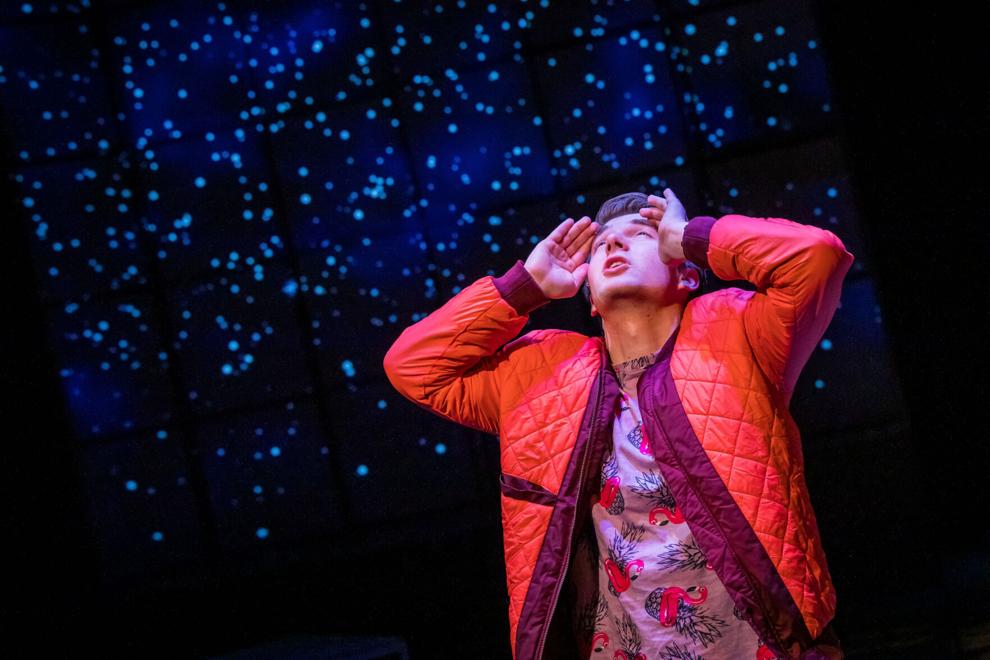 The rest of the ensemble is equally stellar. As directed by the excellent David Oliver and assistant Lucas Lloyd, the actors Wendy Hall, Jake Hayes, Pamela Rose Mangus, David Marciniak, Priscilla Young-Anker and Ben Michael Moran appear in multiple roles to populate the English countryside and London with a host of helpful, baffled and indifferent Brits. (Let's note that they do well with their accents, which are never a distraction. Thanks go to dialect coach Amanda Lytle Sharpe.)
"The Curious Incident of the Dog in the Night-time" comes from All for One Productions, a joint effort of Buffalo's Irish Classical Theatre Company, MusicalFare Theatre, Road Less Traveled Productions, Theatre of Youth and Shea's 710 Theatre.
The final stars of the show are the production team they brought together, led by Kevin Faulhaber and technical director Rick Haug. The large set builds from a grid of prime numbers on the stage, backed by projection designs from Christopher Ash and assistant Brian McMullen that take the audience inside Christopher's thoughts. Sound design by Eric Burlingame underlines the effect.
Lynne Koscielniak delivers on scenic and lighting design; and Gerry Trentham is movement director (crowd scenes in the trains and stations were almost a dance). Apologies for names left out, but many hands clearly worked in concert to bring this together so well.
Presented by All for One Theatre Productions at Shea's 710, 710 Main St. Performances are 7:30 p.m. Thursdays and Fridays, 8 p.m. Saturdays and 1 p.m. Sundays through Nov. 14. For tickets, go to sheas.org. Covid-19 protocols include masks and proof of vaccination.